The Development of Problem Package on Seventh Grade Students by Using Quiz Faber in lines and Angles Material
Abstract
            The purpose of this study is to describe the process and results of the development of a grade VII math problem package using the quiz faber of lines and angles material. This type of research is a research development with qualitative and quantitative approach. The data collecting methods that used in the form of test, observation, interviews and documentation. The research results are the level of validity based on the evaluation of the validator showed a very good category, with details of learning mathematics experts at 0.96 and display experts at 0.95. The level of practicality based on the user response questionnaire shows a very practical category with an average value of 86%. Thus it can be concluded that successfully developed a package of questions using a great quiz of lines and angles in seventh grade students.
Keywords: problem pakage, quiz faber, lines nd angles
References
Dewi, R. K. 2011. Pengembangan Multimedia Pembelajaran Matematika Math Taiment Materi Pokok Garis dan Sudut untuk SMP Kelas VII. Universitas Yogyakarta.
Siskawati, Fury Styo. 2017. Pengembangan Leker Gabel Dengan Hot Potatos Untuk meningkatkan Hasil Belajar Mahasiswa Universitas Islam Jember.Jember. Gammath. Universitas Muhammadiyah Jember.
Siskawati, Fury Styo. 2018. Pengembangan PAKSOBRI Dengan Quiz Faber Mata Kuliah Aljabar Linier Elementer Di Universitas Islam Jember.Jember. Gammath. Universitas Islam Jember.
Wahyu, Mumpuni Panca. 2018. Pengembangan Media Pembelajaran Online Web Medsos Untuk Materi Grafik Fungsi Kuadrat Pada SMA Kelas X;Universitas Jember.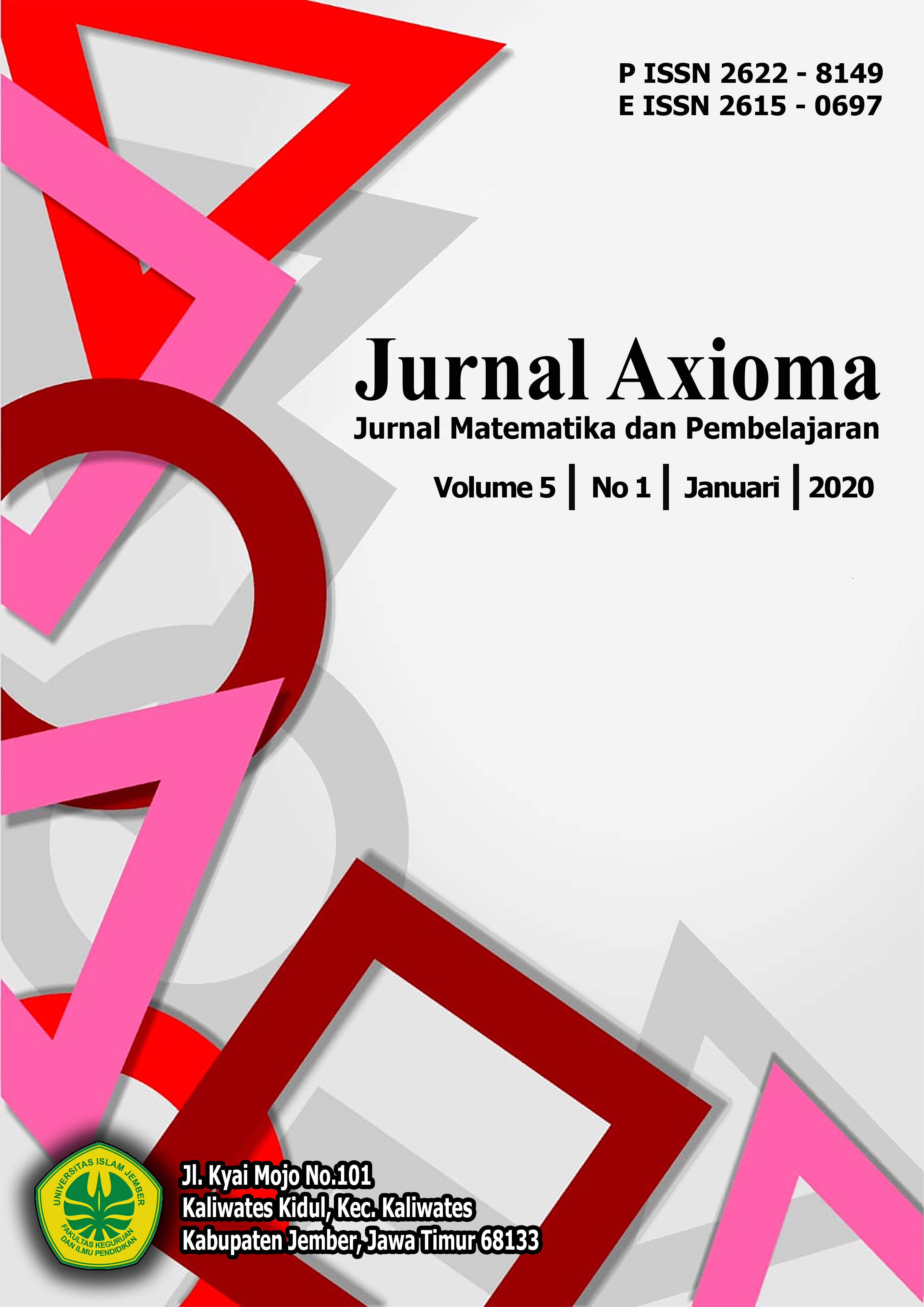 Downloads
How to Cite
Hulyawti, R. (2020). The Development of Problem Package on Seventh Grade Students by Using Quiz Faber in lines and Angles Material. Jurnal Axioma : Jurnal Matematika Dan Pembelajaran, 5(1), 27–37. https://doi.org/10.36835/axi.v5i1.541
License
Copyright (c) 2020 Risqa Hulyawti
This work is licensed under a Creative Commons Attribution 4.0 International License.