The Development of Student Worksheets (LKS) With Ethnomatematic Approach to Triangle Flat Build Material
Abstract
            The purpose of this study is to describe the process and results of the development of Student Worksheets (LKS) with the ethnomatematics approach of triangular flat figure material. This type of research is development. This research was conducted on seventh grade students at MTs Al-Azhar Kaliwates Jember. The data collection methods used are documentation, observation, interviews and tests. The development model used adopted the 4D model developed by Tiagrajan through the stages of defining, designing, developing and distributing. Based on the research activities that have been carried out the results obtained are Student Worksheets (LKS) with ethnomatematics approach to the triangular flat figure material which is valid and suitable for use for junior high school students and equivalent
Keywords: LKS, etomatematics
References
DAFTAR PUSTAKA
Dominikus,WS. 2015. Etnomatematika Adonara. Malang: Media Nusa Creative.
Indriaini, Popi. 2016. Implementasi Etnomatematika Berbasis Budaya Lokal dalam Pembelajaran Matematika. Lampung: IAIN Lampung.
Indriyani. 2017. Eksplorasi Etnomatematika pada Aksara Lampung. Lampung: Skripsi Universitas Islam Negeri Raden Intan.
Mumpuni. 2018. Pengembangan media pembelajaran online berbantu web desmos untuk materi grafik fungsi kuadrat pada siswa SMA Kelas X. Jember: Skripsi Universitas Jember.
Nofitasari, Mastur, et al. 2015. Keefektifan Model Pembelajaran Tutor Sebaya Bernuansa Etnomatematika Terhadap Kemampuan Pemecahan Masalah Peserta Didik Pada Materi Segiempat. Semarang: Jurnal Unnesa.
Sagita. 2016. Peran Bahan Ajar LKS Untuk Meningkatkan Prestasi Belajar Matematika. Lampung: Jurnal Seminar Nasional Pendidikan Matematika.
Siskawati. Fury Styo. 2017. Pengaruh Strategi Pembelajaran Matematika Lah Bako Terhadap Hasil Belajar Siswa Sebagai Bentuk Kearifan Budaya Lokal Kota Jember. Jurnal Educazione: jurnal pedidika, pembelajaran dan bimbingan konseling 5 (1): 44 - 56.
Tandililing, Edy. 2013. Pengembangan Pembelajaran Matematika Sekolah Dengan Pendekatan Etnomatematika Berbasis Budaya Lokal Sebagai Upaya Untuk Meningkatkan Kualitas Pembelajaran Matematika Di Sekolah. Yogyakarta: Jurnal UNY.
Wahyuni, Ayu, et al. 2013. Peran Etnomatematika dalam Membangun Karakter Bangsa. Yogyakarta: Jurnal UNY.
Wahyuni, Rezkie Dwi. 2011. Pengembangan Lembar Kerja Siswa Bilingual pada Pembelajaran dengan Pendekatan Kontekstual Pokok Bahasan Segiempat Kelas VII SMP Semester Genap. Jember: Skripsi Universitas Jember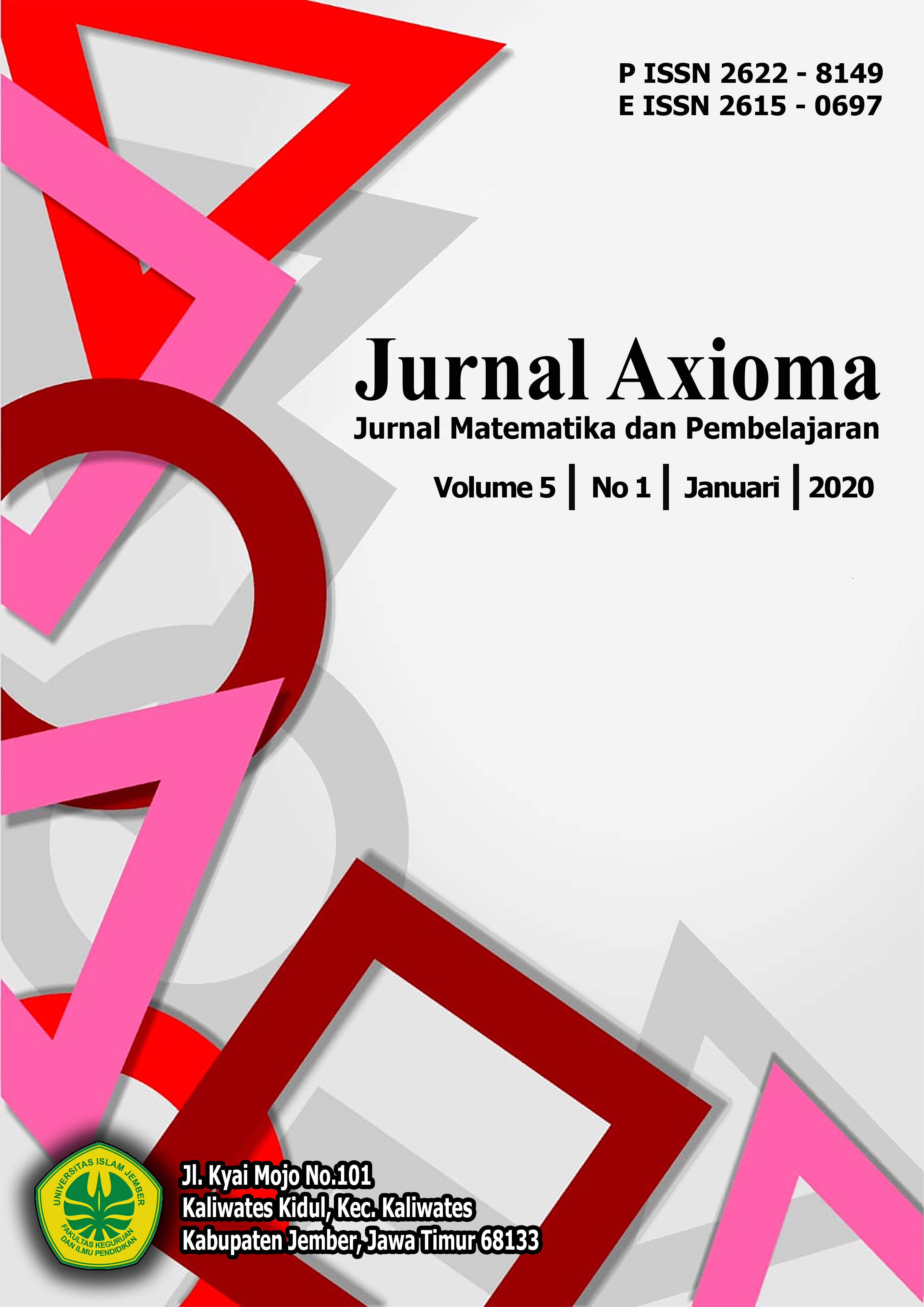 Downloads
How to Cite
Fatmawati, S. (2020). The Development of Student Worksheets (LKS) With Ethnomatematic Approach to Triangle Flat Build Material. Jurnal Axioma : Jurnal Matematika Dan Pembelajaran, 5(1), 74–80. https://doi.org/10.36835/axi.v5i1.550
License
Copyright (c) 2020 Siti Fatmawati
This work is licensed under a Creative Commons Attribution 4.0 International License.