Studi Sindrom Klimakterium pada Wanita Menopause
Abstract
Climacterium syndrome is a problem for women aged 45-50 years, so information is needed about the disorders that occur in the premenopausal period so that premenopausal women feel more prepared and calm in facing the premenopausal period. This is shown from the results of a preliminary study of 10 premenopausal women who were met, 6 of whom experienced menstrual disorders, causing them to worry. This study was to identify the climacteric syndrome in premenopausal women. The research method is descriptive, where the population of this study is 80 people with a sample of 20 people by sampling using quota sampling technique. Collecting data using interviews and questionnaires in the form of closed questions. Data analysis is presented in the results of data processing in a narrative manner. The results of this study indicate that the general data from 36 respondents are mostly in the age group of 46–50 years (50%). Most of them have high school education (50%) and most of them are housewives (75%), special data shows that the most neurovegetative disorders are hot flushes (50%). The most somatic disorders were dry/wrinkled skin (75%), the most common menstrual disorders were irregular menstruation (90%) and the most psychological disorders were fatigue (75%). Every premenopausal woman experiences climacteric syndrome in the form of neurovegetative disorders, somatic disorders, menstrual disorders and psychological disorders.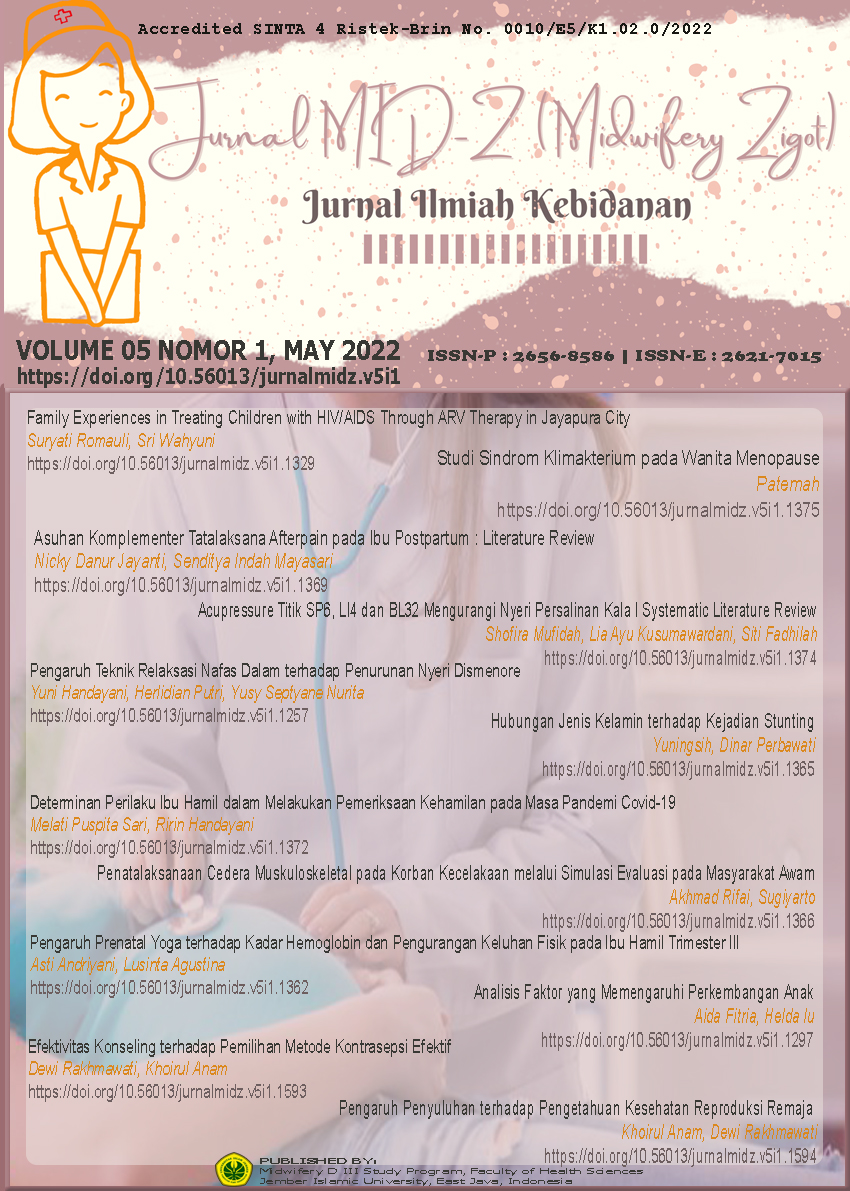 Downloads
How to Cite
., P. (2022). Studi Sindrom Klimakterium pada Wanita Menopause . Jurnal MID-Z (Midwivery Zigot) Jurnal Ilmiah Kebidanan, 5(1), 13–21. https://doi.org/10.56013/jurnalmidz.v5i1.1375
License
Copyright (c) 2022 Patemah
This work is licensed under a Creative Commons Attribution-ShareAlike 4.0 International License.
Jurnal Mid-Z (Midwifery Zigot) Jurnal Ilmiah Kebidanan memberikan akses terbuka terhadap siapapun agar informasi dan temuan pada artikel tersebut bermanfaat bagi semua orang. Semua konten artikel Jurnal Mid-Z (Midwifery Zigot) Jurnal Ilmiah Kebidanan dapat diunduh secara gratis tanpa dipungut biaya sesuai dengan lisensi creative commons yang digunakan.

Jurnal Mid-Z  is licensed under a Creative Commons Attribution 4.0 International License