Efektifitas Pembelajaran Bahasa Arab Dengan Direct Method di MTs At-Taqwa Kecamatan Ledokombo Jember
Abstract
One of the formal educational institutions is Madrasah Tsanawiyah which is based on Islamic values ​​at junior high school level. Madrasah Tsanawiyah At-Taqwa is located in Suren village, Ledokombo subdistrict, Jember Regency, which is a partner problem, namely poor learning effectiveness and lack of support for the desired learning process. The aim of this service is to apply a learning method, namely the Direct Method, to improve effective student learning. Observation, interviews and documentation are data collection techniques carried out in this service. The result of this service is the application of the Direct Method in the student learning process, namely by directly practicing vocabulary in Arabic and conversations using Arabic at the At-Taqwa Tsanawiyah Madrasah, Suren village, Ledokombo subdistrict, Jember. For the inhibiting factor in implementing this method is the lack of vocabulary which is not yet mastered by many Madrasah Tsanawiyah At-Taqwa students. One solution to minimize these obstacles is by providing learning media, especially in the language sector.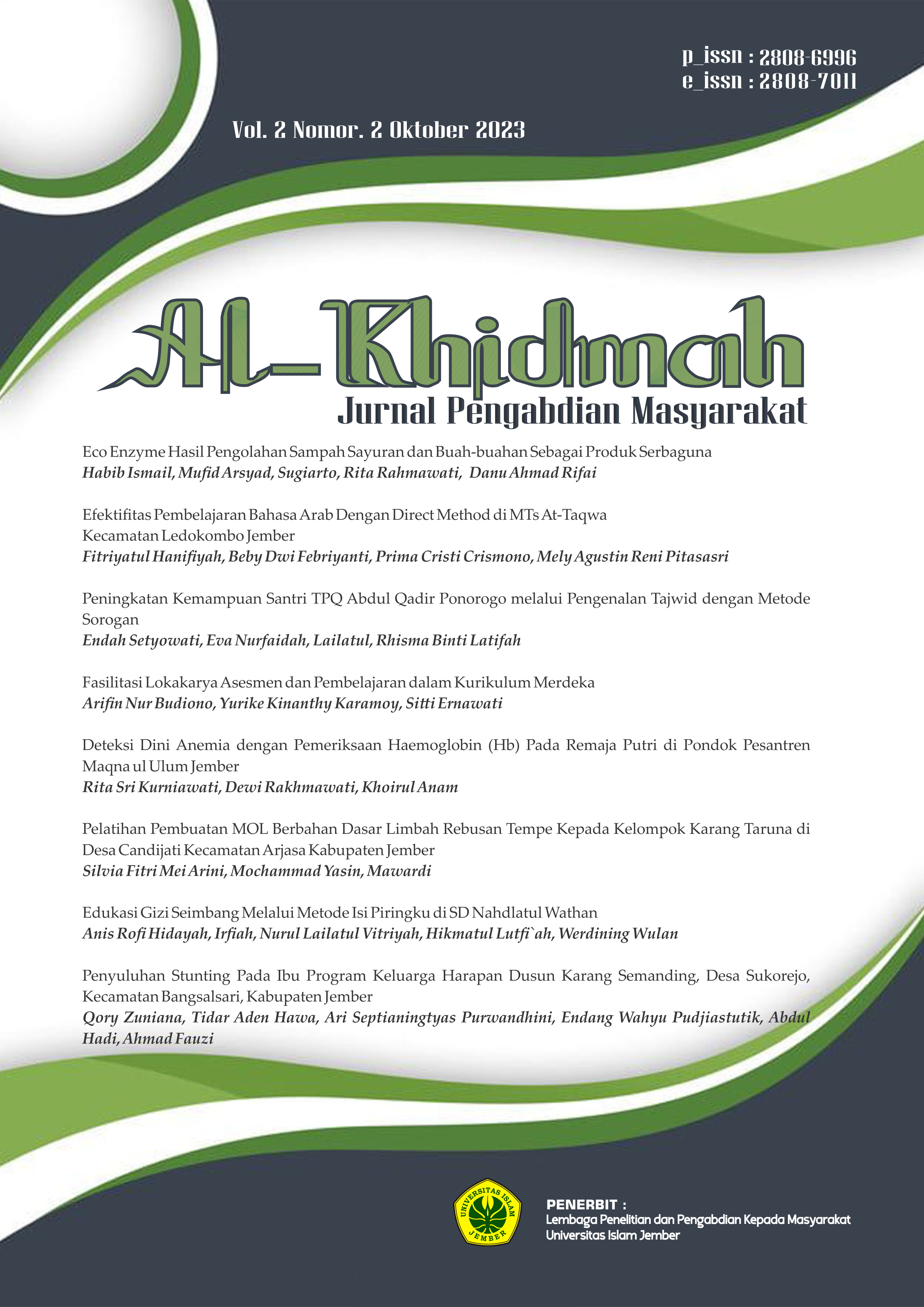 Downloads
How to Cite
Hanifiyah, F., Dwi Febriyanti, B. ., Cristi Crismono, P. ., & Reni Pitasasri, M. A. . (2023). Efektifitas Pembelajaran Bahasa Arab Dengan Direct Method di MTs At-Taqwa Kecamatan Ledokombo Jember. Al-Khidmah Jurnal Pengabdian Masyarakat, 3(2), 89–96. https://doi.org/10.56013/jak.v3i2.2383
License
Copyright (c) 2023 Fitriyatul Hanifiyah, Beby Dwi Febriyanti, Prima Cristi Crismono, Mely Agustin Reni Pitasasri
This work is licensed under a Creative Commons Attribution 4.0 International License.