Deteksi Dini Anemia dengan Pemeriksaan Haemoglobin (Hb) Pada Remaja Putri di Pondok Pesantren Maqna ul Ulum Jember
Abstract
Adolescence is a transition period from childhood to adulthood,  marked by physical, psychological and psychosocial changes (Dieny, 2014). According to Basic Health Research (Riskesdas) in 2018, the prevalence of anemia in adolescent girls was 32%. Fulfilling nutritional needs during adolescence would maximize the reproductive organs function which will lead to a better conception result.
This community service was carried out in December 2022 at the Maqnaul Ulum Islamic Boarding School, Jember. This community service was carried out because of the anemia cases in teenagers is quite high. The method used in community service is examining Hb (Haemoglobin) levels in every young woman in Islamic boarding schools.
The examination results of the hemoglobin levels female students showed that 10 female students had anemia, 31 female students did not have anemia. Through this Hb examination, it is expected that teenagers can prevent anemia and avoid other health problems that occur in teenagers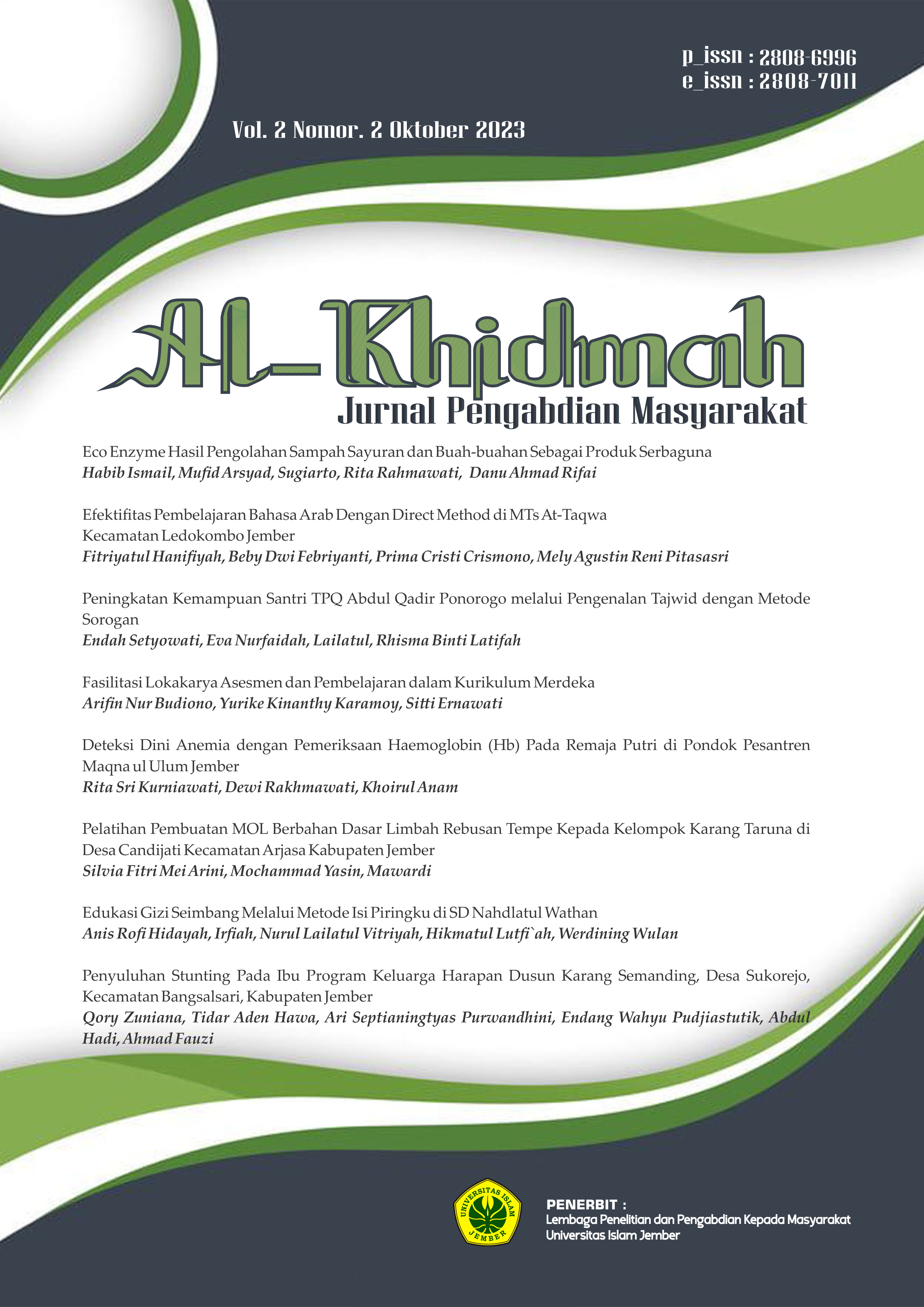 Downloads
How to Cite
Kurniawati, R. S. ., Rakhmawati, D., & Anam, K. (2023). Deteksi Dini Anemia dengan Pemeriksaan Haemoglobin (Hb) Pada Remaja Putri di Pondok Pesantren Maqna ul Ulum Jember. Al-Khidmah Jurnal Pengabdian Masyarakat, 3(2), 123–128. https://doi.org/10.56013/jak.v3i2.2432
License
Copyright (c) 2023 Rita Sri Kurniawati, Dewi Rakhmawati, Khoirul Anam
This work is licensed under a Creative Commons Attribution 4.0 International License.