Improving Activity and Mathematic Learning Outcomes of Students by Using Inquiry Learning Method
Abstract
The purpose of the research to describe the activities and student learning outcomes during the application of mathematics learning using inquiry method. To find out whether or not the increase in student activity during mathematics learning by using inquiry learning method. Toknow whether or not the increase in student learning outcomes after following the learning of mathematics by using inquiry method. The kind of the research is PTK with qualitative and quantitative approach. The subjects of the research are students of class VIIB at MTs Negeri Bodowoso 1. With the data collecting method that used in the research are documentation, observation, interview and test. The data analysis method that used are qualitative and quantitative. The results of the research there is increased activity and student learning outcomes.
Keywords: inquiry, students activity, and mathematical learning outcomes
References
Gulo, W. 2002. Srategi Belajar Mengajar. Jakarta: PT Gramedia Widiarsana Indonesia
Hamalik, Oemar.2008. Prosedur Belajar Mengajar. Jakarta : PT Bumi Aksara
Jihad, Asep. & Haris, Abdul. 2008. Evaluasi Pembelajaran. Yogyakarta: Multi Pressindo Yogyakarta
Nasution, S. 1995. Didaktik Asas-Asas Mengajar. Jakarta: Bumi Akasara
Nurhadi & Senduk. 2003. Pembelajaran Konsektual (Contextual Teaching And Learning/CTL) Dan Penerapan Dalam KBK. Malang: Universitas Negeri Malang
Sanjaya, Wina. 2010. Strategi Pembelajaran Berorientasi Standar Proses Pendidkan. Jakarta: Kencana Prenada Media Group
Sardiman, AM. 2006. Interaksi dan Motivasi Belajar Mengajar. Jakarta: PT Raja Grafindo Persada Jakarta
Sudjana, Nana. 2010. Penilaian hasil proses Belajar mengajar. Bandung: PT Remaja Rosdakarya
Suryosubroto, B. 1997. Proses belajar mengajar Di sekolah. Jakarta: PT Rineka Cipta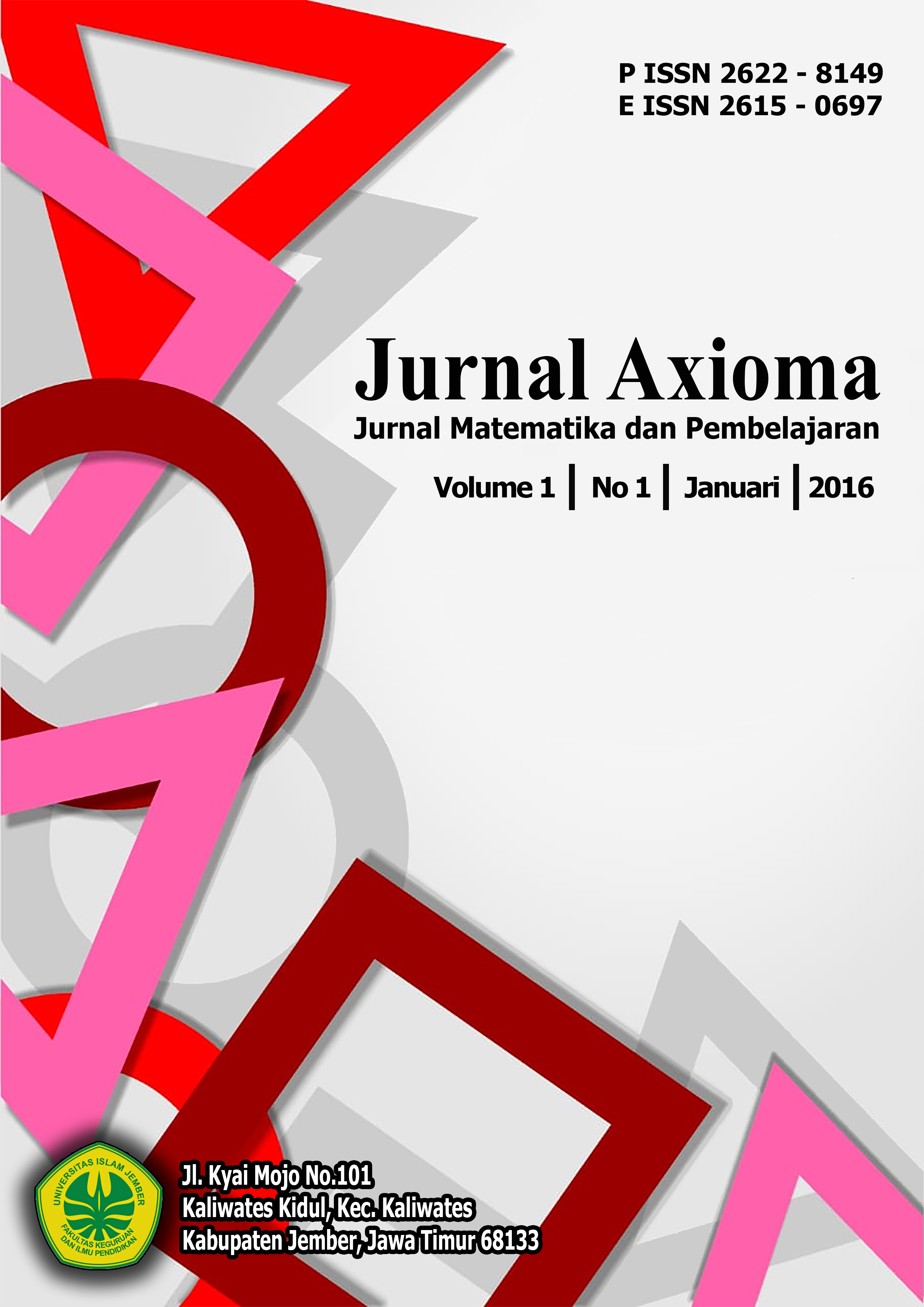 Downloads
How to Cite
Febrianti, I. (2016). Improving Activity and Mathematic Learning Outcomes of Students by Using Inquiry Learning Method. Jurnal Axioma : Jurnal Matematika Dan Pembelajaran, 1(1), 59–68. Retrieved from http://ejurnal.uij.ac.id/index.php/AXI/article/view/266
License
Copyright (c) 2016 Jurnal Axioma : Jurnal Matematika dan Pembelajaran
This work is licensed under a Creative Commons Attribution 4.0 International License.