Improving Activity and Learning Outcomes of Students by Using Quantum Teaching Learning Method
Abstract
The purpose of the research to know the using of Quantum Teaching model can increase the students' activities and to know the using of Quantum Teaching model can increase the students learning outcomes The kind of the research is PTK with quantitative approach. The subjects of the research are students of class VIIB at MTs Walisongo 3 Banyuanyar. With the data collecting method that used in the research are documentation, observation, interview and test. The data analysis method thet used qualititif and quantitative. The results of the research there is increased activity and student learning outcomes.
Keywords: Quantum Teaching, students activity, and learning outcome
References
Deporter, Bobbi., Reardon, Mark., dan singer-Nourie. Sarah. 2010Quantum Teaching: Mempraktikkan Quantum Learning di Ruang-ruang Kelas. Bandung: Kaifa.
Dimyati dan Mudjiono. 2002. Belajar dan Pembelajaran Cetakan II. Jakarta: Rineka Cipta.
Hamalik, Oemar.2008. Prosedur Belajar Mengajar. Jakarta : PT Bumi Aksara
Hobri. 2007. Penelitian Tindakan Kelas untuk Guru dan Praktisi. Jember. UPTD Balai Pengembangan Pendidikan Dinas Pendidikan Pemerintah Kabupaten Jember.
Khair, Ummul. 2010. "Penerapan Pembelajaran Problem Based Instruction (PBI) Dengan Setting Quantum Teaching untuk Meningkatkan Hasil Belajar Siswa Kelas VII SMP Darul Hikmah pada Sub Pokok Bahasan Aritmatika Sosial Tahun Ajaran 2010/2011". Jember: Unej.
Magfiroh. 2013. " Penerapan Metode Quantum Teaching Pada Pokok Bahasan Penyelesaian Sistem Persamaan Linier Dua Variabel untuk Meningkatkan Hasil Belajar Siswa". Jember : UIJ
Sardiman, AM. 2006. Interaksi dan Motivasi Belajar Mengajar. Jakarta: PT Raja Grafindo Persada Jakarta
Ulum, Darul 2011. Pembelajaran Matematika Realistik dengan Pendekatan Humanistik Untuk Meningkatkan Pemahaman Konsep Volume dan Luas Permukaan Bola Kelas IX Semester Gasal MTs Al Islah Jenggawah Tahun Pelajaran 2011/2012. Skripsi Sarjana Pendidikan FKIP UIJ. Jember : Tidak diterbitkan.
Untung. 2013. Strategi Pembelajaran Quantum Teaching dan Quantum Learning. https://untung45.wordpress.com//strategi-pembelajaran-quantum-teaching-dan-quantum-learning/< 12 April 2015 >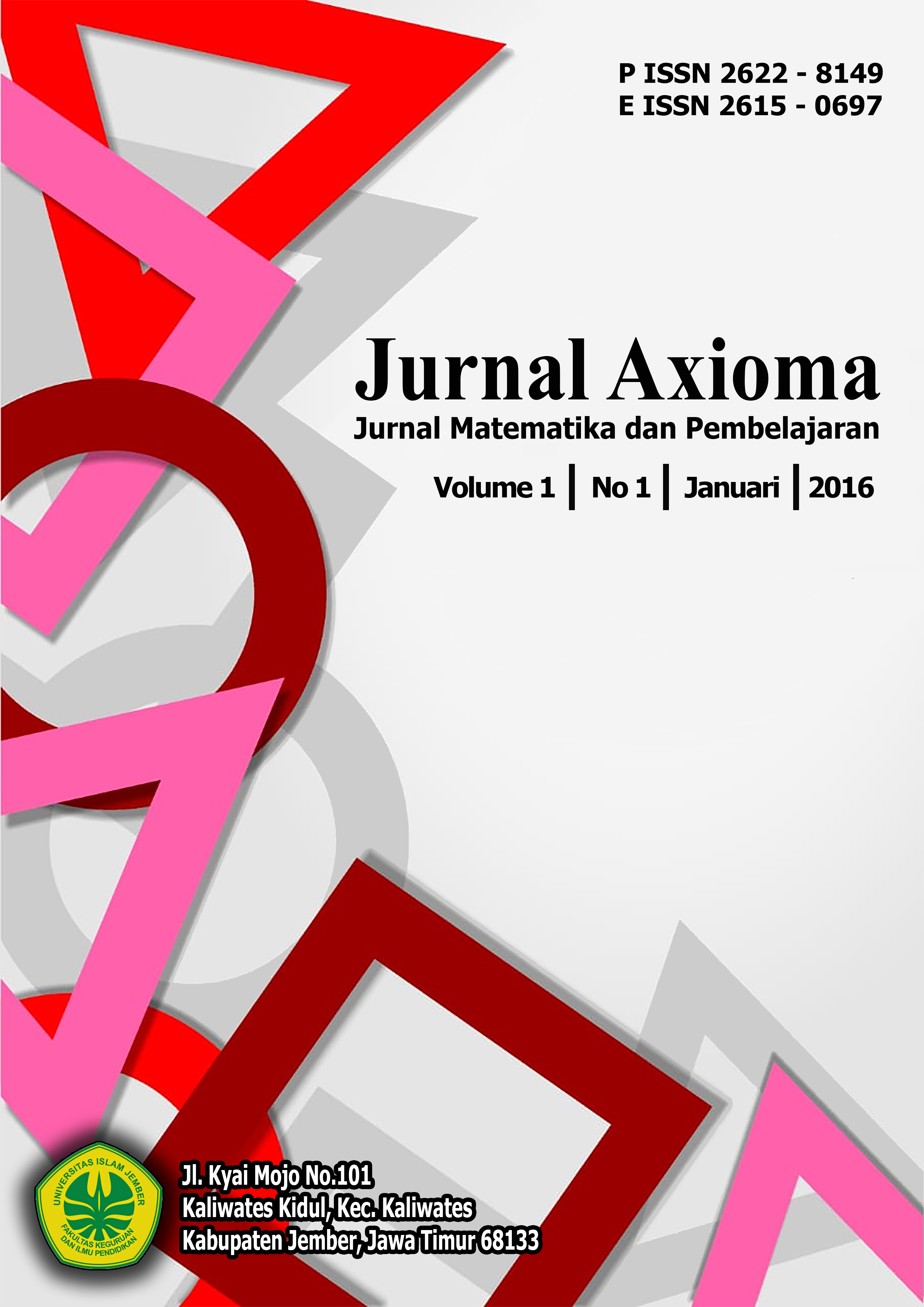 Downloads
How to Cite
Rahayu, N. A. (2016). Improving Activity and Learning Outcomes of Students by Using Quantum Teaching Learning Method. Jurnal Axioma : Jurnal Matematika Dan Pembelajaran, 1(1), 89–96. Retrieved from http://ejurnal.uij.ac.id/index.php/AXI/article/view/269
License
Copyright (c) 2016 Jurnal Axioma : Jurnal Matematika dan Pembelajaran
This work is licensed under a Creative Commons Attribution 4.0 International License.