Improving Students Activity and Students Learning Outcomes by Using Problem Centered Learning (PCL) Setting Numbered Head Together (NHT)
Abstract
The purpose of the research is to know the improving of students activities by using problem centered learning (PCL) setting numbered head together (NHT) learning model. To know the improving of student learning outcomes by using problem centered learning (PCL) setting numbered head together (NHT) learning model.  The kind of the research is PTK with qualitative and quantitative approach. The subjects of the research are students of class VIIIA at MTs Al Firdaus Suci Panti. With the data collecting method that used in the research are documentation, observation, interview and test. The data analysis method that used is qualitative and quantitative. The results of the research there is increased activity and student learning outcomes.
Keywords: PCL, NHT,  students activity, and students learning outcomes
References
Arends, Richard, I. 2007. Classroom Instruction and Management. New York : Mc. Graw – Hill
Arifin, Z. 2011. Penelitian Tindakan Kelas Untuk Guru. Bandung : CV Irama Widya
Arikunto. 2006. Penelitian Pendekatan Suatu Praktik. Jakarta:Rineka Cipta
Budiono, A.N. 2015. Buku Pedoman Penyusunan Proposal dan Skripsi. Jember: UIJ.
Cassel, D. 2011. Learning Mathematics in Community Accomodating Styles in Second_Grade problem Centered Classroom (Focus on Learning Problem in Mathematic).
Depdiknas, 2007. Pedoman Untuk Pengembangan Sistem Penilaian Berbasis Kompetensi SMP. Jakarta: Depdiknas
Eggen, D. Paul dan Kauchack, P. Donald. 2009. Strategies for Teahers, Teaching Content Thinking Skill. Boston: Allyn and Bacoon Publisher.
Hafriani. 2009. Mengembangkan Kemampuan Pemecahan Masalah Matematika Siswa Melalui Problem Centered Learning. Tesis Pendidikan Pasca Sarjana UPI Bandung (skripsi tidak diterbitkan).
Hobri. 2008. Metode Penelitian. Jember : Pena
Salsabila
Hobri. 2009. Model-model Pembelajaran Inovatif. Jember : Pena Salsabila
Kesowo, B. 2010. Undang-Undang Republik Indonesia Nomor 20 Tahun 2003 Tentang Sistem Pendidikan Nasional. https://www.google.co.id/Fuu-nomor-20-tahun-2003-tentang Sisdiknas. pdf(14 Agustus 2016)
Mappa, S. dan A Ballesman. 2010. Teori Belajar Orang Dewasa. Jakarta:Departemen Pendidikan dan Kebudayaan.
Moleong, L. 2012. Metode Penelitian Kualitatif. Bandung : Remanja Rosdakarya
Nasution. 2011. Didaktik Asas Mengajar. Jakarta: Bumi Aksara.
Nurhadi dan Senduk. 2008. Pembelajaran Kontekstual (CTL) dan Penerapannya Dalam Kurikulum Berbasis Kompetensi. Malang: Universitas Malang.
Slameto. 2006. Belajar dan Faktor-Faktor yang
Mempengaruhinya. Jakarta : PT Rineka Cipta
Stephanie, Kadel. 2012. Hot Topics: Problem – Centered Learning in Mathematics and Science. [Online]. Tersedia di: http:www.eric.ed.gov(9 November 2016)
Sudjana, Nana. 2008. Penelitian Hasil Proses
Belajar Mengajar. Bandung: Remaja Rosdakarya.
Sunardi. 2006. Model Pembelajaran Berbasis Prinsip – Prinsip KBM. Makalah Disajikan dalam Pelatihan Peningkatan Kompetensi Pedagogik Guru – Guru SMAN 2 Bondowoso, 18 Maret 2006.
Tim Pelatih Proyek PGSM. 2007. Penelitian Tindakan Kelas. Jakarta: Departemen Pendidikan dan Kebudayaan.
Tryana, Antin. 2008. Penerapan Model Pembelajaran Kooperatif Numbered Heads Together (NHT). (http://Alt.Red/clnerwork/numbered.htm), (12 Juni 2016).
Walbert. 2012. The Math Wars and The Case forProblem Centered-Math. [online]. Tersedia : http://www.learncc.org/lp/editions/pemath/790 (15 Juni 2016)
Wardhani, I.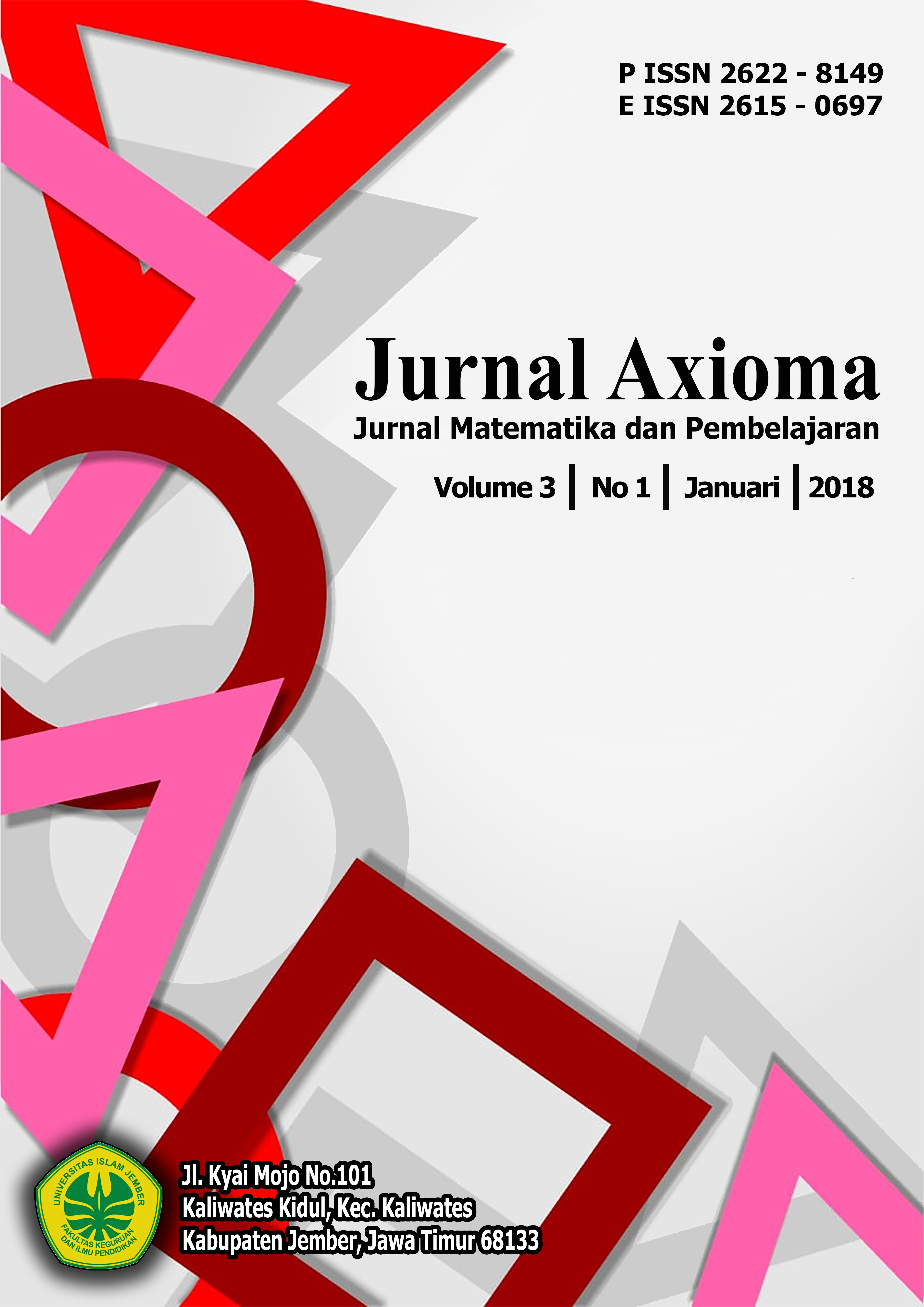 Downloads
How to Cite
Nihayaturrahmah, S. (2018). Improving Students Activity and Students Learning Outcomes by Using Problem Centered Learning (PCL) Setting Numbered Head Together (NHT). Jurnal Axioma : Jurnal Matematika Dan Pembelajaran, 3(1), 60–75. Retrieved from http://ejurnal.uij.ac.id/index.php/AXI/article/view/310
License
Copyright (c) 2018 JURNAL AXIOMA : Jurnal Matematika dan Pembelajaran
This work is licensed under a Creative Commons Attribution 4.0 International License.