Improving Students Activity and Students Learning Outcomes by Using NHT (Numbered Heads Together) with PBI (Problem Based Instruction)
Abstract
The purpose of the research is to describe the students activities in using numbered heads together (NHT) with problem based instruction (PBI) learning model. To describe the students learning outcomes in using numbered heads together (NHT) with problem based instruction (PBI) learning model. The kind of the research is PTK with qualitative and quantitative approach. The subjects of the research are students of class VII at MTs Miftahul Ulum Kepanjen. With the data collecting method that used in the research are documentation, observation, interview and test. The data analysis method that used is qualitative and quantitative. The results of the research there is increased activity and student learning outcomes.
Keywords: NHT,  PBI, students activity, and students learning outcomes
References
Arikunto, Suharsimin. 2010. Prosedur Penelitian Suatu Pendekatan Praktek. Jakarta :RinekaCipta
Budiono, Arifin N. 2015. Buku Pedoman Penyusunan Proposal dan Skripsi Fakultas Keguruandan Ilmu Pendidikan Universitas Islam Jember.Jember :PustakaRadja.
Cholik , Adinawan . 2005 . Matematika Untuk SMP/MTs Kelas VII .Jakarta : PT. Erlangga.
Hamalik, Oemar. 2009. KurikulumdanPembelajaran. Jakarta: PT. BumiAksara..
Hamim , Nur . 2012 . Bahan ajar pendidikan dan latihan profesi guru. Surabaya.
Ibrahim, H. Muslimin .2000. Pembelajaran Kooperatif . Surabaya: University Press
Nengah, ,Karmajaya.2014. Upaya meningkatkan Aktivitas dan Prestasi Belajar Siswa dalam Pembelajaran Bangun Datar Segiempat Melalui Penerapan Model Problem Based Learning (PBL) Pada Siswa Kelas VllA SMP Negeri Kintaman Tahun Pelajaran 2013/2014. Di Terbitkan.
Robert, Slavin. 2005. Coopertaif Learning TeoriRisetdanPraktik. Bandung: Nusa Media.
Sanjaya, Wina.2006.Strategi Pembelajaran.Jakarta:Kencana
Sutawidjaja, Akbar & D, Jarnawi Afgani.Pembelajaran Matematika. Jakarta:Universitas Terbuka
Sutikno,Sobry.2007.Strategi Belajar Mengajar. Bandunh:Refika Aditama
Trianto, M.Pd. 2009.Mendesain Model Pembelajaran Inovatif-Progresif. Jakarta: Prenada Media Grup.
http://ainamulyana.blogspot.co.id/2011/01/pengertian-hasil-belajar-dan-faktor.html?m=1,<1 april 2016>
http://ainamulyana.blogspot.com/2011/12/model-pembelajaran-berbasis masalah.html ,<2 april 2016>
www.kajianteori.com/2014/02/pengertian-pembelajaran matematika.html ,<1april2016>
www.eurapendidikan.com/2015/10/model-pembelajaran-kooperatif-numbered.html?m=1,<4 april 2016>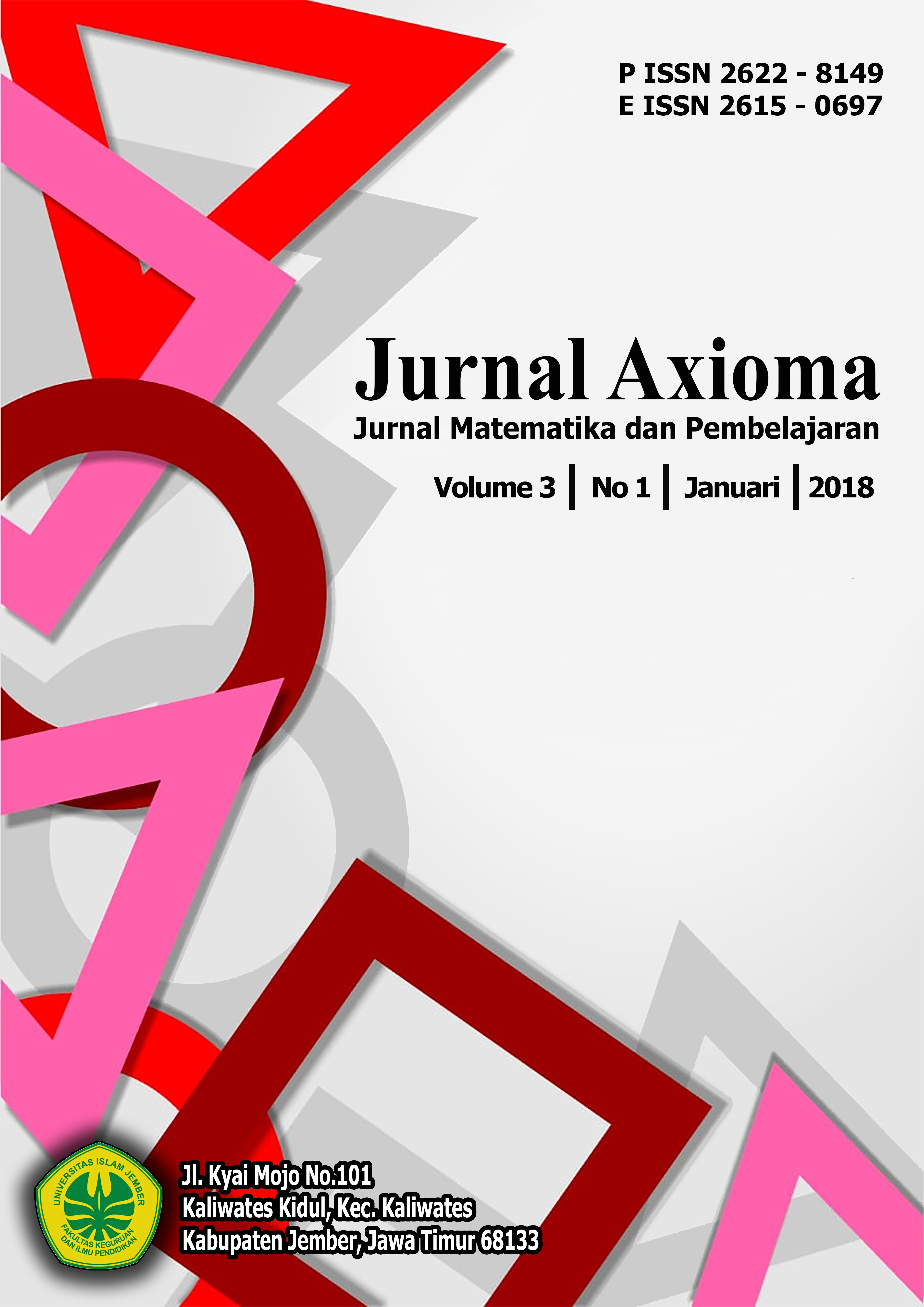 Downloads
How to Cite
A Yun, Q. (2018). Improving Students Activity and Students Learning Outcomes by Using NHT (Numbered Heads Together) with PBI (Problem Based Instruction). Jurnal Axioma : Jurnal Matematika Dan Pembelajaran, 3(1), 76–82. Retrieved from http://ejurnal.uij.ac.id/index.php/AXI/article/view/311
License
Copyright (c) 2018 JURNAL AXIOMA : Jurnal Matematika dan Pembelajaran
This work is licensed under a Creative Commons Attribution 4.0 International License.