Improving Students Activity and Students Learning Outcomes by Using Combined of Team Games Tournament (TGT) and Guide Note Taking (GNT)
Abstract
The purpose of the research is to describe the students activities in using mix of team games tournament (TGT) and guide note taking (GNT) learning model. To describe the students learning outcomes in using mix of team games tournament (TGT) and guide note taking (GNT) learning model. The kind of the research is PTK with qualitative and quantitative approach. The subjects of the research are students of class VIII at MTs Darul Mukhlashin. With the data collecting method that used in the research are documentation, observation, interview and test. The data analysis method that used is qualitative and quantitative. The results of the research there is increased activity and student learning outcomes.
Keywords: TGT, GNT, students activity, and students learning outcomes
References
Anonim. 2010.Model Pembelajaran Kooperatief Tipe TGT. http://suhadinet.wordpress. com.
Arikunto, Suharsimi. 2008.Jenis Penelitian Tindakan Kelas (PTK ) Jakarta : PT Rineka Cipta
Budiono, Arifin Nur.2011. Buku Pedoman Penyusunan Proposal dan Skripsi. Jember : Pustaka Radja.
Darsono.2002.Karya Ilmiyah ( Secara Umum Pengertian Pembelajaran). http: //WWW.library.um.id < 5 Januari 2013 >
Dimyanti, Mudjiono.2009. Hasil Belajar dan Pembelajaran.Jakarta: PT Rineka Cipta
Hamalik, Oemar.2002. Proses Belajar Mengajar. Jakarta :Bumu Asara
Hobri. 2009. Model-Model Pembelajaran Inovatif. Jember: CSS Jember
Purnawati, Sri.2009.Peningkatan Kualitas Pembelajaran Dengan Metode TGT .Surakarta:UMS
Rohman, Fathur.2006. Metode Analisis Data. http ://WWW. Skribd. com<23 April 2015 >
Rusman. 2010. Model-Model Pembelajaran Mengembangkan Profesionalisme Guru. Raja Grafindo Persada Pustaka: Jakarta
Slameto.2003. Prinsip-Prinsip Belajar dan Faktor-Faktor YangMempengaruhiny.Makalah. Malang. Jurusan Matematika. Universitas Muhamaddiyah Malang.
Slavin, Rober E.2008. Pengertian Team Games Tournament (TGT)Bandung : Nusa Media.
Sudjana, Nana.2009. Penilaian dan Hasil Proses Belajar Mengajar. Bandung : PT Remaja Roydakarya.
Sugiono.2008.Memahami Penelitian Kualitatif.Bandung; CV Alfabeta.
Trianto. 2010. Mengembangkan Model Pembelajaran Tematik. Jakarta: Prestasi Pustaka Publisher
.( 1993 ). Pengertian Pembelajaran. Jakarta : Rineka Cipta
.(2008) Cooperatif Learning ( Teori Riset dan praktik). Bandung:Remaja Rosdakarya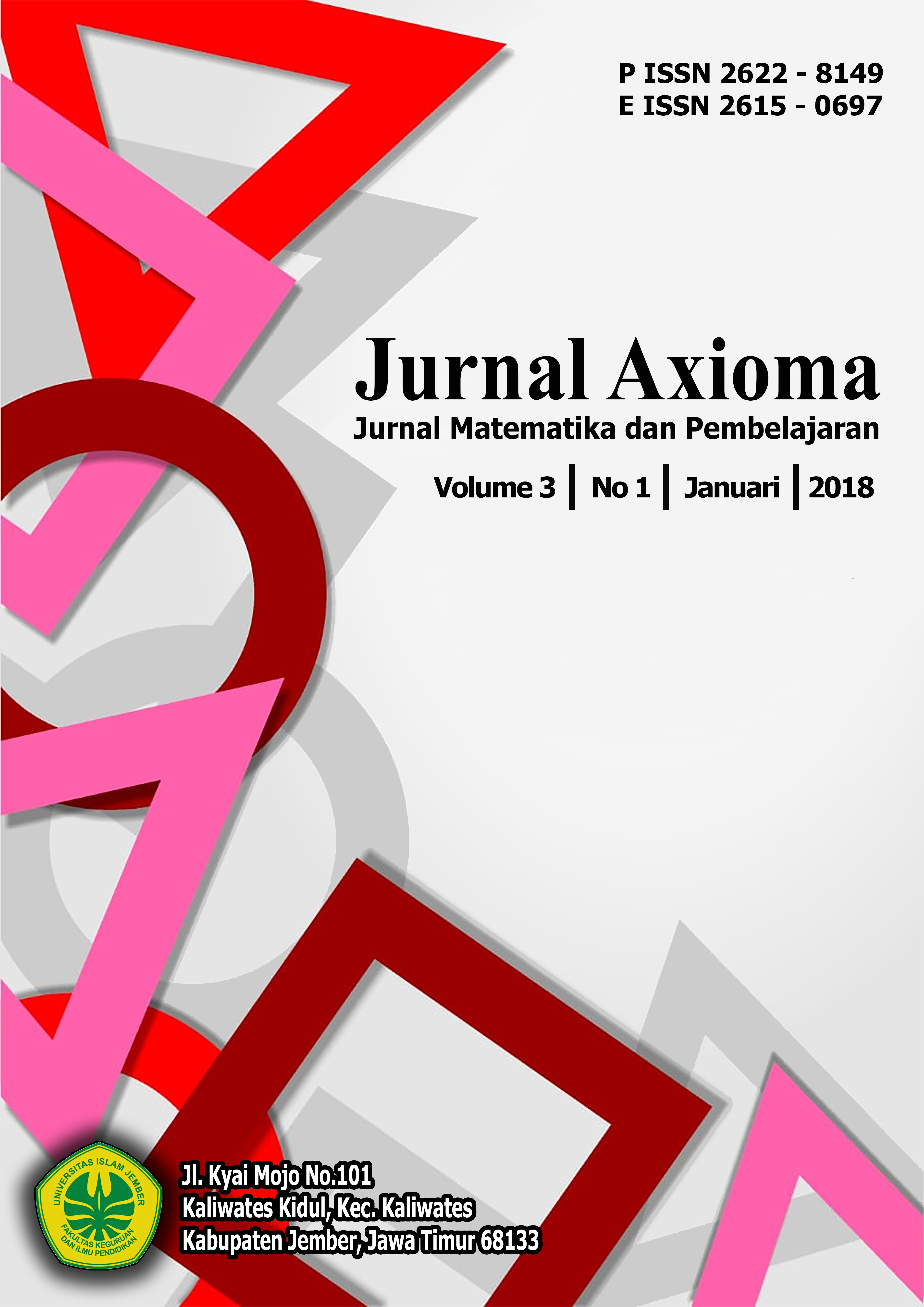 Downloads
How to Cite
Amalia, M. (2018). Improving Students Activity and Students Learning Outcomes by Using Combined of Team Games Tournament (TGT) and Guide Note Taking (GNT). Jurnal Axioma : Jurnal Matematika Dan Pembelajaran, 3(1), 83–96. Retrieved from http://ejurnal.uij.ac.id/index.php/AXI/article/view/312
License
Copyright (c) 2018 JURNAL AXIOMA : Jurnal Matematika dan Pembelajaran
This work is licensed under a Creative Commons Attribution 4.0 International License.