Improving Students Activity and Students Learning Outcomes by Using Collaborations of RME (Realistic Mathematics Education) Dengan TGT (Team Games Tournament)
Abstract
The purpose of the research is to describe the students activities in using mix of RME (Realistic Mathematics Education) with TGT (Team Games Tournament) learning model. To describe the students learning outcomes in using mix of RME (Realistic Mathematics Education) with TGT (Team Games Tournament) learning model. The kind of the research is PTK with qualitative and quantitative approach. The subjects of the research are students of class VIIA at SMPI Al Barokah Banyuanyar. With the data collecting method that used in the research are documentation, observation, interview and test. The data analysis method that used is qualitative and quantitative. The results of the research there is increased activity and student learning outcomes.
Keywords: RME, TGT, students activity, and students learning outcomes
References
Arikunto, Suharsini.2006.Prosedur Penelitian suatu Pendekatan Praktik.Jakarta:PT. Rineka Cipta
Annonim. 2004. Model Matematika SMK. http://www.google.co.id/search?hl= en&cr=countryID&q=model-model+pembelajaran&start=10&sa=N. Diakses 2 April 2008
Annonim. 2005. Membangkitkan Motivasi Belajar Siswa. http://www.bruderfic.or.id/h-129/peran-guru-dalam-membangkitkan-motivasi-belajar-siswa.html. Diakses 28 Juni 2008
Budiono, Arifin N. 2014. Buku Pedoman Penyusunan Proposal dan Skripsi.Jember :Pustaka Radja Jember
Dewi Nuharini,Wahyuni Tri,2008.Matematika Konsep dan Aplikasinya,Departemen Pendidikan Nasional :Jakarta
Dimyati dan Mudjiono,1999,Belajar dan Pembelajaran,Rineka Cipta:Jakarta
Elida Prayitno. 1989. Motivasi dalam Belajar. Jakarta: Depdikbud.
Endang Supartini. 2001. Diagnosis Kesulitan Belajar dan Pengajaran Remedial. Yogyakarta: FIP-UNY.
Erman Suherman, Turmudi, Didi Suryadi, Tatang Herman, Suhendra, Sufyani Prabawanto, Nurjanah, Ade Rohayat. 2003. Strategi Pembelajaran Matematika Kontemporer. Bandung: Jurusan Pendidikan Matematika FMIPA UPI.
Frith, Constance. Motivation to Learn. http://www.usask.ca/education/ coursework/802papers/ Frith/Motivation.HTM. Diakses 1 September 2008
Hamalik, Oemar. 2008. Kurikulum dan Pembelajaran. Bumi Aksara
Ibrahim,M.,dkk,2000,Pembelajaran Kooperatif,Unesa :Surabaya
Isjoni.2007.Pembelajaran Kooperatif Meningkatkan Kecerdasan Komunikasi Antar Peserta Didik. Yogyakarta:Pustaka Pelajar
Jica.2001.Strategi Pembelajaran Matematika Kontemporer Bandung:Universitas Pendidikan Indonesia
Moh. Uzer Usman. 1993. Upaya Optimalisasi Kegiatan Belajar Mengajar. Bandung: Rosdakarya.
Muhibbin Syah, M.Ed. 2002. Psikologi Belajar. Jakarta: Rajawali Pers.
Musya'adah,Umi,2012.Skripsi Penerapan Pembelajaran rme Model tgt .UIJ:Jember
Nana Sudjana dan Ibrahim. 2001. Penelitian dan Penilaian Pendidikan. Bandung: Sinar Baru Bandung
Putra Winata, U.1992. Strategi Belajar Mengajar Matematika. Jakarta: Departemen Pendidikan dan Kebudayaan
Sudjana.2005.Hasil Belajar.Jakarta:Sinar Baru
Susiyana. 2006. Upaya Meningkatkan Motivasi Belajar Matematika Siswa melelui Model Pembelajaran Kooperatif Tipe TGT (Teams-Games-Tournaments) di SMP Muhammadiyah 4 Yogyakarta Kelas VII. Skripsi. Yogyakarta: Jurdik Matematika FMIPA UNY. Suryawahyuni Latief. 2008. Meningkatkan Motivasi Belajar. http://202.152.33.84/index.php?option=com_content&task=view&id=13377&Itemid=46. Diakses 26 Mei 2008
Trianto.2009.Mendesain Model Pembelajaran Inovatif Progresif.Jakarta:Kencana Prenada Media Group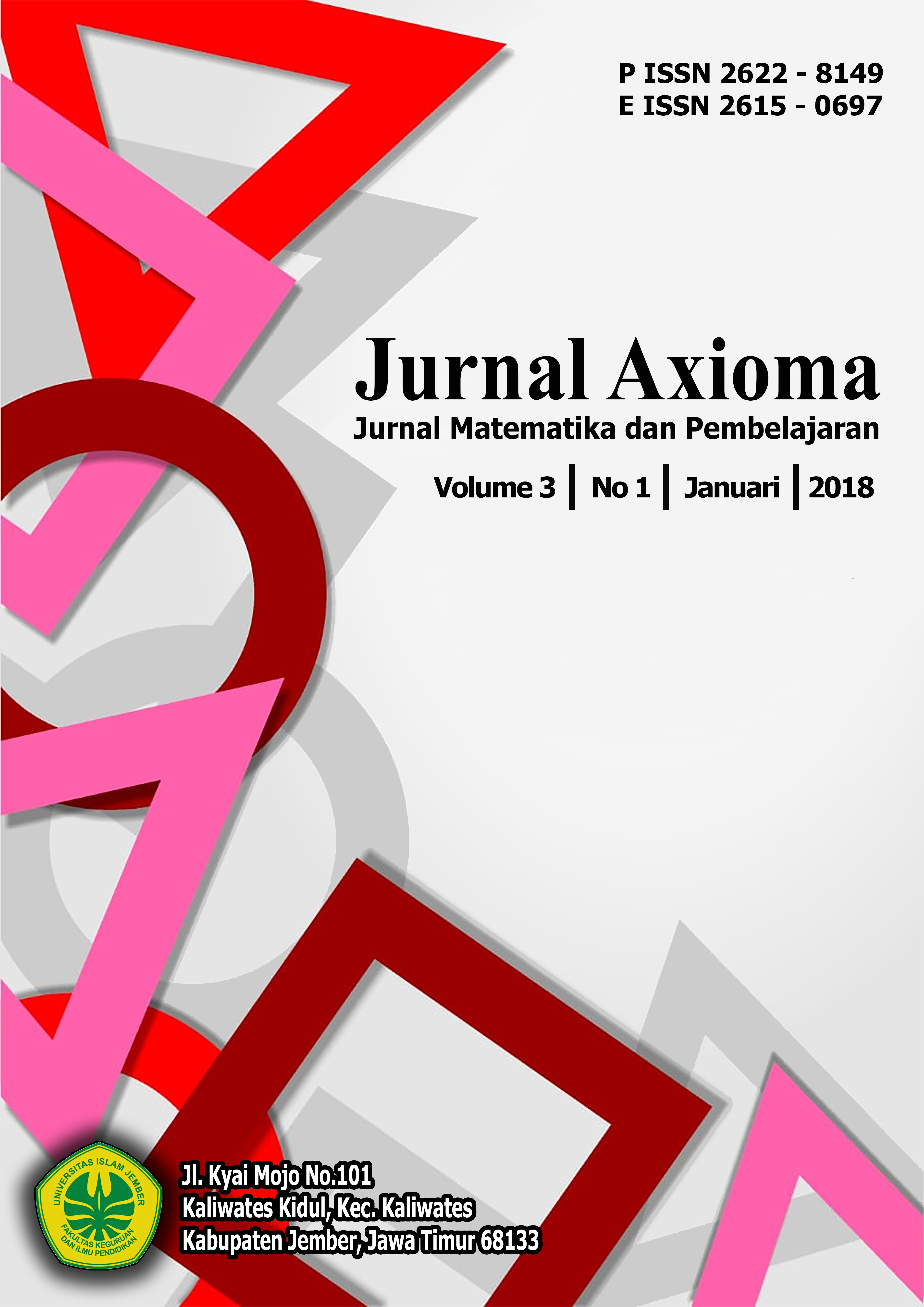 Downloads
How to Cite
Jalal, A. (2018). Improving Students Activity and Students Learning Outcomes by Using Collaborations of RME (Realistic Mathematics Education) Dengan TGT (Team Games Tournament). Jurnal Axioma : Jurnal Matematika Dan Pembelajaran, 3(1), 97–111. Retrieved from http://ejurnal.uij.ac.id/index.php/AXI/article/view/313
License
Copyright (c) 2018 JURNAL AXIOMA : Jurnal Matematika dan Pembelajaran
This work is licensed under a Creative Commons Attribution 4.0 International License.