The Effect of Team Assisted Individualization (TAI) Learning Model on Student Mathematics Learning Outcomes
Abstract
The purpose of the research is to know there is significant effect of using Team Assited Individualization (TAI) model on the mathematic students learning outcomes. The kind of the research is eksperimental research with quantitative approach. The subjects of the research are students of class VII A at SMP Satya Dharma Balung. With the data collecting method that used in the research are documentation, and test. The data analysis method that used is chi square. The value of chi square tes is 15,38 with dk is 1 and alpha 0,05 and chi square tabel is 3,841we know that chi square value > chi square table (15,38 > 3,841). So it is mean that Ha is approver and Ho is rejected, than we can say that there is significant effect of using team assited individualization (TAI) model on the mathematic students learning outcomes 
Keywoard: team assited individualization, mathematic student learning outcomes
References
DAFTAR PUSTAKA
Aviva. Tim. 2006. "Matematika untuk SMP Kelas VII Semester Genap". Klaten : Cv Aviva
Arifin, Zainal. 2011. Evaluasi Pembelajaran. Bandung: PT. Remaja Rosdakarya Offset.
Arikunto. Suharsimi. 2010. Prosedur Penelitian. Suatu Pendekatan Praktik. Jakarta : PT. Rineka Cipta.
Budiono.2015. Pedoman Penyusunan Proposal dan Skripsi. Jember : Pustaka Radja dan Fakultas Keguruan dan Ilmu Pendidikan Universitas Islam Jember (UIJ).
Farikah. Umi. 2011. "Pengaruh Model Pembelajaran Kooperatif Tipe Tai (Team Assisted Individualization) Dengan Media Lks Terhadap Prestasi Belajar Matematika Pada Materi Faktorisasi Suku Aljabar Siswa Kelas VII Semester 1 Smp Negeri 2 Gajah Kabupaten Demak Tahun Pelajaran 2010/2011". https://andynuriman.files.wordpress.com/2011/10/umi-farikah.pdf <01 Juni 2016>
Fathani, A & Masykur, M. 2009. Mathematical Intelligence. Jogjakarta : Ar-Ruzz Media.
Hakiim. Lukmanul. 2012. Perencanaan Pembelajaran. Bandung : CV. Wacana Prima.
Hamalik. Oemar. 2010. Kurikulum dan Pembelajaran. Bandung : Sinar Baru
Ibrahim, M & Sudjana. N. 2010. Penelitian Dan Penilaian Pendidikan. Jakarta : Sinar Baru Algensindo.
Lisnawati. Rina. 2015. "Penereapan Model Pembelajaran Kooperatif Tipe TAI Untuk Meningkatkan Hasil Belajar Siswa Kelas VIIB Pada Keliling Dan Luas Segitiga Di MTs Mabdaul Ma'arif Jombang Tahun Pelajaran 2014-2015. Jurnal, No. 1 : (16-17)
Nugroho. Siswo. 2013. "Pengaruh Pembelajaran Kooperatif Tai Terhadap Prestasi Belajar Matematika Ditinjau Dari Motivasi Berprestasi Siswa Kelas V Sd Tunas Daud 2012-2013
"http://download.portalgaruda.org/article.php?article=259024&val=7030&title=PENGARUH%20PEMBELAJARAN%20KOOPERATIF%20TAI%20TERHADAP%20PRESTASI%20BELAJAR%20MATEMATIKA%20DITINJAU%20DARI%20MOTIVASI%20BERPRESTASI%20SISWA%20KELAS%20V%20SD%20TUNAS%20DAUD < 1 Juni 2016 >
Muniroh. Faridatul. 2010. "Implementasi Model Pembelajaran Team Assisted Individualizazation (TAI) Untuk Meningkatakan Hasil Belajar Peserta didik Pada Materi Pokok Statistika Semester Gasal Kelas IPA-A MA Tajul Ulum Tahun Pelajaran 2009/2010".
http://library.walisongo.ac.id/digilib/files/disk1/98/jtptian-gdl-faridatulm-4851-1-skripsi_-2.pdf < 18 Maret 2016 >
Sugiono. 2011. Metode Penelitian Kuantitatif Kualitatif dan R&D. Bandung : Alfabeta.
Statistik Nonparametris untuk Penelitian. Bandung : Alfabeta.
Syaifuddin. M. Wahid. 2013."Eksperimentasi Model Pembelajaran Kooperatif Tipe Teams Assisted Individualization (TAI) Pada Pokok Bahasan Relasi Dan Fungsi Ditinjau Dari Kemampuan Awal Siswa Tahun ajaran 2012-2013". http://journal.unwidha.ac.id/index.php/magistra/article/viewFile/271/220. < 1 Juni 2016 >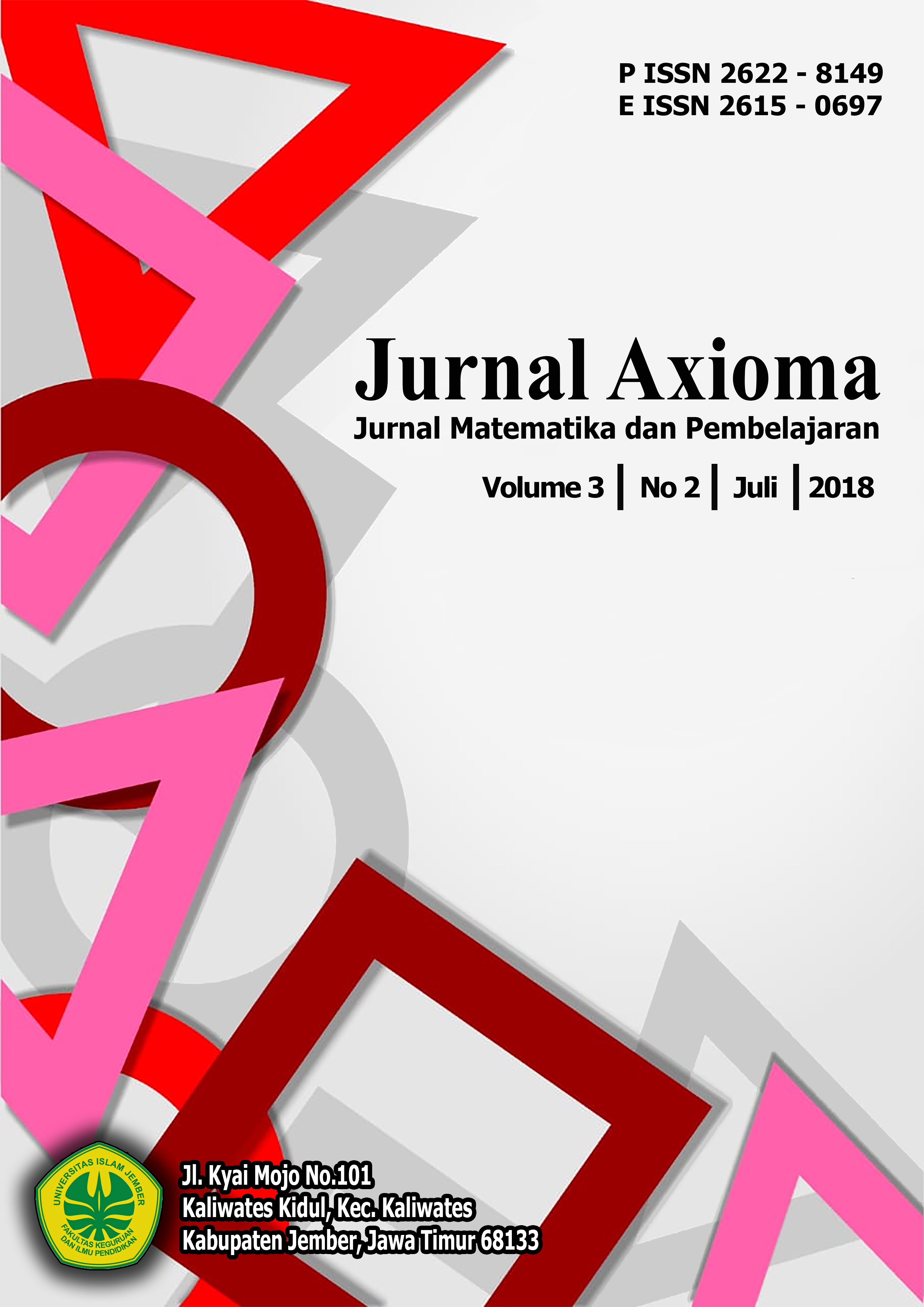 Downloads
How to Cite
Janah, R. (2018). The Effect of Team Assisted Individualization (TAI) Learning Model on Student Mathematics Learning Outcomes. Jurnal Axioma : Jurnal Matematika Dan Pembelajaran, 3(2), 176–184. Retrieved from http://ejurnal.uij.ac.id/index.php/AXI/article/view/334
License
Copyright (c) 2019 JURNAL AXIOMA : Jurnal Matematika dan Pembelajaran
This work is licensed under a Creative Commons Attribution 4.0 International License.