The Effect of Computer Assisted Learning on Student Mathematics Learning Outcomes
Abstract
Learning is the main activity of the education process. The researcher compared the results of students' mathematics learning between students who were taught by conventional learning and used computer-assisted learning in learning. Based on the results of data analysis it is known that from dk 1 and significant level of 0.05 then the price of chi squared count> table (1538> 3.841), it can be concluded that Ha is accepted and Ho is rejected. In this case based on the results of the research we can say that computer-assisted learning has a significant effect on the student mathematics learning outcomes. The teacher must always give motivation to the students to be understand the material taught and cooperation and responsibility for the success of a learning process.
Keyword: computer assisted learning and mathematic learning outcomes.
References
DAFTAR PUSTAKA
Sumber Buku
Arifin, Zainal.2011. Evaluasi Pembelajaran.Bandung: PT. Remaja Rosdakarya Offset.
Arikunto, Suharsimi. 2006. Prosedur Penelitian Suatu Pendekatan Praktik.
Budiono, Arifin Nur. 2015. Buku Pedoman Penyusunan Proposal dan Sekripsi. Jember: Pustaka Radja dan Fakultas Keguruan dan Ilmu Pendidikan Universitas Islam Jember.
Hanifa, Firdausi Shella.2013. Penggunaan Media Pembelajaran Berbantuan KomputerMicrosoft Power Point. UIN Maulana Malik Ibrahim Malang.
Hitler, Ahmad. 2012. Penggunaan Media Presentase Microsoft Power Point untukMeningkatkan Hasil Belajar IPS terpadu pada Siswa Kelas VIII A SMP NEGERI2 Tanantovea.
Husni Idris. 2008. Pengembangan multimedia pembelajaran Berbantuan computer. Januari. 51-52.
Lukito, Agung. 2014. Buku Guru MATEMATIKA. Buku Kurikulum 2013 kelas
VII Edisi Revisi.
Sugiyono.2011.Metode Penelitian Kuantitatif Kualitatif dan R & D.
Sumber Jurnal
Efrina, Elsa. 2014. "Penerapan Keterampilan Aplikasi Komputer dan Internet dalam Aktivitas Belajar Siswa Tunarungu Di Kota Padang" Jurnal Ilmiah Ilmu Pendidikan, Volume XIV No.2 November 2014
Fitri, Rahmah dkk. 2014. Penerapan Strategi The Firing Line pada Pembelajaran matematika Siswa Kelas XI IPS SMA Negeri 1 Batipuh. Jurnal Pendidikan Matematika.Vol.3 No.1. 2015
Khamim. 2012. Efektivitas Penggunaan Media Power Point dalam Pembelajaran PAI di Kelas X SMA Negri 3 Bantul.
Marfuah, Siti dkk. 2016. Pengembangan Media Pembelajaran MenggunakanPower Point disertai Visual Basic for Aplication Materi jarak pada Bangun Ruang Kelas X. Jurnal GANTANG Pendidikan Matematika FKIP-UMRAH, Volume.1 No.1 2016
Meidyanto, Trido dkk. 2004. Sebuah Implementasi Computer Aided Learning : Aplikasi Drum Interaktif.Jurnal Ilmiah Ilmu Komputer. volume 2.ISSN 1412-9523.Bandung.Indonesia
Setiawan K Jony.2007.Information Technology Contributions in Developing Education Technology. Journal Informatika.volume 3 ISSN 0216- 4280. Bandung.Indonesia
Setyono, Dwi, 2016. Pengaruh Pembelajaran Berbasis Komputer terhadap Prestasi Belajar Matematika ditinjau dari Keaktifan Siswa;.Surakarta :
Sholihah, Dyahsih Alin, dkk. 2015. Keefektifan Experiential LearningPembelajaran Matematika MTs Materi Bangun Ruang Sisi Datar. Jurnal Riset pendidikan Matematika.
Volume 2 No.2, November 2015.
Sulistiorini. 2012. Pembelajaran Berbantuan Komputer Untuk Meningkatkan Prestasi Belajar Matematika Siswa pada Pokok Bahasan Kesebangunan Kelas IX Semester ganjil SMP Ma'arif 08 Ampel Wuluhan Jember Tahun ajaran 2011/2012. Universitas Islam Jember
Wartini, dkk. 2012. Media Pembelajaran Power Point untuk Meningkatkan kemampuan Penalaran Matematis Siswa Sekolah Menengah Pertama.
Zulkipli. 2015. Analisis Kesulitan Siswa Kelas VII SMP Negeri 3 Lubuklinggau dalam Menyelesaikan Soal Segi empat. STKIP-PGRI Lubuklinggu.
Sumber Internet
(www.metode-pengembangan-software,<01Januari 2018>)
(www.PembelajaranBerbasis Komputer, <02 Januari 2018>)
(www.pembelajaran-berbantuan-komputer-pbk.html,<05 januari 2018>)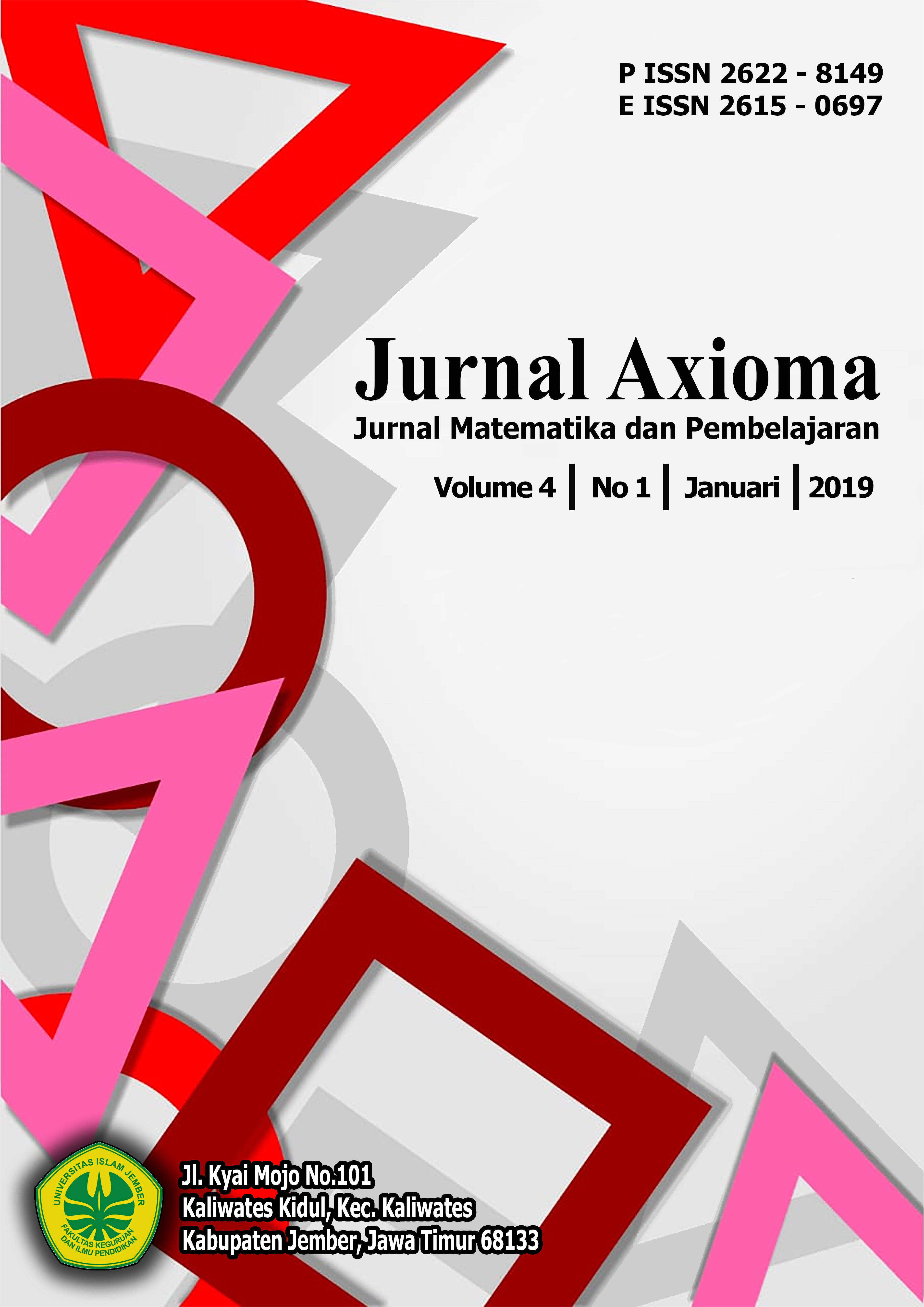 Downloads
How to Cite
Mashuda, M. (2019). The Effect of Computer Assisted Learning on Student Mathematics Learning Outcomes. Jurnal Axioma : Jurnal Matematika Dan Pembelajaran, 4(1), 44–54. https://doi.org/10.36835/axi.v4i1.343
License
Copyright (c) 2019 JURNAL AXIOMA : Jurnal Matematika dan Pembelajaran
This work is licensed under a Creative Commons Attribution 4.0 International License.