The Profile of Students' Mathematical Communication Ability Viewed from Differences in Learning Outcomes
Abstract
Most students assume that mathematics is a complicated subject and has a higher level of difficulty in its delivery. The subject of this study was the tenth grade student of Science at Diponegoro High School in Jember Institution. Based on the problems that exist in this study so that a problem is formulated which is how mathematical communication skills of students who have high learning outcomes, how mathematical communication skills of students who have moderate learning outcomes, and how mathematical communication skills of students who have low learning outcomes. Based on the results of research and discussion it can be concluded that subjects with high learning outcomes have mathematical communication skills at the time of interview giving a minimal model for everyday life. While for the subject of moderate learning outcomes, the subject uses a model / parable in everyday life in order to more easily understand the material that exists. And subjects with low learning outcomes, the subject still cannot find a line that connects the material with the given modeling.
Keywoard: mathematical communication skill, learning outcomes
References
DAFTAR PUSTAKA
Ahmad, S. dkk.(2006). Isu-Isu dalam Pendidikan matematika. Kuala Lumpur
Ati, N.R.M. (2008). Pengaruh Model Pembelajaran Kooperatif Tipe Two Stay Two Stray terhadap Kemampuan Komunikasi Matematika Siswa SMA. Skripsi Jurusan Pendidikan Matematika FKIP UNPAS: tidak diterbitkan
Eka Lestari, Karunia & Ridwan Yudhanegara, Mokhammad. 2015. Penelitian Pendidikan Matematika. Bandung: Refika Aditama
Elfanany. 2013. Pendekatan penelitian.
Fauzan, A. (2008). Problematika Pembelajaran Matematika dan AlternatifPenyelesaiannya. Padang: Pidato Pengukuhan Dr. Ahmad Fauzan, M.Pd., M.Sc.Sebagai Guru Besar dalam Bidang Pendidikan Matematika pada FPMIPA UNP.
Franks, D dan Jarvis, D. (2009). Communication in the Secondary Mathematics Classroom: Exploring New Ideas.
Guerreiro, A. (2008). Communication in mathematics teaching and learning
Hamdani. 2010. Strategi Belajar Mengajar. Bandung: Pustaka Setia.
Iskandar. 2012. Penelitian Tindakan Kelas. Jakarta: Referensi.
LACOE (Los Angeles County Office of Education).Communication.http://teams.lacoe.edu. (di akses pada tanggal28 Desember 2015).
Lim, C. S. dan Chew, C. M. (2007). Mathematical Communication in Malaysian Bilingual Classrooms. Japan
National Council of Teacher of Mathematics (NCTM).(1996). Communication in Mathematics, -12 and Beyond. Reston, VA :NCTM.
Prof. Deddy Mulyana, M.A.,Ph.D ; Ilmu Komunikasi Suatu Pengantar ; PT remaja rosdakarya ; Bandung.
Saragih, S. (2007). Mengembangkan Kemampuan Berpikir Logis Dan Komunikasi Matematik Siswa Sekolah Menengah Pertama Melalui Pendekatan Matematika Realistik.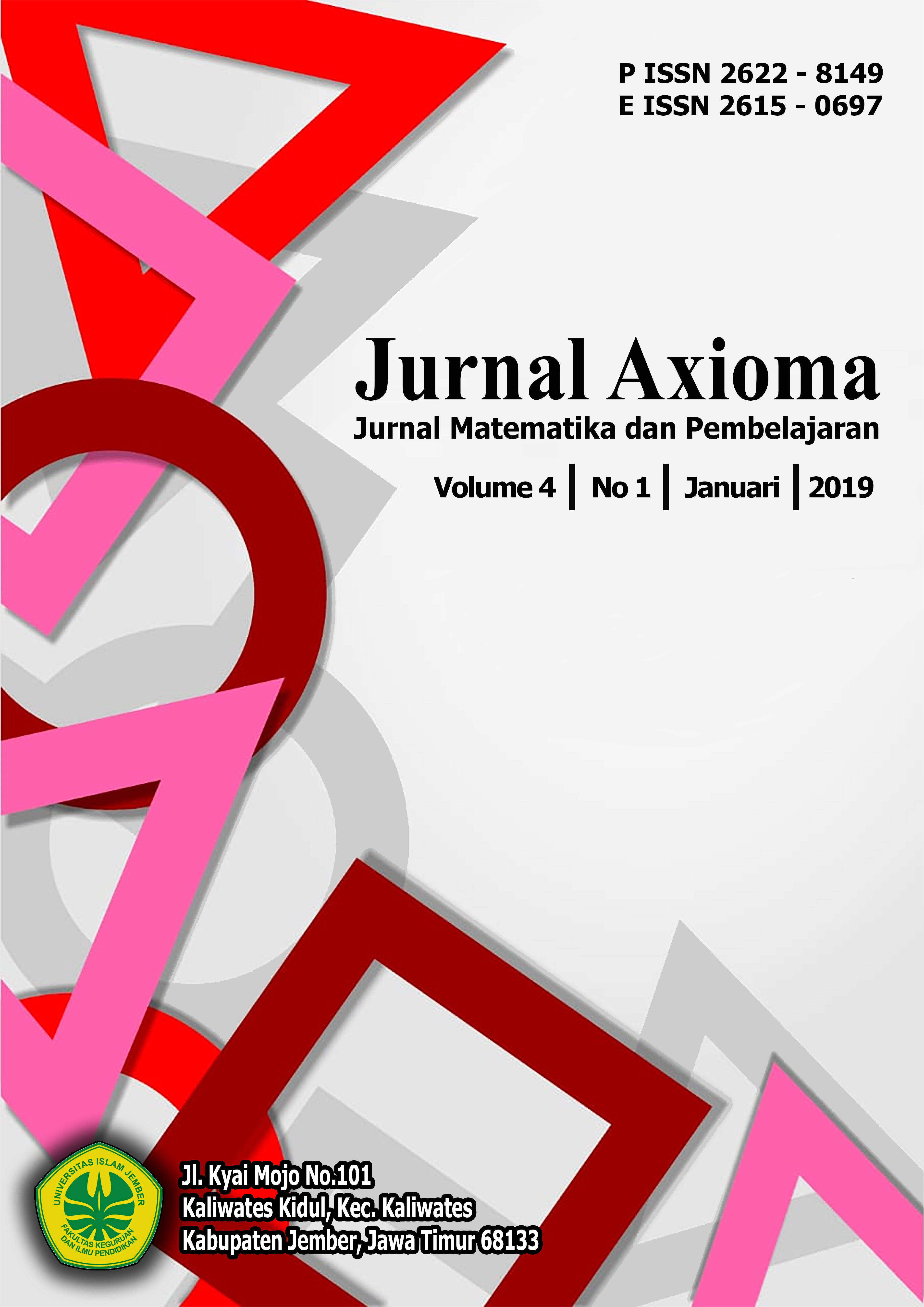 Downloads
How to Cite
Perdana, S. R. (2019). The Profile of Students' Mathematical Communication Ability Viewed from Differences in Learning Outcomes. Jurnal Axioma : Jurnal Matematika Dan Pembelajaran, 4(1), 72–80. https://doi.org/10.36835/axi.v4i1.347
License
Copyright (c) 2019 JURNAL AXIOMA : Jurnal Matematika dan Pembelajaran
This work is licensed under a Creative Commons Attribution 4.0 International License.