The Application of Problem Based Learning (PBL) Methods To Improve Student Learning Outcomes
Abstract
Application is an action carried out both individually and groups with the aim of achieving the objectives that have been formulated. The problems examined in this study are research on improving the class VIII students mathematics results in a two-variable linear equation system through the application of the Problem Based Learning (PBL) method in MTs. Annidhom of Jember. The sample of this study was class VIII MTs. Jember Annidhom as many as 32 students. The method used in this study is observation, documentation, interviews, and test methods, while the data analysis uses the percentage formula of the results observations and the percentage of completeness of learning outcomes formula. Based on the results of the research in the first cycle obtained by students who completed learning as much as 24 or 72.22% of students and as many as 9 or 27.8% of students who didn't complete, while the mathematics learning outcomes of students in the second cycle that weren't completed were 2 or 6.06 % of students and completed as many as 31 or 93.93% of students, it is mean that the application can improve student mathematics learning outcomes.
Keywords: problem based learning, learning outcomes
References
Arikunto, Suharsimi.2010. Penelitian Tindakan. Yoyakarta: Adityamedia.
Askuri dkk 2012. "Penerapan Pembelajaran Problem Based Learning Untuk Meningkatkan Hasil Belajar Matematika Siswa Kelas VII MTs. Al-Maarif 01 Singosari" jurnal
As'ari, Abdur Rahman, dkk.2016. Matematika. SMP/MTs Kelas VII Semester Ganjil. Jakarta : Kementrian Pendidikan dan Kebudayaan.
Asri, Raras Dwi.2015. "UpayaMeningkatkanHasil BelajarMatematikaDengan Model Pembelajaran ProblemBasedLearning(PBL) Pada SiswaKelasVIID SMPNISrandakan" jurnal
Budiono, Arifin Nur. 2015. Buku Pedoman Penyusunan Proposal Dan Skripsi. Jember : Pustaka Radja & FKIP Universitas Islam Jember.
Busadin. 2014. Penerapan Metode Pembelajaran Problem Centered Learning (PCL) Dalam Meningkatkan Hasil Siswa Kelas VII A Pada Operasi Hitung Pecahan Di Mts. Miftahul Huda Tahun Pelajaran 2014/2015.Skripsi Sarjana Pendidikan Matematika FKIP UIJ. Jember : Tidak Diterbitkan
Hasanah, Nur 2016. Penerapan Pembelajaran Kolaborasi Tipe Problem Based Learning (PBL) Dengan Think Pair Share (TPS) Untuk Meningkatkan Hasil Belajar Siswa Kelas VII Pada Garis Dan Sudut Di Mts. Darul Mukhlisin Tegalsiwalan Tahun Pelajaran 2015/2016.skripsi sarjana pendidikan matematika FKIP UIJ. Jember
Huda, Miftahul. 2014. Model-Model Pengajaran dan Pembelajaran. Yogyakarta : Pustaka Pelajar.
Ratnawati, Etty.2016 Kajian Psikologis Tentang Pendekatan Teori Reinforment Dalam Proses Pembelajaran Jurnal
Sani, Ridwan Abdullah.2014. Pembelajaran Saintifik Untuk Implementasi Kurikulum 2013.Jakarta : Bumi Aksara.
Sarismah. 2013. "Penerapan RME untuk meningkatkan prestasi belajar siswa pada segitiga kelas VII-H SMPN 7 Malang". Jurnal PTK, No 1,1-2
Ulum, Darul. 2011. "Pembelajaran matematika realistic dengan pendekatan humanistic untuk meningkatkan pemahaman konsep volume dan luas permukaan bola siswa kelas IX semester gasal MTs Al-Ishlah Jenggawah Tahun Pelajaran 2011/2012"skripsi.
Usodo, Budi dkk 2015 "Eksperimentasi Model Pembelajaran Problem Based Learning (PBL) Dan Discovery Learning (DL) Dengan Pendekatan Saintifik Pada Materi SPLDV Ditinjau Dari Adversity Quotient (AQ) Siswa"jurnal.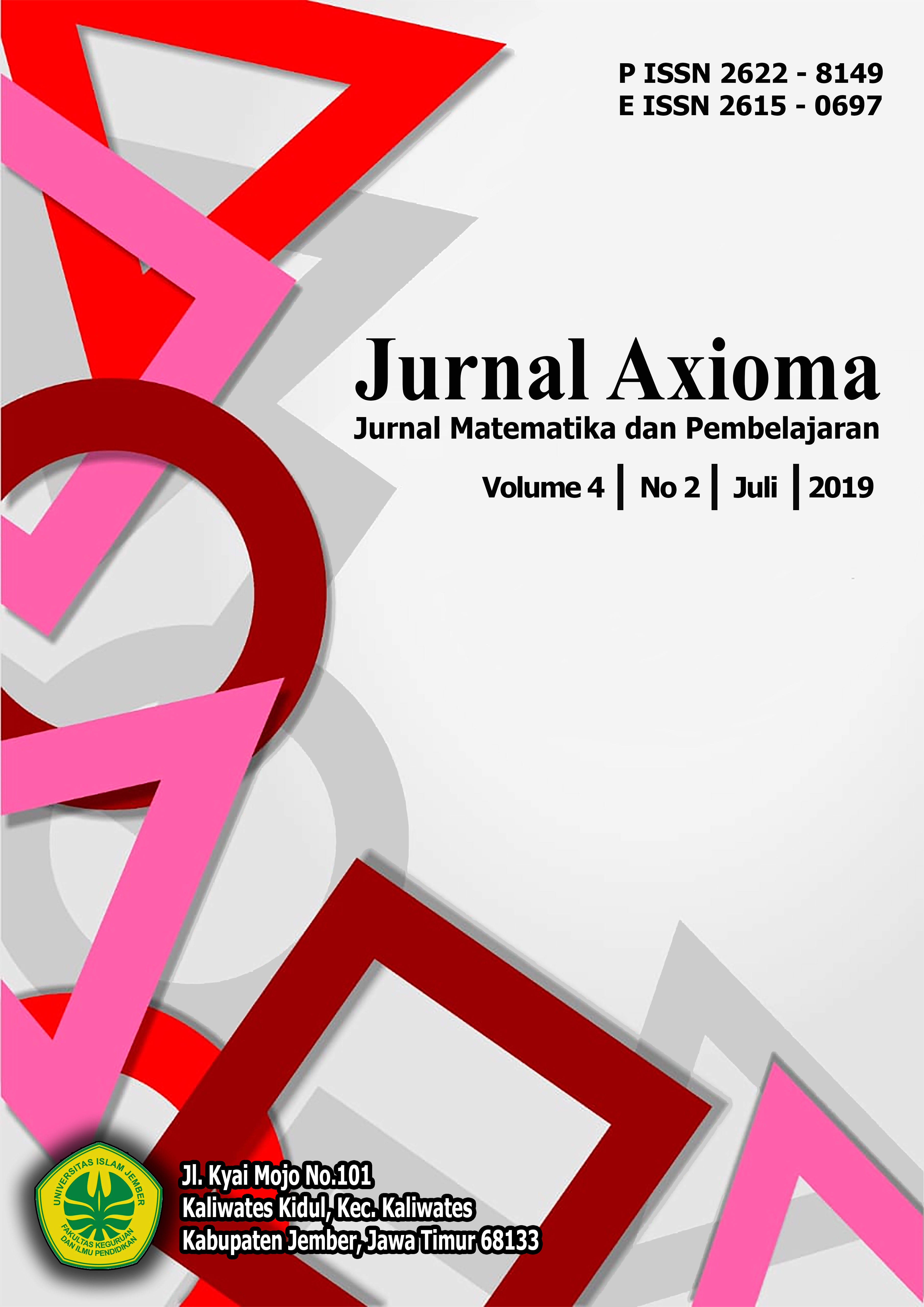 Downloads
How to Cite
Rusdiyanto, R., & Mahmudh, M. (2019). The Application of Problem Based Learning (PBL) Methods To Improve Student Learning Outcomes. Jurnal Axioma : Jurnal Matematika Dan Pembelajaran, 4(2), 112–119. https://doi.org/10.36835/axi.v4i2.458
License
Copyright (c) 2019 JURNAL AXIOMA : Jurnal Matematika dan Pembelajaran
This work is licensed under a Creative Commons Attribution 4.0 International License.