The Application of Problem Based Instruction (PBI) Model with Geogebra Application to Improve Student Learning Outcomes and Activities
Abstract
Learning is the main activity of the education process. The researcher observed in class VIII MTs. SA Nurul Qona'ah Mumbulsari and obtained data about 46.2% shows the value of students ? 70. This study aims to determine the Improvement of Learning Outcomes and Activities of Students in studying the function graph material by applying the Problem Based Intruction (PBI) learning model, the type of research that used is class action research (CAR). The procedure used is a cycle model. Based on the results of the study, the percentage of student learning activities in the first cycle was 83.20% and the second cycle was 88%. While the daily test results of students in the first cycle obtained an average value of 73.1% while in the second cycle it was 85.03%. This proves that learning outcomes and student activities can increase with the implementation of the Problem Based Intrusion (PBI) learning model with geogebra applications. For certain subjects, this model is used to avoid saturation in learning activities.
Keywords: problem based instruction, geogebra, learning outcomes, student activity
References
Arend, Richard, I. 1997. Classroom Instruction and Management. New York: Mc. Graw – Hill
A'yun, Qurrotu.2016.Pembelajaran NHT (Numbered Head Together)dengan PBI(Problem Based Intruction) Untuk Meningkatkan Hasil Belajar Siswa Kelas VII Pada Jajar Genjang di MTs Miftahul Ulum Tahun Pelajaran 2015/2016. Diterbitkan
Budiono,Arifin N.2015.Buku Pedoman Penyusunan Proposal dan SkripsiFakultas Keguruan dan Ilmu Pendidikan Universitas Islam Jember.Jember.Pustaka Radja.
Depdiknas. 2004. Pedoman Khusus Pengembangan Sistem Penilaian Berbasis Kompetensi SMP. Jakarta: Depdiknas
Dimyati dan Mudjiono. 2002. Belajar dan Pembelajaran. Jakarta: Rineka Cipta.
Eggen, D. Paul dan Kauchack, P. Donald. 1996. Strategies for Teahers, Teaching Content Thinking Skill. Boston: Allyn and Bacoon Publisher.
Hohenwater, M. & Fuchs, K. (2004). Combination of Dynamic Geometry,Algebra and Calculus in The Software System Geogebra. Tersedia www.geogebra.org/publications/pecs.2004.pdf. Diakses tanggal 2 Januari 2013
Lisnawaty. 1993. Belajar Mengajar Matematika. Jakarta:Grasindo
Muah, T. (2016). Penggunaan Model Pembelajaran Problem Based Instruction (PBI) untuk Meningkatkan Keaktifan dan Hasil Belajar Matematika Siswa Kelas 9B Semester Gasal Tahun Pelajaran 2014/2015 SMP Negeri 2 Tuntang - Semarang. Scholaria: Jurnal Pendidikan Dan Kebudayaan,
Maxrizal.2010.penggunaan Software Geogebra dengan metode penemuan terbimbing untuk meningkatkan motivasi belajar pada materi segi empat bagi siswa kelas 2.Depok.diterbitkan
Nasution. 1995. Didaktik Asas Mengajar. Jakarta: Bumi Aksara
Sunardi.2010.Penelitian Tindakan Kelas.Jember.Universitas Negeri
Sanjaya, Wina. 2009. Penelitian Tindakan Kelas. Jakarta : Kencana Prenada Media Group.
Trianto.2007.Model-Model Pembelajaran Inovatif Berorientasi Konstruktifistik. Jakarta. Prestasi Pustaka.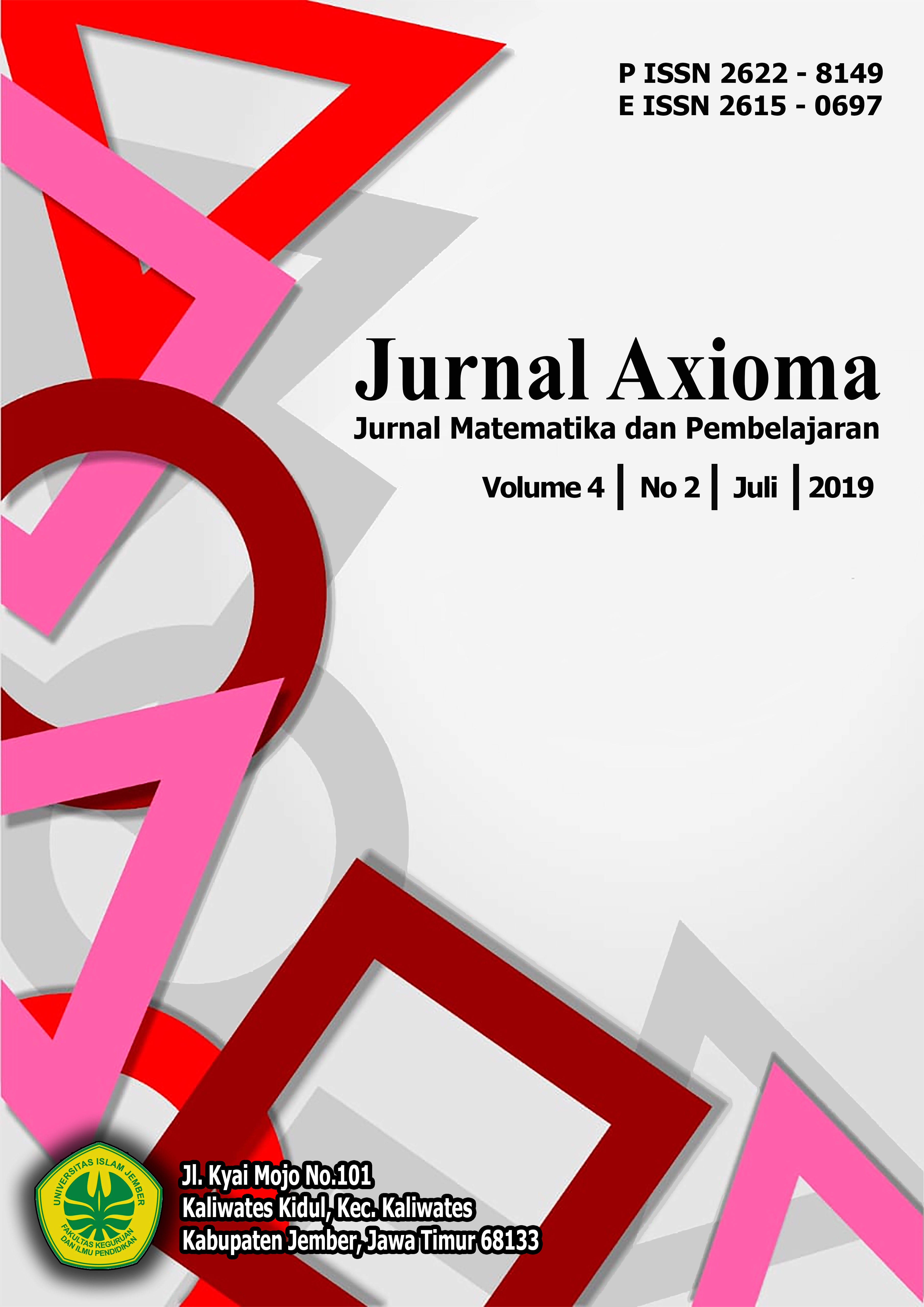 Downloads
How to Cite
Munawaroh, H. (2019). The Application of Problem Based Instruction (PBI) Model with Geogebra Application to Improve Student Learning Outcomes and Activities. Jurnal Axioma : Jurnal Matematika Dan Pembelajaran, 4(2), 159–170. https://doi.org/10.36835/axi.v4i2.463
License
Copyright (c) 2019 JURNAL AXIOMA : Jurnal Matematika dan Pembelajaran
This work is licensed under a Creative Commons Attribution 4.0 International License.