Cinnamon Decoction for Healing Perineal Lacerations in Postpartum Mothers
Abstract
Perineal laceration is one of the obstetrical complications that occurs during labour. As many as 2.7 million people in 2016 were found by mothers giving birth with perineal lacerations and it is estimated that by 2050 this will increase to 6.3 million. This study aims to determine the effectiveness of a decoction of cinnamon and binahong leaf tea in healing perineal lacerations in postpartum women at the Sunartik clinic. The research design used the pre-experimental design method with the pretest-posttest design. The population in this study were all spontaneous postpartum mothers who gave birth and experienced first and second degree perineal lacerations at the Pratama Sunartik Clinic, Sei Mencirim Village, as many as 15 people using purposive sampling techniques. Assessment of healing of perineal lacerations used the REEDA scale which was measured in 2 stages, namely the pretest was carried out before the intervention, and the posttest was carried out once a day after the last intervention was carried out or on the 8th day. The data analysis used was paired sample t test with a significance level of 95% (0.05). The results of the study obtained a sig value of 0.000 with a mean of 3.800 and CI (2.408-5.192). In conclusion, there is an effectiveness of cinnamon decoction which is shown in healing perineal lacerations. It is hoped that health workers, especially in primary facilities and clinics, will help and provide health education for postpartum women in an effort to heal perineal lacerations by empowering natural products.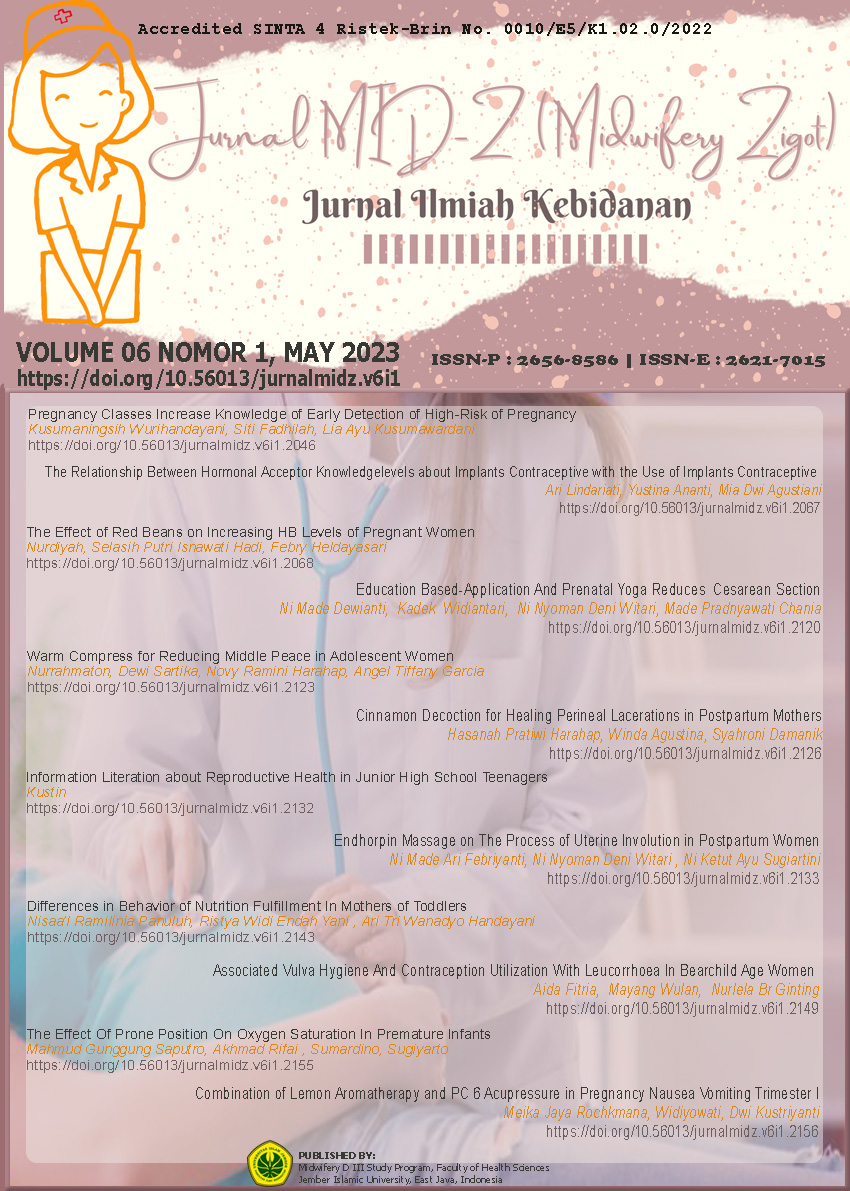 Downloads
How to Cite
Harahap, hasanah P., Agustina, W. ., & Damanik, S. . (2023). Cinnamon Decoction for Healing Perineal Lacerations in Postpartum Mothers. Jurnal MID-Z (Midwivery Zigot) Jurnal Ilmiah Kebidanan, 6(1), 42–48. https://doi.org/10.56013/jurnalmidz.v6i1.2126
License
Copyright (c) 2022 hasanah Pratiwi Harahap, Winda Agustina, Syahroni Damanik
This work is licensed under a Creative Commons Attribution-ShareAlike 4.0 International License.
Jurnal Mid-Z (Midwifery Zigot) Jurnal Ilmiah Kebidanan memberikan akses terbuka terhadap siapapun agar informasi dan temuan pada artikel tersebut bermanfaat bagi semua orang. Semua konten artikel Jurnal Mid-Z (Midwifery Zigot) Jurnal Ilmiah Kebidanan dapat diunduh secara gratis tanpa dipungut biaya sesuai dengan lisensi creative commons yang digunakan.

Jurnal Mid-Z  is licensed under a Creative Commons Attribution 4.0 International License