Implimentasi Koping Religius Islam Ahlussunnah Wal Jamaah untuk Meningkatkan Resilience Psikologis Dimasa Pasca Pandemi
Abstract
The COVID-19 pandemic is widely seen as a common enemy by the global community, considering its significant impact on various aspects of human life, such as the economy, education, health, and religion. This paper focuses on how the Islamic religious coping of the Ahlussunnah wal Jama'ah increases psychological resilience because the impact of the pandemic on physical and mental health is extraordinary. Many people who are exposed to COVID-19 end up dying, while many people experience anxiety, fear, and even despair.
This research uses a transdisciplinary framework, integrating Islamic perspectives, sociology, psychology, and science. The approach in this research is descriptive qualitative by reviewing the literature. The data source includes three components, namely primary, secondary, and tertiary. Data was collected through an in-depth review of documents. Meanwhile, content analysis is the method for analyzing the findings of this research.
This research found that the implementation of Ahlussunnah Wal Jama'ah Islamic religious coping can increase psychological resilience in facing the pandemic, namely avoiding fear, anxiety, excessive stress, and hopelessness in living life because the pandemic is believed to be fate and a trial as well as a blessing from Allah. In the Islamic religion, it is required always to avoid anything that has the potential to be dangerous, including the danger caused by exposure to the COVID-19 virus. After trying to avoid the pandemic, Rida died; he was the same as a Shahidi, who died in battle for religion.
Keywords: Pandemic Theology, Islamic Religious Coping, Psychological Resilience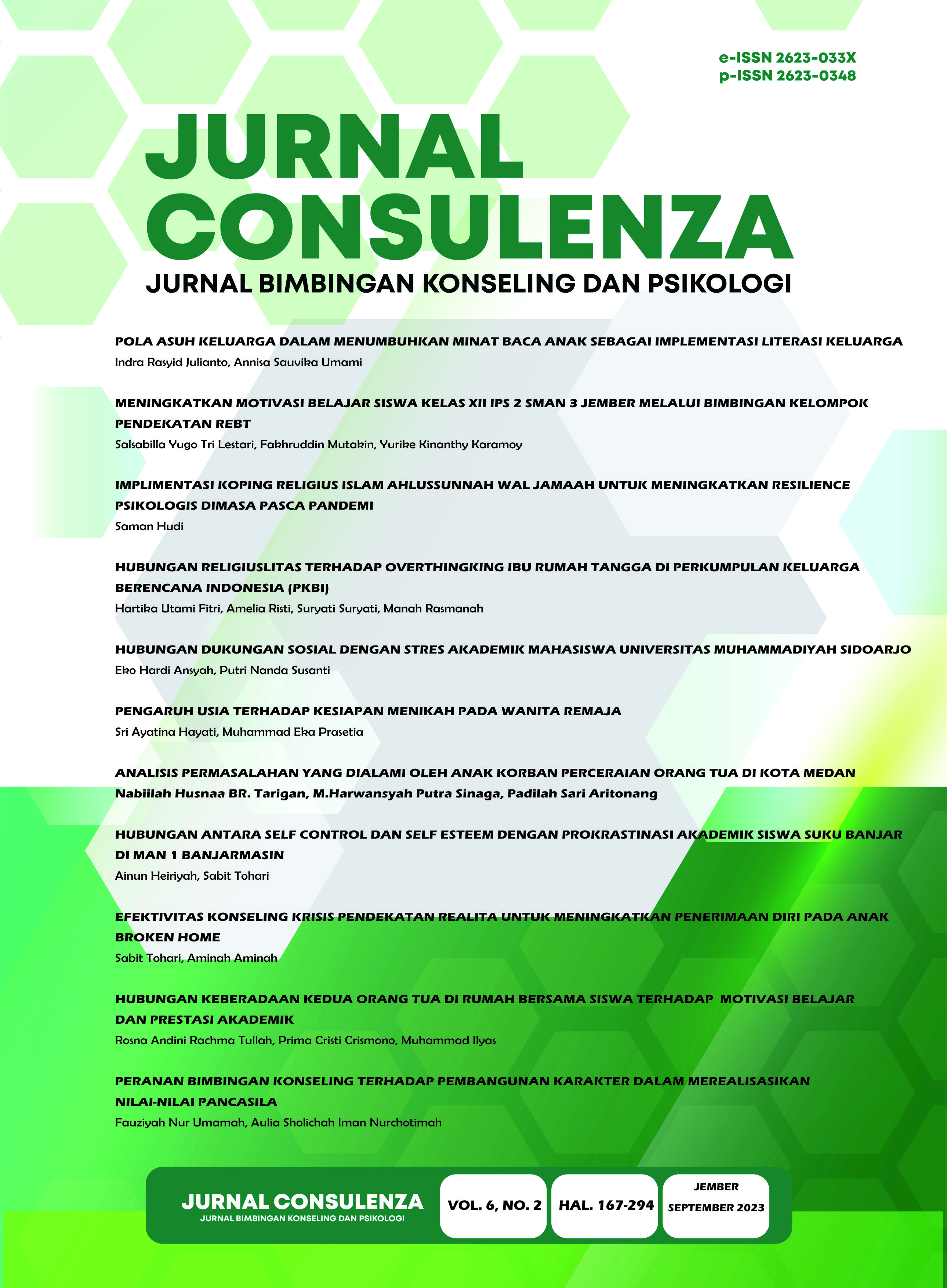 Downloads
How to Cite
Hudi, S. . (2023). Implimentasi Koping Religius Islam Ahlussunnah Wal Jamaah untuk Meningkatkan Resilience Psikologis Dimasa Pasca Pandemi. Jurnal Consulenza : Jurnal Bimbingan Konseling Dan Psikologi, 6(2), 190–202. https://doi.org/10.56013/jcbkp.v6i2.2392