Asas Persamaan Perlakuan dan Pelayanan Di Lembaga Pemasyarakatan terhadap Sel Berfasilitas Mewah
Abstract
Keberadaan sel mewah pasti terkait dengan penyalahgunaan kekuasaan oleh aparat penegak hukum yang tidak etis. Hal ini menunjukkan bahwa penegakan hukum jauh dari prinsip perlakuan dan pelayanan yang setara. Adanya perbedaan lembaga pemasyarakatan dengan sel mewah atau sel yang tidak dilengkapi perlengkapan layak, semakin menunjukkan kesenjangan yang ada dilembaga pemasyarakatan. Tipe penelitian yang digunakan dalam penelitian ini  adalah yuridis normatif. Metode yang digunakan adalah metode pendekatan perundang-undangan (statute approach) dan metode pendekatan konseptual (conceptual approach). Hasil dari penelitian menunjukkan bahwa implementasi asas persamaan perlakuan dan pelayanan dilembaga pemasyarakatan dipenuhi banyak orang yang masih menyalahgunakan kekuasaannya untuk menggunakan fasilitas mewah (seperti hotel berbintang) guna mendapatkan sel penjara yang berfasilitas mewah dengan cara membayar oknum petugas dengan harga tinggi.
Kata Kunci: Asas Perlakuan dan Persamaan, Lembaga Pemasyarakatan, Sel Mewah.
 Abstract
 The existence of luxury cells is definitely related to the abuse of power by law enforcement officers who are unethical. This shows that law enforcement is far from the principle of equal treatment and service. The existence of a correctional facility with luxury cells or cells that are not equipped with proper equipment in the correctional facility. The type of research used in this research is normative juridical. The method used is the statutory approach and the conceptual approach. The results of the study indicate that the implementation of the principle of equality of treatment and services in correctional institutions is not met by many people who still abuse their power to use luxury facilities (such as five-star hotels) in order to get prison cells with luxurious facilities and pay high prices for officers.
 Keywords: Principles of Treatment and Equality, Correctional Institutions, Luxury Cells.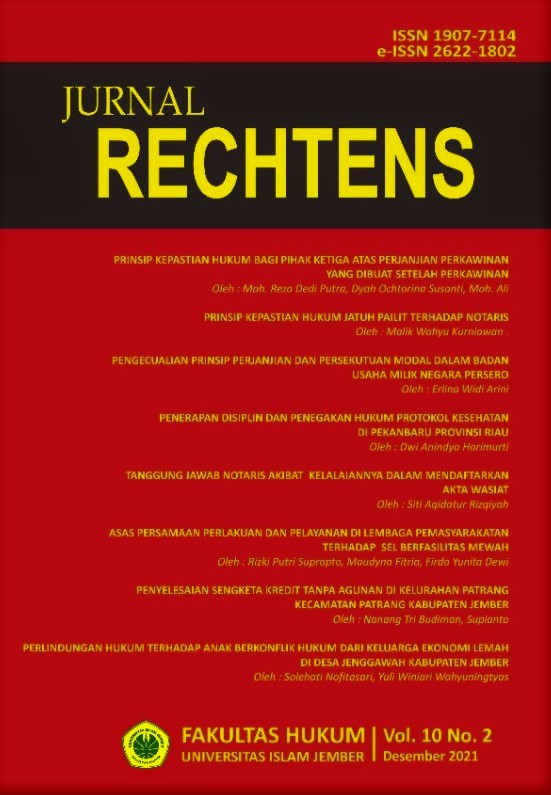 Downloads
How to Cite
Putri Suprapto, R. . ., Fitria, M. ., & Yunita Dewi, F. . (2021). Asas Persamaan Perlakuan dan Pelayanan Di Lembaga Pemasyarakatan terhadap Sel Berfasilitas Mewah . JURNAL RECHTENS, 10(2), 199–212. https://doi.org/10.56013/rechtens.v10i2.1103
License
Copyright (c) 2021 Rizki Putri Suprapto, Maudyna Fitria, Firda Yunita Dewi
This work is licensed under a Creative Commons Attribution 4.0 International License.