Perlindungan Hukum terhadap Anak Berkonflik Hukum dari Keluarga Ekonomi Lemah Di Desa Jenggawah Kabupaten Jember
Abstract
Abstrak
Hak-hak anak yang berkonflik  dengan hukum diantaranya  Perlakuan atas anak secara manusiawi sesuai dengan martabat dan hak-hak anak, penyediaan petugas pendamping khusus anak sejak dini, penyediaan sarana dan prasarana khusus, penjatuhan sanksi yang tepat untuk kepentingan yang terbaik bagi anak, pemantauan dan pencatatan terus menerus terhadap perkembangan anak yang berhadapan dengan hukum, pemberian jaminan untuk mempertahankan hubungan dengan orang tua atau keluarga. Penelitian ini bertujuan untuk mengetahui apakah masyarakat Desa Jenggawah mengetahui hak-hak anak yang berkonflik dengan hokum dan upaya yang dilakukan masyarakat desa jenggawah dalam pencegahan tindak pidana yang dilakukan oleh anak. Penilitian ini menggunakan metode yuridis empiris dengan pendekatan sosiologis. Berdasarkan hasil penelitian masyarakat Desa Jenggawah Kecamatan Jenggawah bahwasanya  masih belum   mengetahui informasi tekait pengertian tentang anak yang berkonflik dengan hukum ataupun undang-undang system peradilan pidana anak. Masyarakat didesa masih belum mengetahui UU tentang Sistem Peradilan Pidana Anak apalagi tentang hak-hak anak yang berkonflik dengan hukum.
Kata kunci : Perlindungan, Anak berkonflik hukum, Jenggawah 
Abstract
The rights of children in conflict with the law include humane treatment of children in accordance with the child's dignity and rights, provision of special assistants for children from an early age, provision of special facilities and infrastructure, imposition of appropriate sanctions in the best interests of children, monitoring and continuous recording of the development of children in conflict with the law, providing guarantees to maintain relationships with parents or family. This study aims to determine whether the people of Jenggawah Village know the rights of children who are in conflict with the law and the efforts made by the Jenggawah village community in preventing criminal acts committed by children. This research uses an empirical juridical method with a sociological approach. Based on the results of the research, the people of Jenggawah Village, Jenggawah District, that they still do not know information regarding the notion of children in conflict with the law or the law on the juvenile criminal justice system. The people in the village still do not know the Law on the Juvenile Criminal Justice System especially regarding the rights of children who are in conflict with the law.
Keywords: Protection, Children in conflict with the law, Jenggawah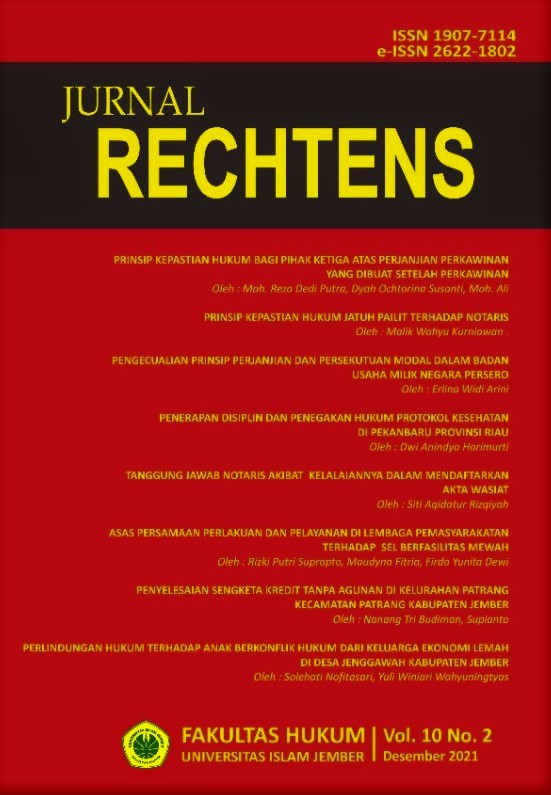 Downloads
How to Cite
Nofitasari, S. ., & Winiari Wahyuningtyas, Y. . (2021). Perlindungan Hukum terhadap Anak Berkonflik Hukum dari Keluarga Ekonomi Lemah Di Desa Jenggawah Kabupaten Jember. JURNAL RECHTENS, 10(2), 233–250. https://doi.org/10.36835/rechtens.v10i2.1142
License
Copyright (c) 2021 Solehati Nofitasari, Yuli Winiari Wahyuningtyas
This work is licensed under a Creative Commons Attribution 4.0 International License.