Penyelesaian Sengketa Kredit Tanpa Agunan Di Kelurahan Patrang Kecamatan Patrang Kabupaten Jember
Abstract
Dalam aspek ekonomi, Pandemi Covid-19 telah berimbas pada kegiatan usaha yang mengalami penurunan bahkan banyak pula yang berdampak pada berhentinya beberapa bidang usaha tertentu. Menurunnya kegiatan ekonomi ini berdampak pula kepada para pelaku usaha dan masyarakat terhadap kemampuannya dalam memenuhi kewajibannya kepada pihak lain, terutama kepada pihak yang memberikan pinjaman dalam bentuk kredit. Penelitian ini bertujuan untuk mengetahui Untuk mengetahui faktor-faktor yang menyebabkan terjadinya sengketa kredit tanpa agunan dan untuk mengetahui penyelesaian sengketa kredit tanpa agunan di Kelurahan Patrang Kabupaten Jember. Metode yang digunakan adalah yuridis normatif dan empiris dengan metode penelitian hukum sosiologis. Berdasarkan hasil penelitian dapat disimpulkan bahwa faktor yang menjadi penyebab terjadinya sengketa kredit tanpa agunan adalah usaha yang dijalankan oleh debitur mengalami kegagalan dan pemahaman nasabah bahwa kredit usaha yang dikucurkan tanpa agunan merupakan hibah atau bantuan dari pemerintah. Kredit tanpa jaminan yang dikucurkan kepada usaha mikro maupun perorangan diberikan dalam jumlah yang kecil. Sistem pembayaran dapat berupa membayar angsuran baik dengan waktu harian mingguan dan bulanan disesuaikan dengan kesepakatan antara pihak debitur dan kreditur.
Kata kunci : Sengketa kredit, agunan, Patrang
Abstract
In the economic aspect, the Covid-19 pandemic has affected business activities which have experienced a decline and many have even resulted in the cessation of certain business fields. This decline in economic activity also has an impact on business actors and the community on their ability to fulfill their obligations to other parties, especially those who provide loans in the form of credit. This study aims to determine the factors that cause credit disputes without collateral and to determine the settlement of credit disputes without collateral in Patrang Village, Jember Regency. The method used is normative juridical and empirical with sociological legal research methods. Based on the results of the study, it can be concluded that the factors that cause credit disputes without collateral are businesses run by debtors that fail and the customer's understanding that business loans disbursed without collateral are grants or assistance from the government. Unsecured loans disbursed to micro-enterprises and individuals are given in small amounts. The payment system can be in the form of paying installments on a daily, weekly and monthly basis according to the agreement between the debtor and creditor.
Keywords: Credit dispute, collateral, Patrang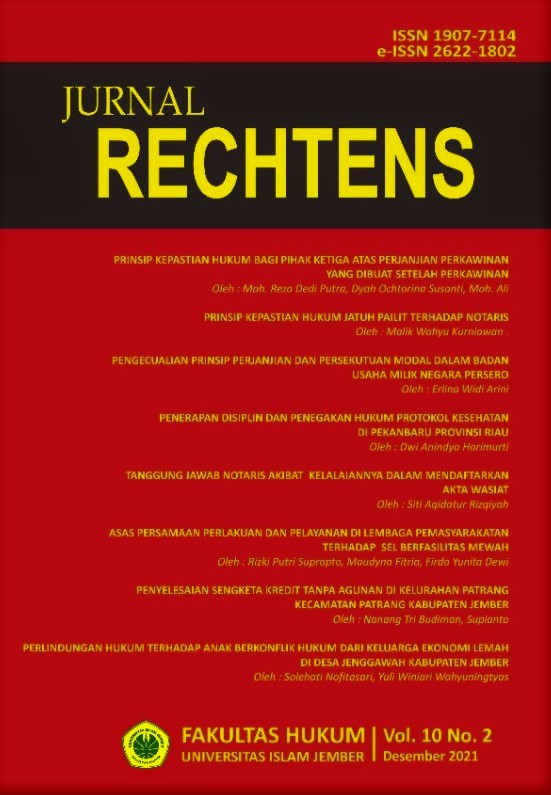 Downloads
How to Cite
Tri Budiman, N., & Supianto, S. (2021). Penyelesaian Sengketa Kredit Tanpa Agunan Di Kelurahan Patrang Kecamatan Patrang Kabupaten Jember. JURNAL RECHTENS, 10(2), 213–232. https://doi.org/10.56013/rechtens.v10i2.1143
License
Copyright (c) 2021 Nanang Tri Budiman, Supianto Supianto
This work is licensed under a Creative Commons Attribution 4.0 International License.