Aspek Hukum Memorandum Of Understanding dari Segi Hukum Perikatan dalam Kitab Undang-Undang Hukum Perdata
Abstract
Abstrak
 Aspek hukum Memorandum of Understanding tergantung dari cara pandang yaitu sebagai sebatas ikatan moral dan Memorandum of Understanding dianggap sama dengan perjanjian. Dalam Penelitian ini metodologi yang digunakan dengan metode legal research, yaitu dengan meneliti peraturan perundang-undangan dan sumber bacaan seperti buku-buku hukum. Berdasarkan hasil penelitian diperoleh hasil bahwa jika Memorandum of Understanding dipandang sebagai sebatas ikatan moral, maka tidak mepunyai kekuatan hukum yang mengikat karena hanya sebatas moral, tetapi jika dianggap sama dengan perjanjian, maka Memorandum of Understanding mempunyai kekuatan hukum, sehingga ketentuan-ketentuan yang terdapat dalam pasal-pasal perjanjian harus diterapkan yaitu mengikat para pihak. Jika dipandang sebagai penjanjian, jika salah satu pihak tidak melaksanakan substansi Memorandum of Understanding, maka pihak yang lain dapat membawa persoalan itu ke pengadilan dan pengadilan dapat memerintakan salah satu pihak untuk melaksanakan substansi yang telah disepakati secara konsisten.
 Kata Kunci: Memorandum of Understanding, Hukum, Perdata
 Abstract
 The legal aspect of a Memorandum of Understanding depends on the perspective, namely as a moral bond and a Memorandum of Understanding is considered the same as an agreement. In this research, the methodology used is the legal research method, namely by examining the laws and regulations and reading sources such as legal books. Based on the results of the study, it was found that if the Memorandum of Understanding is seen as a moral bond, it does not have binding legal force because it is only moral, but if it is considered the same as an agreement, then the Memorandum of Understanding has legal force, so that the provisions contained in the articles of the agreement must be applied that is binding on the parties. If it is seen as an agreement, if one party does not implement the substance of the Memorandum of Understanding, then the other party can take the matter to court and the court can order one of the parties to consistently implement the agreed substance.
Keywords: Memorandum of Understanding, Law, Civ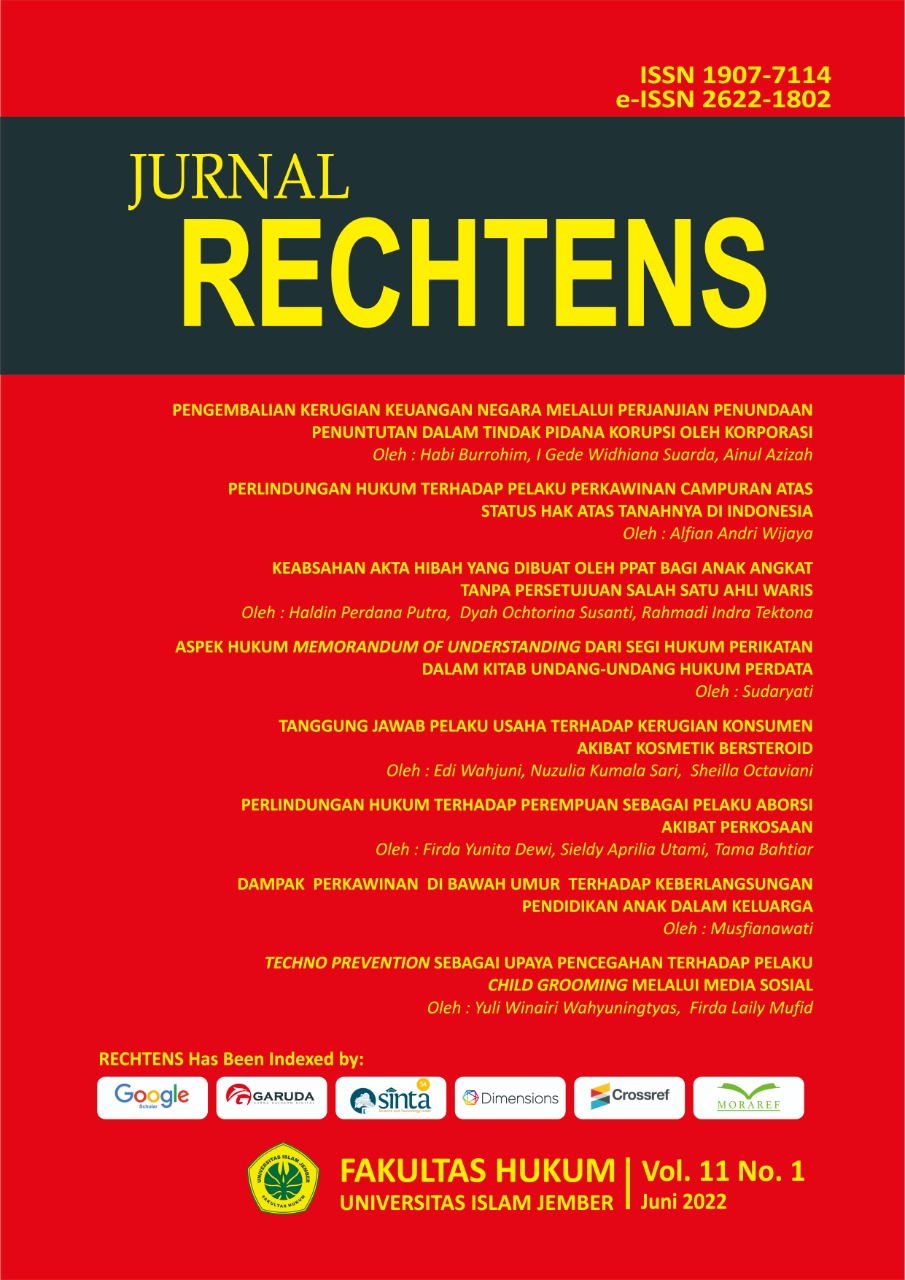 Downloads
How to Cite
Sudaryati, S. (2022). Aspek Hukum Memorandum Of Understanding dari Segi Hukum Perikatan dalam Kitab Undang-Undang Hukum Perdata. JURNAL RECHTENS, 11(1), 53–66. https://doi.org/10.56013/rechtens.v11i1.1216
License
Copyright (c) 2022 SUDARYATI SUDARYATI
This work is licensed under a Creative Commons Attribution 4.0 International License.