Perlindungan Hukum terhadap Perempuan sebagai Pelaku Aborsi Akibat Perkosaan
Abstract
Abstrak
Aborsi masuk dalam masalah yang serius. Hal ini ditandai dengan semakin meningkatnya jumlah aborsi setiap tahunnya. Selain adanya penegakan hukum terhadap perempuan sebagai pelaku aborsi, juga harus dibarengi dengan adanya perlindungan hokum. Hal ini tidak terlepas dari hak asasi yang dimilikinya. tujuan penulisan ini untuk menguraikan problematika hukum mengenai bagaimana perlindungan hukum terhadap perempuan sebagai pelaku aborsi akibat perkosaan. Metodologi penelitian yang digunakan dalam penulisan ini ialah tipe penelitian yuridis normatif, dengan menggunakan pendekatan konseptual dan pendekatan perundang-undangan. Hasil penelitian menunjukkan bahwa untuk mewujudkan perlindungan hukum terhadap perempuan korban perkosaan yang melakukan aborsi, negara mempunyai kewajiban untuk membentuk undang-undang, peraturan pemerintah atau regulasi lain yang lebih jelas lagi diluar dari regulasi yang sudah ada. Dengan adanya aturan atau regulasi baru yang lebih jelas lagi, perlindungan hukum terhadap perempuan sebagai pelaku aborsi akibat perkosaan tersebut diharapkan dapat terpenuhi sebagaimana mestinya.
 Kata Kunci: Perlindungan Hukum, Aborsi, Perkosaan.
Abstract
 Abortion is in serious trouble. This is indicated by the increasing number of abortions every year. In addition to law enforcement against women as perpetrators of abortion, it must also be accompanied by legal protection. This is inseparable from their human rights. The purpose of this paper is to describe the legal problems regarding how to protect women as perpetrators of abortion due to rape. The research methodology used in this paper is a normative juridical research type, using a conceptual approach and a statutory approach. The results showed that to realize legal protection for women victims of rape who have abortions, the state has an obligation to form laws, government regulations or other regulations that are clearer than the existing regulations. With the new rules or regulations that are clearer, legal protection for women as perpetrators of abortion due to rape is expected to be fulfilled properly.
 Keywords: Legal Protection, Abortion, Rape.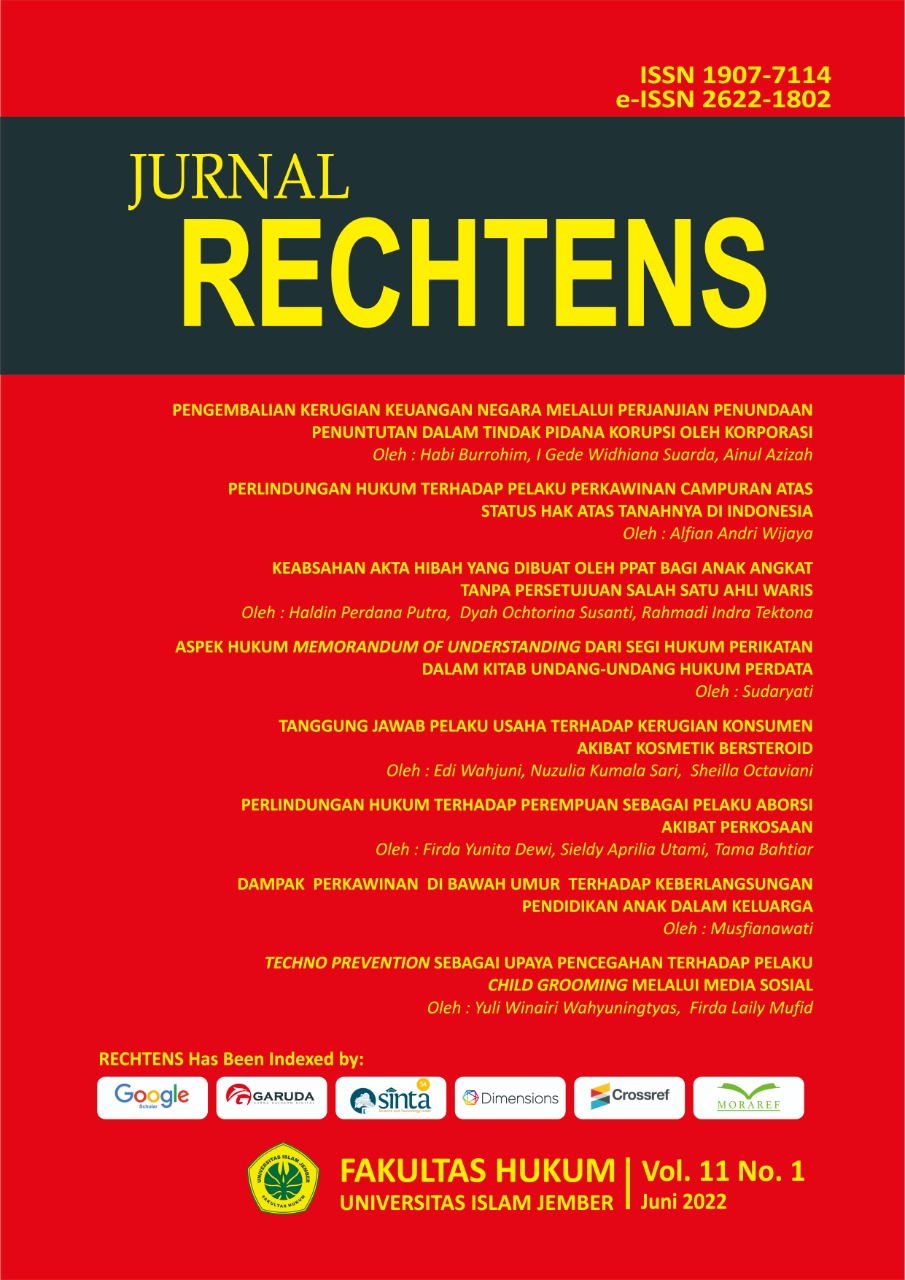 Downloads
How to Cite
yunita dewi, firda, Aprilia Utami, S., & Bahtiar, T. (2022). Perlindungan Hukum terhadap Perempuan sebagai Pelaku Aborsi Akibat Perkosaan. JURNAL RECHTENS, 11(1), 83–94. https://doi.org/10.56013/rechtens.v11i1.1275
License
Copyright (c) 2022 firda yunita dewi, Sieldy Aprilia Utami, Tama Bahtiar
This work is licensed under a Creative Commons Attribution 4.0 International License.