Kebijakan Pencegahan Tindak Pidana Terorisme Melalui Kontra Radikalisasi di Kabupaten Jember
Abstract
In addition to overcoming efforts is one of the tasks of the police, the prevention of radicalism must also have an element of support from the regional government in Jember Regency through its criminal law policy. Both of the above must be synchronized institutions so that efforts to tackle radicalism can be implemented properly. This research method uses a normative research method through the statutory approach and conceptual approach. The first result of this research is that there is an ease that is obtained in carrying out efforts to overcome the understanding of radicalism, namely by means of or counter-radicalization methods carried out by the police and supported by all government agencies in Jember Regency and the layers of society. Secondly, in practice between the counter-radicalization processes, the community still expects a process of arrest up to the stage of criminal prosecution of perpetrators of terrorism as a manifestation of a legal protection for the people of Jember Regency and its surroundings.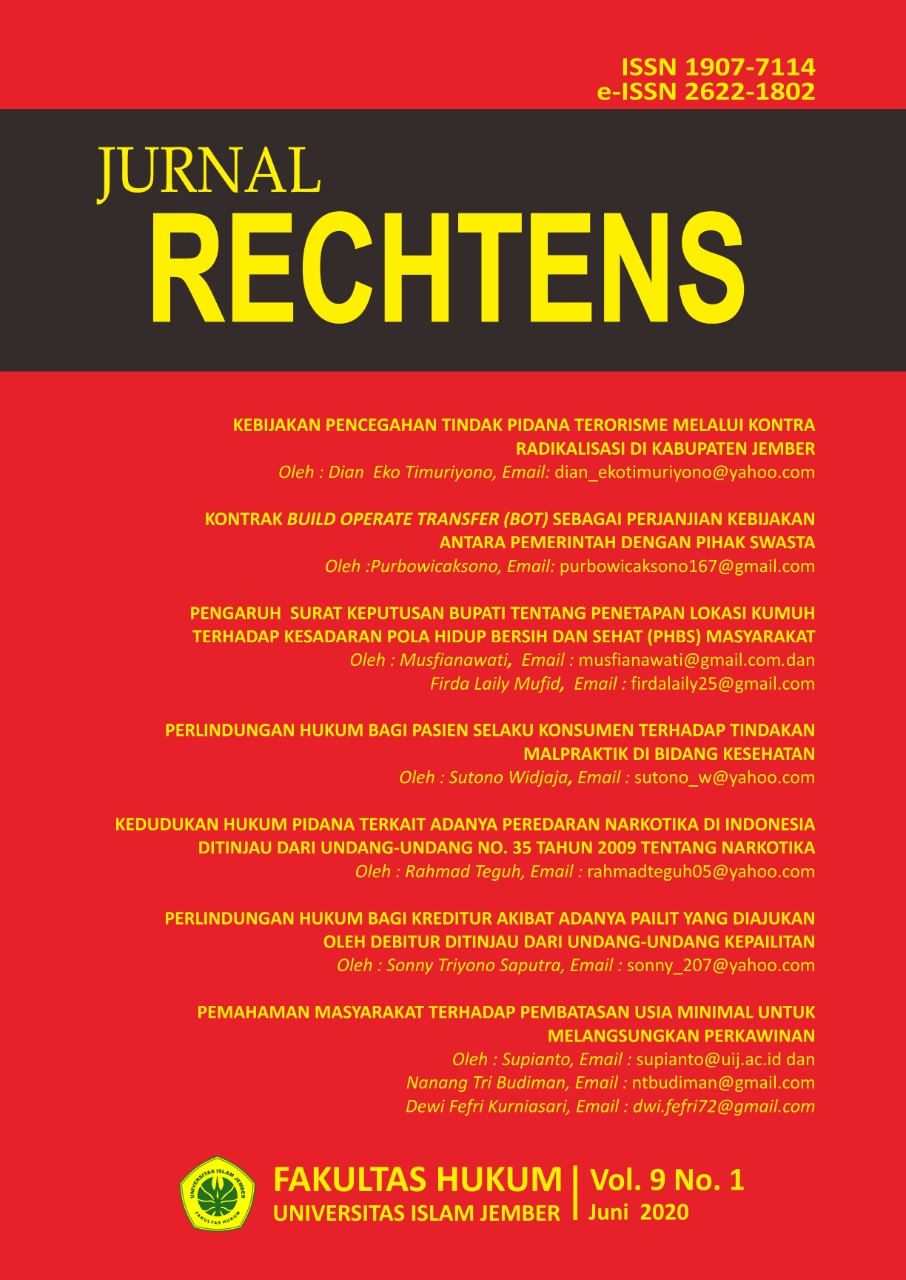 Downloads
Published
2020-12-03 — Updated on 2020-06-03
How to Cite
Eko Timuriyono, D. (2020). Kebijakan Pencegahan Tindak Pidana Terorisme Melalui Kontra Radikalisasi di Kabupaten Jember. JURNAL RECHTENS, 9(1), 1–18. https://doi.org/10.36835/rechtens.v9i1.657
License
Copyright (c) 2020 Dian Eko Timuriyono
This work is licensed under a Creative Commons Attribution 4.0 International License.