Problematika Tindak Pidana Persetubuhan antara Anak Laki - Laki dengan Anak Perempuan
Abstract
Abstrak
Anak menjadi perhatian khusus di dalam hukum, dikarenakan anak tidak dapat melindungi dirinya sendiri, terutama dari berbagai macam kejahatan, dengan demikian anak juga wajib mendapatkan perlindungan hukum terhadap hak-haknya. Problematika di dalam hukum berkaitan dengan kesetaraan hukum antara anak laki-laki dengan anak perempuan yang melakukan persetubuhan atas kemauannya, karena banyak kita ketahui pertanggungjawaban dibebankan kepada pihak anak laki-laki saja, sedangkan anak perempuan dianggap korban. Pendekatan Ilmu Hukum yang digunakan dalam penelitian ini doctrical research, metode pendekatan konseptual serta pendekatan perundang-undangan.Akan menjadi sebuah konflik hukum ketika tindak pidana persetubuhan yang dilakukan oleh anak mendapatkan perlakuan yang berbeda sedangkan tindak pidana tersebut terjadi atas kemauan dari kedua belah pihak.
 Kata kunci: Anak, Berhadapan dengan hukum, Kesetaraan
Abstract
The child is a particular concern in the law, because the child cannot protect itself, especially from all manner of evil, and thus the child is under obligation to obtain legal protection against his rights. Problematic in the law relates to the equality of the law between a boy and a girl who makes sexual intercourse upon his will, since many of us know to be accountable to the boys alone, while girls are being victimized. The legal approach is used in. The study provides the doctrical research, the conceptual approach, and the constitutional approach. It would be a legal conflict when sexual crimes committed by a child get different treatment while the crimes take place on both sides
Keywords: Child, Equality, Lawsuit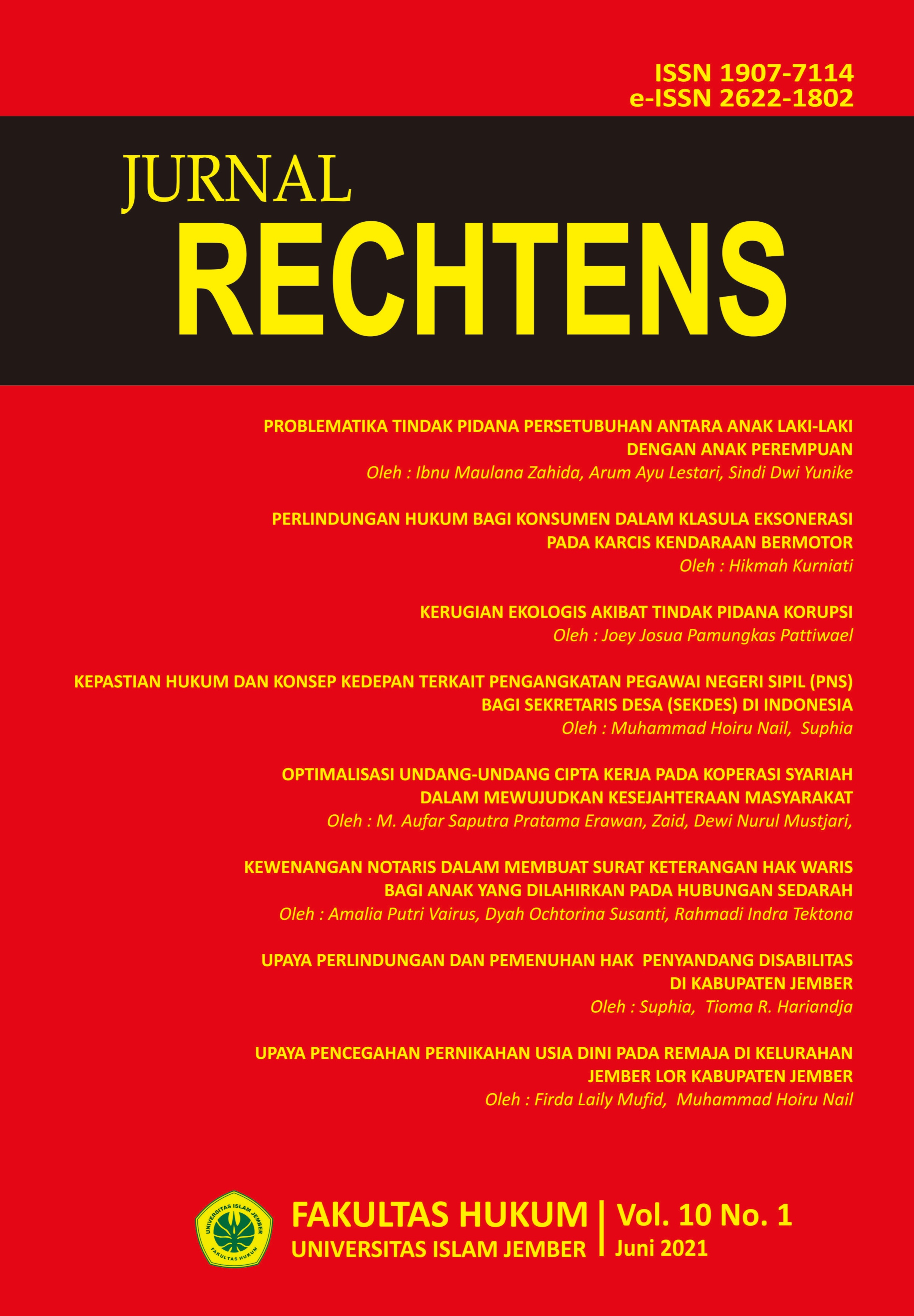 Downloads
How to Cite
Zahida, I. M., Lestari, A. A. ., & Yunike, S. D. . (2021). Problematika Tindak Pidana Persetubuhan antara Anak Laki - Laki dengan Anak Perempuan. JURNAL RECHTENS, 10(1), 1–12. https://doi.org/10.36835/rechtens.v10i1.958
License
Copyright (c) 2021 Ibnu Maulana Zahida, Arum Ayu Lestari, Sindi Dwi Yunike
This work is licensed under a Creative Commons Attribution 4.0 International License.