Tanggung Jawab Notaris Akibat Kelalaiannya dalam Mendaftarkan Akta Wasiat
Abstract
Notaris sebagai pejabat umum yang membuat akta otentik juga mempunyai kewajiban dalam menjalankan jabatannya yaitu pada Pasal 16 ayat (1) huruf i dan pada Pasal 16 ayat (1) huruf j UUJN yaitu untuk membuat daftar akta yang berkenaan dengan wasiat menurut urutan waktu pembuatan akta setiap bulan, dan juga notaris mempunyai kewajiban untuk mengirimkan daftar akta wasiat atau daftar nihil yang berkenaan dengan wasiat ke Daftar Pusat Wasiat Departemen yang tugas dan tanggungjawabnya di bidang kenotariatan dalam waktu (lima) hari pada minggu pertama setiap bulan berikutnya, serta mencatat dalam repertorium tanggal pengiriman daftar wasiat pada setiap akhir bulan. Pada penelitian ini digunakan pendekatan yuridis normatif. Hasil dari penelitian ini adalah diperlukannya tanggungjawab notaris agar dalam menjalankan tugasnya tidak lalai untuk mendaftarkan akta wasiat, sehinggah tidak merugikan ahli warisnya. penulisan ini dikaji menggunakan teori tanggung jawab hukum.
 Kata Kunci: Kewenangan Notaris, Akta wasiat, Daftar Pusat Wasiat
 Abstract
Notaries as public officials who make authentic deeds also have an obligation in carrying out their positions, namely in Article 16 paragraph (1) letter i and in Article 16 paragraph (1) letter j of the UUJN, namely to make a list of deeds relating to wills according to the order in which the deed is made each year. month, and also the notary has the obligation to send a list of wills or a list of nil deeds relating to wills to the Central List of Departmental Wills whose duties and responsibilities are in the notarial field within (five) days in the first week of each following month, and record in the repertory the date of delivery. list of wills at the end of each month. In this study, a normative juridical approach was used. The results of this study are the need for a notary's responsibility so that in carrying out his duties he is not negligent to register a will, so that it does not harm his heirs. This writing is studied using the theory of legal responsibility.
 Keywords: Authority of Notary, Testament, List Of Will Centers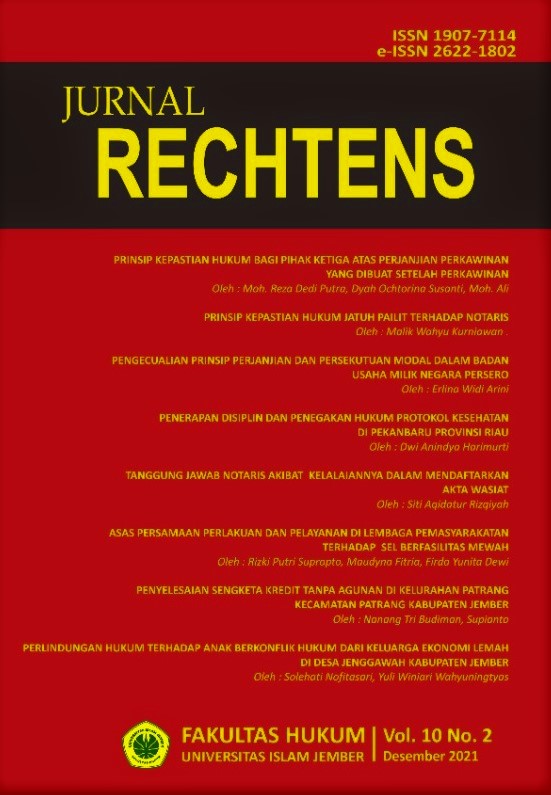 Downloads
How to Cite
Aqidatur Rizqiyah, S. (2021). Tanggung Jawab Notaris Akibat Kelalaiannya dalam Mendaftarkan Akta Wasiat. JURNAL RECHTENS, 10(2), 181–198. https://doi.org/10.56013/rechtens.v10i2.1087
License
Copyright (c) 2021 Siti Aqidatur Rizqiyah
This work is licensed under a Creative Commons Attribution 4.0 International License.