Penerapan Disiplin dan Penegakan Hukum Protokol Kesehatan Di Pekanbaru Provinsi Riau
Abstract
Kebijakan disiplin dan penegakan hukum protokol kesehatan merupakan kebijakan yang diformalkan oleh pemerintah dalam mencegah dan mengendalikan Covid-19. Peraturan Gubernur Riau Nomor 55 tahun 2020 tentang Pelaksanaan Disiplin, dan Penegakan Hukum Protokol Kesehatan Sebagai Upaya Pencegahan dan Pengendalian Covid-19 merupakan peraturan yang disahkan oleh Gubernur Riau. Tujuan penelitian ini untuk mendeskripsikan dan menganalisis penerapan kebijakan disiplin dan penegakan hukum protokol kesehatan sebagai upaya pencegahan dan penanggulangan Covid 19 di Pekanbaru. Jenis penelitian ini merupakan penelitian  hukum  normative.  Hasil penelitian ini menunjukkan bahwa komunikasi telah dilaksanakan tetapi masih belum terlaksana dengan baik terutama pada konsistensi dalam pelaksanaan aturan tersebut; kemudian sumber daya yang ada juga diimplementasikan dengan baik; dalam hal disposisi telah dilaksanakan dengan sangat baik terutama dalam kognisi, arahan dan respon dari pelaksana, serta intensitas respon atau respon implementasi; namun struktur birokrasi belum terlaksana dengan baik karena tidak terdapat alur kepegawaian secara tertulis atau adanya fragmentasi tanggung jawab secara tertulis antara ketiganya instansi penegak hukum protokol kesehatan. Begitu juga dengan masyarakat yang masih banyak melakukan pelanggaran dikarenakan sanksi yang dianggap lemah sehingga tidak menimbulkan efek jera apabila terjadi pelanggaran.
 Kata Kunci: Penegakan Hukum, Protokol Kesehatan, Covid 19
 Abstract
Disciplinary policies and law enforcement of health protocols are policies formalized by the government in preventing and controlling Covid-19. Riau Governor Regulation Number 55 of 2020 concerning the Implementation of Discipline, and Law Enforcement of Health Protocols as Efforts to Prevent and Control Covid-19 is a regulation passed by the Governor of Riau. The purpose of this study is to describe and analyze the implementation of disciplinary policies and law enforcement of health protocols as an effort to prevent and overcome Covid 19 in Pekanbaru. This type of research is normative legal research. The results of this study indicate that: Communication has been implemented but still not implemented properly, especially on the consistency in the implementation of these rules; then the existing resources are also implemented properly; in the case that the disposition has been implemented very well, especially in cognition, direction and response from the implementer, as well as the intensity of the response or implementation response; but the bureaucratic structure has not been implemented properly because there is no written staffing flow or there is a written fragmentation of responsibilities between the three health protocol law enforcement agencies. Likewise with people who still commit many violations due to sanctions that are considered weak so that they do not cause a deterrent effect in the event of a violation.
 Keywords: Law Enforcement, Health Protocol, Covid 19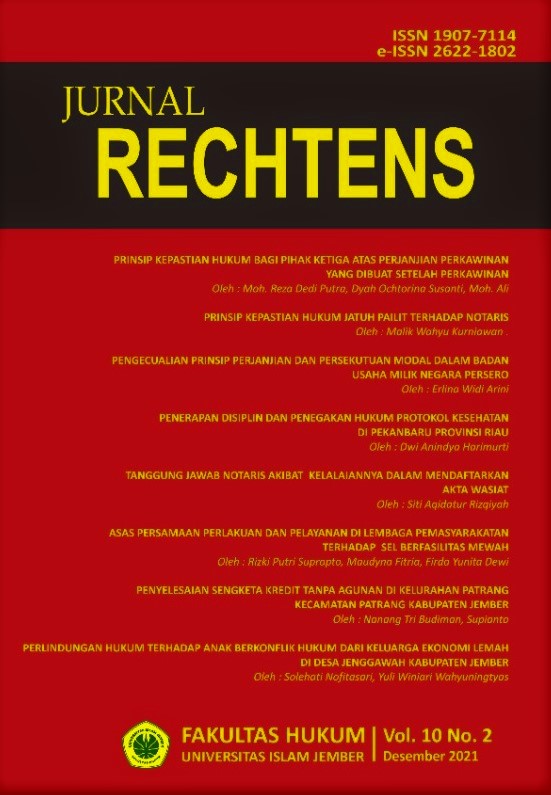 Downloads
How to Cite
Anindya Harimurti, D. . (2021). Penerapan Disiplin dan Penegakan Hukum Protokol Kesehatan Di Pekanbaru Provinsi Riau. JURNAL RECHTENS, 10(2), 167–180. https://doi.org/10.56013/rechtens.v10i2.1124
License
Copyright (c) 2021 Dwi Anindya Harimurti
This work is licensed under a Creative Commons Attribution 4.0 International License.