Perlindungan Hukum Terhadap Pelaku Perkawinan Campuran Atas Status Hak Atas Tanahnya Di Indonesia
Abstract
Abstrak
Perkawinan campuran berdampak pada kepemilikan hak atas tanah bagi WNI. Menurut Pasal 21 ayat 3 Undang-Undang Republik Indonesia Nomor 5 Tahun 1960 tentang Peraturan Dasar Pokok-Pokok Agraria, WNA yang mendapatkan hak milik atas tanah karena wasiat, percampuran harta karena perkawinan dan WNI yang kehilangan kewarganegaraannya harus melepaskan hak tersebut dalam jangka waktu 1 tahun. Penelitian ini mengkaji permasalahan dimana WNI dalam perkawinan campuran kehilangan haknya sebagai warga negara dalam memiliki hak atas tanah dikarenakan percampuran harta dalam perkawinan, dimana hal tersebut tidak sesuai dengan asas keadilan karena menurut Pasal 9 ayat 1 UUPA menyatakan bahwa WNI dapat mempunyai hubungan sepenuhnya dengan bumi, air, dan ruang angkasa dan menurut Pasal 21 ayat 1, dikatakan bahwa subjek hak milik adalah WNI. Metode penelitian yang digunakan dalam penelitian ini adalah metode yuridis normatif. Kesimpulannya, Bentuk perlindungan hukum terhadap pelaku perkawinan campuran atas status hak atas tanahnya di Indonesia tidak diatur dalam peraturan perundang-undangan.
 Kata Kunci: Perkawinan, Perkawinan Campuran, Hak Atas Tanah
Abstract
Mixed marriages have an impact on the ownership of land rights for Indonesian citizens. According to Article 21 paragraph 3 of the Law of the Republic of Indonesia Number 5 of 1960 concerning Basic Regulations on Agrarian Principles, foreigners who get land ownership rights due to a will, mixing assets due to marriage and Indonesian citizens who lose their citizenship must relinquish their rights to land. within a period of 1 year. This study examines the problem where Indonesian citizens in mixed marriages lose their rights as citizens in owning land rights due to the mixing of assets in marriage, where this is not in accordance with the principle of justice because according to Article 9 paragraph 1 of the UUPA states that Indonesian citizens can have a full relationship with the earth, water, and space and according to Article 21 paragraph 1, it is said that the subject of property rights is an Indonesian citizen. The research method used is normative juridical. In conclusion, the form of legal protection for mixed marriage actors on the status of their land rights in Indonesia is not regulated in the legislation.
 Keywords: Marriage, Mixed Marriage, Land Rights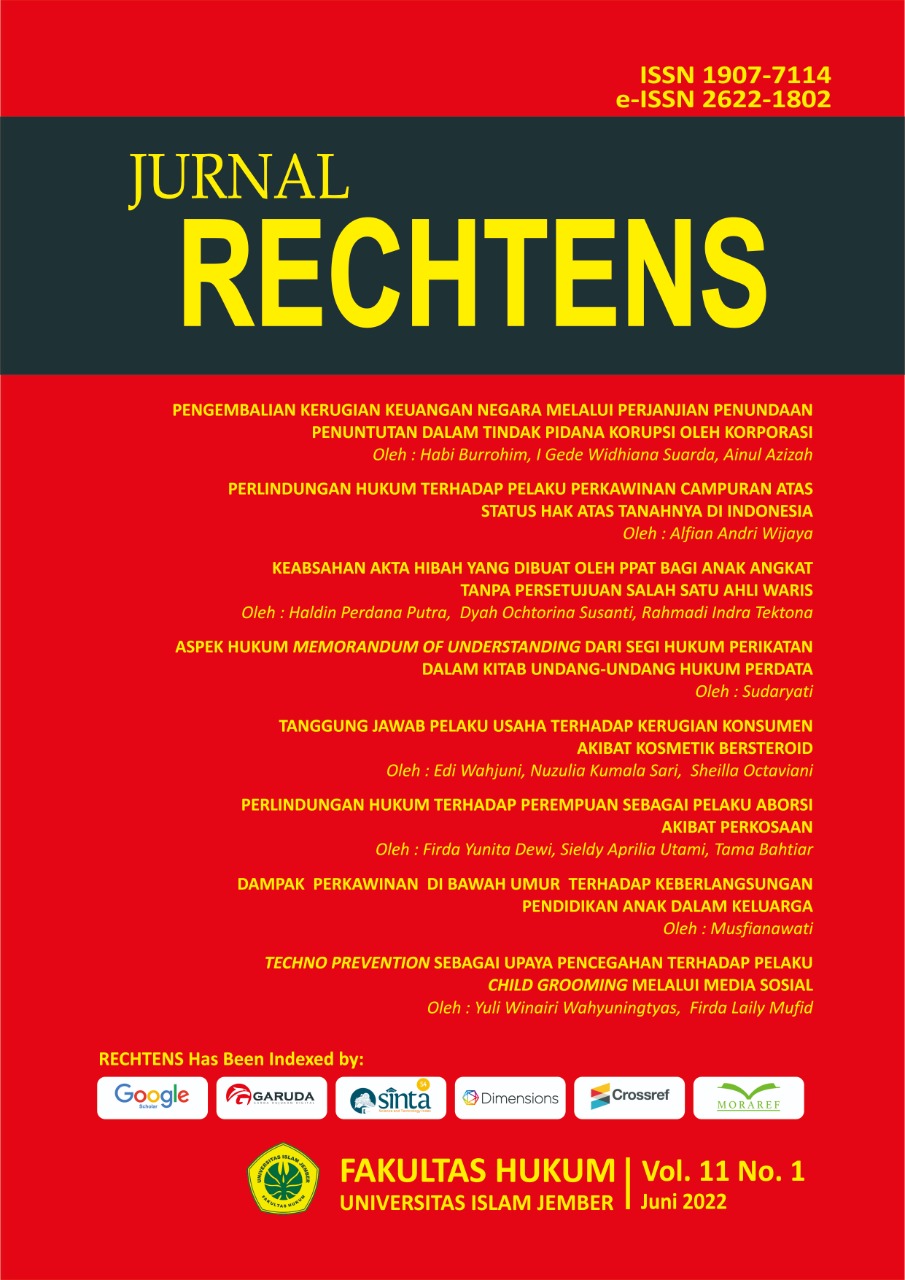 Downloads
How to Cite
Andri Wijaya, A. (2022). Perlindungan Hukum Terhadap Pelaku Perkawinan Campuran Atas Status Hak Atas Tanahnya Di Indonesia. JURNAL RECHTENS, 11(1), 17–34. https://doi.org/10.56013/rechtens.v11i1.1156
License
Copyright (c) 2022 Alfian Andri Wijaya
This work is licensed under a Creative Commons Attribution 4.0 International License.