Kepastian Hukum Putusan Hakim Dalam Penyelesaian Sengketa Perkara Perdata
Abstract
Dalam kehidupan sehari-hari, seringkali ditemukan adanya sengketa perkara perdata yang terjadi antara dua pihak. Penyelesaian sengketa perkara perdata dengan cara litigasi itu dilakukan melalui proses persidangan di pengadilan. Tujuannya adalah untuk memperoleh keputusan hakim yang pada akhirnya diharapkan mampu mengakhiri sengketa tersebut. Proses persidangan di pengadilan berakhir dengan dijatuhkannya putusan oleh hakim. Idealnya, putusan tersebut yang bersifat condemnatoir setelah berkekuatan hukum yang pasti (inkracht van gewijsde), segera dilaksanakan (eksekusi). Ironisnya dalam praktik seringkali ditemukan kesulitan dan tidak ada kepastian hukum dalam eksekusinya. Untuk menjawab isu hukum tersebut maka dilakukan penelitian dengan mengkaji substansi materinya dari aspek hukum normatif. Selanjutnya, pendekatan yang digunakan dalam penelitian ini adalah pendekatan undang-undang dan pendekatan konseptual. Tahap berikutnya dilakukan analisis dan kemudian ditarik kesimpulan dengan menggunakan metode deduktif serta memberikan preskripsi tentang apa yang seharusnya diterapkan berkaitan dengan permasalahan yang terkait. Hasil yang diperoleh dari penelitian ini adalah kepastian hukum putusan hakim dalam penyelesaian sengketa perkara perdata dapat disebabkan oleh dua faktor, yaitu faktor yuridis dan faktor non yuridis.
Kata kunci : Kepastian Hukum, Putusan Hakim, Sengketa Perkara Perdata.
In everyday life, it is often found that there are civil disputes that occur between two parties. According to the Civil Procedure Code, there are two ways of resolving civil disputes, namely by non-litigation and litigation. The settlement of civil case disputes by way of litigation is carried out through the trial process in court. The aim is to obtain a judge's decision which is ultimately expected to be able to end the dispute. The trial process in court ends with the passing of a decision by the judge. Ideally, the decision which is condemnatory in nature after having definite legal force (inkracht van gewijsde), is immediately executed (executed). Ironically, in practice, difficulties are often found and there is no legal certainty in execution. To answer these legal issues, research was conducted by examining the substance of the material from normative legal aspects. Furthermore, the approach used in this study is the statutory approach and the conceptual approach. The next stage is to analyze and then draw conclusions using the deductive method and provide a description of what should be applied in relation to the problems involved. The results obtained from this study are the legal certainty of judge's decisions in the settlement of civil disputes can be caused by two factors, namely juridical factors and non-juridical factors.
Keywords: Legal Certainty, Judge's Decision, Civil Case Disputes.
REFERENCES
Abdul Manan, 2012, Penerapan Hukum Acara Perdata di Peradilan Agama, (Jakarta : Kencana).
Amir Ilyas, 2016, Kumpulan Asas-asas Hukum, (Jakarta : Rajawali).
Bambang Sutiyoso, Menguraikan Problematikan Eksekusi Perkara Perdata, Direktur LKBH FH UII
Busyro Muqaddas, 2002, "Mengkritik Asas-asas Hukum Acara Perdata", Jurnal Hukum Ius Quia lustum (Yogyakarta).
Cetak Biru Pembaruan Peradilan 2010 – 2035.
Claes, Erik; Devroe, Wouter; Keirsblick, Bert, 2009, Facing the limits of the law. Springer. hal. 92–93. ISBN 978-3-540-79855-2, diambil dari Wikipedia bahasa Indonesia, ensiklopedia bebas, diakses Rabu, 8 Februari 2023 jam 11.05 wib.
Donald Albert Rumokoy dan Frans Maramis, 2014, Pengantar Ilmu Hukum, (Jakarta, Rajawali Pers).
Fenwick, Mark; Wrbka, Stefan, 2016, Fenwick, Mark; Wrbka, Stefan, ed. The Shifting Meaning of Legal Certainty. Singapore: Springer. hal. 1–6. doi:10.1007/978-981-10-0114-7_1. ISBN 978-981-10-0114-7, diambil dari Wikipedia bahasa Indonesia, ensiklopedia bebas, diakses Rabu, 8 Februari 2023 jam 10.38 WIB.
Lilik Mulyadi, Hukum Acara Perdata Menurut Teori dan Praktek Praktik Peradilan.
Margono, 2012, Asas Keadilan, Kemanfaatan dan Kepastian Hukum dalam Putusan Hakim, (Jakarta : Sinar Grafika).
Maxeiner, James R. (Fall 2008). "Some realism about legal certainty in globalization of the rule of law". Houston Journal of International law, diambil dari Wikipedia bahasa Indonesia, ensiklopedia bebas, diakses Rabu, 8 Februari 2023 jam 11.07 WIB.
Munir Fuadi, 2013, Teori-Teori Besar Dalam Hukum (Grand Theory), (Jakarta, Kencana Prenadamedia Group).
Sudikno Mertokusumo, 1989, Hukum Acara Perdata. (Bandung : Alumni).
Yahya Harahap, Hukum Acara Perdata: Gugatan, Persidangan, Penyitaan, Pembuktian, dan Putusan Pengadilan.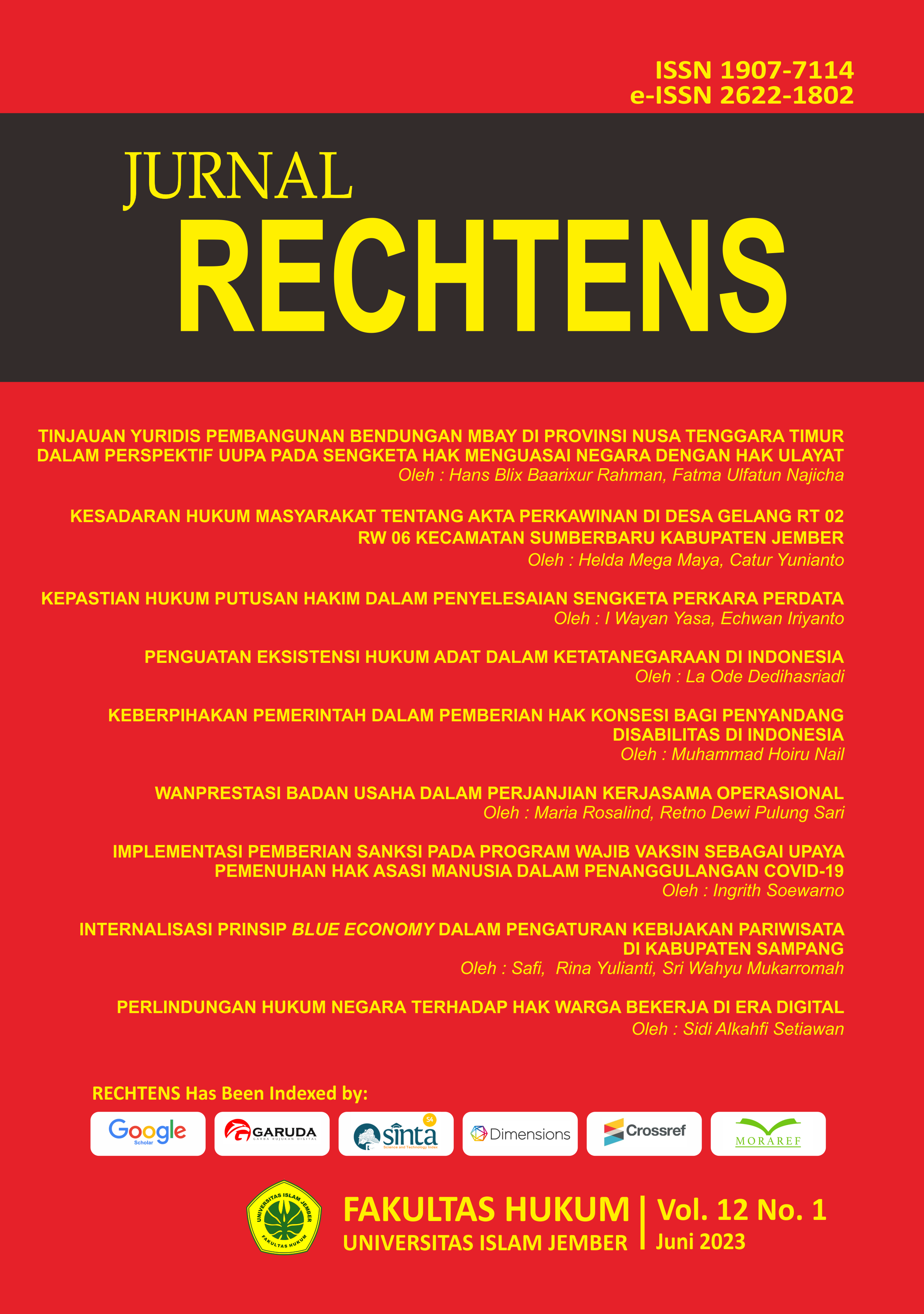 Downloads
How to Cite
Yasa, I. W. ., & Iriyanto, E. (2023). Kepastian Hukum Putusan Hakim Dalam Penyelesaian Sengketa Perkara Perdata. JURNAL RECHTENS, 12(1), 33–48. https://doi.org/10.56013/rechtens.v12i1.1957
License
Copyright (c) 2023 I Wayan Yasa, Echwan Iriyanto
This work is licensed under a Creative Commons Attribution 4.0 International License.