Tanggung Jawab Penanggung terhadap Penyalahgunaan Premi Asuransi
Abstract
Everyone at the present time are required to always be able to work hard in everything, working hard to do this is so that everyone can be a decent living in the future. Related to the hard work everyone is going to see the risks that would be faced by unnoticed when and how the shape of these risks arise. These risks will be experienced by everyone with a variety of shapes and time, ranging from the risk of life-threatening risks through the belongings. Therefore many people do an agreement with the other parties in terms of the transfer of these risks, one of them with the insurance agreement or the insurance agreement. Insured or the insurance agreement is done so that there is a guarantee against self or one's goods at risk as a result of an event that is not yet clear. The insurance agreement is then performed by several parties with the rights and obligations held by the parties, and any related party to the agreement is not to be insured do not perform the agreed performance as it will be deemed to have committed acts of defaul.
Keywords: insurance agreement, the insured premiums, insurer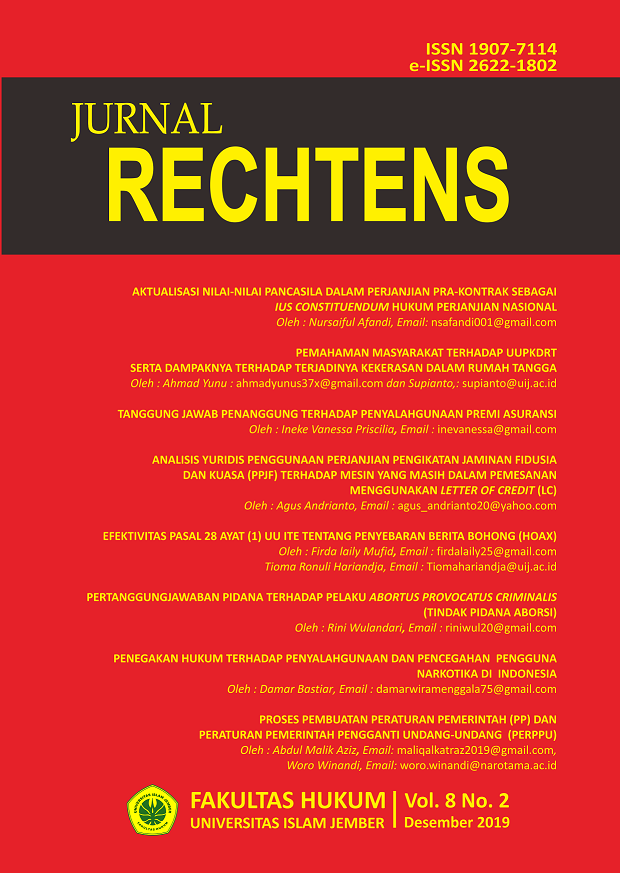 Downloads
How to Cite
Priscilia, I. V. (2019). Tanggung Jawab Penanggung terhadap Penyalahgunaan Premi Asuransi. JURNAL RECHTENS, 8(2), 135–152. https://doi.org/10.36835/rechtens.v8i2.531
License
Copyright (c) 2019 Ineke Vanessa Priscilia
This work is licensed under a Creative Commons Attribution 4.0 International License.