Pertanggungjawaban Pidana terhadap Notaris yang Membuat Keterangan Palsu dalam Akta Otentik
Abstract
Abstrak
 Seorang notaris terkadang tanpa diketahuinya ada keterangan palsu yang disampaikan para pihak, yang kemudian menjadi dasar pembuatan akta autentik. Perlu dikaji dan dianalisis pertanggungjawaban pidana notaris atas akta yang dibuat berdasarkan keterangan palsu serta mengkaji dan menganalisis akibat hukum yang timbul terhadap akta notaris yang didasarkan pada keterangan palsu.Notaris dapat dimintai pertanggungjawaban pidana terhadap akta yang dibuat olehnya berdasarkan apa yang dilihat, disaksikan, dan dialaminya dalam suatu perbuatan hukum jika secara sengaja atau lalai, notaris membuat akta palsu sehingga merugikan pihak lain. Pertanggungjawaban secara pidana, seorang notaris harus memenuhi unsur-unsur: melakukan tindak pidana; memiliki kemampuan untuk bertanggung jawab; dengan kesengajaan atau kealpaan; dan tidak ada alasan pemaaf. Terhadap akta notaris yang dibuat berdasarkan keterangan palsu tidak dengan sendirinya mengakibatkan akta tersebut batal demi hukum. Para pihak yang dirugikan dengan keberadaan akta seperti itu harus mengajukan gugatan perdata ke pengadilan untuk membatalkan akta tersebut. Pertanggungjawaban pidana notaris perlu diatur dalam UUJN yang akan datang.
 Kata Kunci:Notaris, Pidana, Perbuatan Melawan Hukum
Abstract
 A notary sometimes without knowing there is a false statement submitted by the parties, which then becomes the basis for making an authentic deed. It is necessary to study and analyze the criminal liability of notaries for deeds made based on false information as well as to study and analyze the legal consequences arising from notary deeds based on false information. The notary can be held liable for criminal responsibility for the deed made by him based on what he has seen, witnessed and experienced in a legal act if intentionally or negligently, the notary makes a fake deed so that it harms other parties. For criminal responsibility, a notary must fulfill the following elements: committing a criminal act; have the ability to be responsible; intentionally or negligently; and there are no excuses. A notarial deed based on false information does not automatically result in the deed being null and void. The parties who are aggrieved by the existence of such a deed must file a civil suit to the court to cancel the deed. The criminal liability of notaries needs to be regulated in the upcoming UUJN.
 Keywords : Notary, Criminal, Act against the law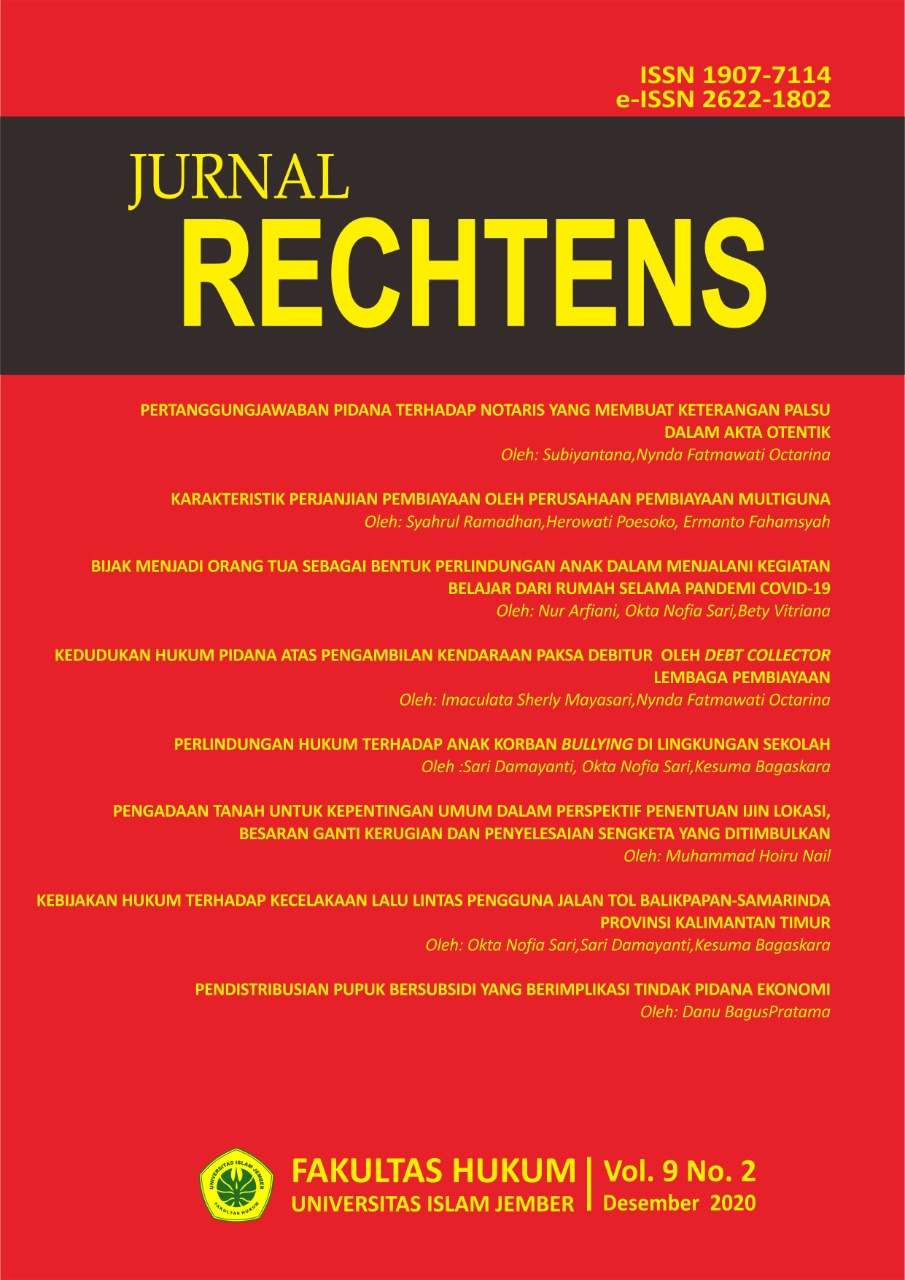 Downloads
How to Cite
Subiyantana, S., & Fatmawati Octarina, N. (2020). Pertanggungjawaban Pidana terhadap Notaris yang Membuat Keterangan Palsu dalam Akta Otentik. JURNAL RECHTENS, 9(2), 93–106. https://doi.org/10.36835/rechtens.v9i2.786
License
Copyright (c) 2020 Subiyantana Subiyantana, Nynda Fatmawati Octarina
This work is licensed under a Creative Commons Attribution 4.0 International License.