Kedudukan Hukum Pidana Atas Pengambilan Kendaraan Paksa Debitur oleh Debt Collector Lembaga Pembiayaan
Abstract
Abstrak
 Penggunaan Debt Collector pada perusahaan pembiayaan konsumen tidak dilarang asal dilaksanakan sesuai dengan prosedur yang ditetapkan dan tidak melanggar norma serta aturan yang ada. Akan tetapi pada prakteknya, para debt collector sering tidak beretika ketika menarik kendaraan milik debitur yang menunggak. Karena tugas mereka hanyalah menagih hutang bukan untuk menakuti, menyiksa apalagi berbuat yg sampai menghilangkan nyawa orang lain. Oleh karena itu, masyarakat agar mematuhi kontrak yang sudah dibuat kepada satu perusahaan pembiayaan konsumen dan pada debt collector agar tidak bertindak melanggar hukum dalam melaksanakan tugas-tugasnya.
 Kata Kunci :  Debt Collector, Lembaga Pembiayaan, Penarikan Sepeda Motor
Abstract
 The use of a Debt Collector in consumer finance companies is not prohibited as long as it is carried out in accordance with prescribed procedures and does not violate existing norms and regulations. However, in practice, debt collectors are often unethical when pulling vehicles belonging to delinquent debtors. Because their job is just a debt debt, not to fear, let alone taxes that have taken the lives of others. Therefore, the public must comply with the contracts that have been made with a consumer finance company and to a debt collector so as not to violate the law in carrying out their duties.
 Keywords : Debt Collector, Financing Institution, Motorcycle Withdrawal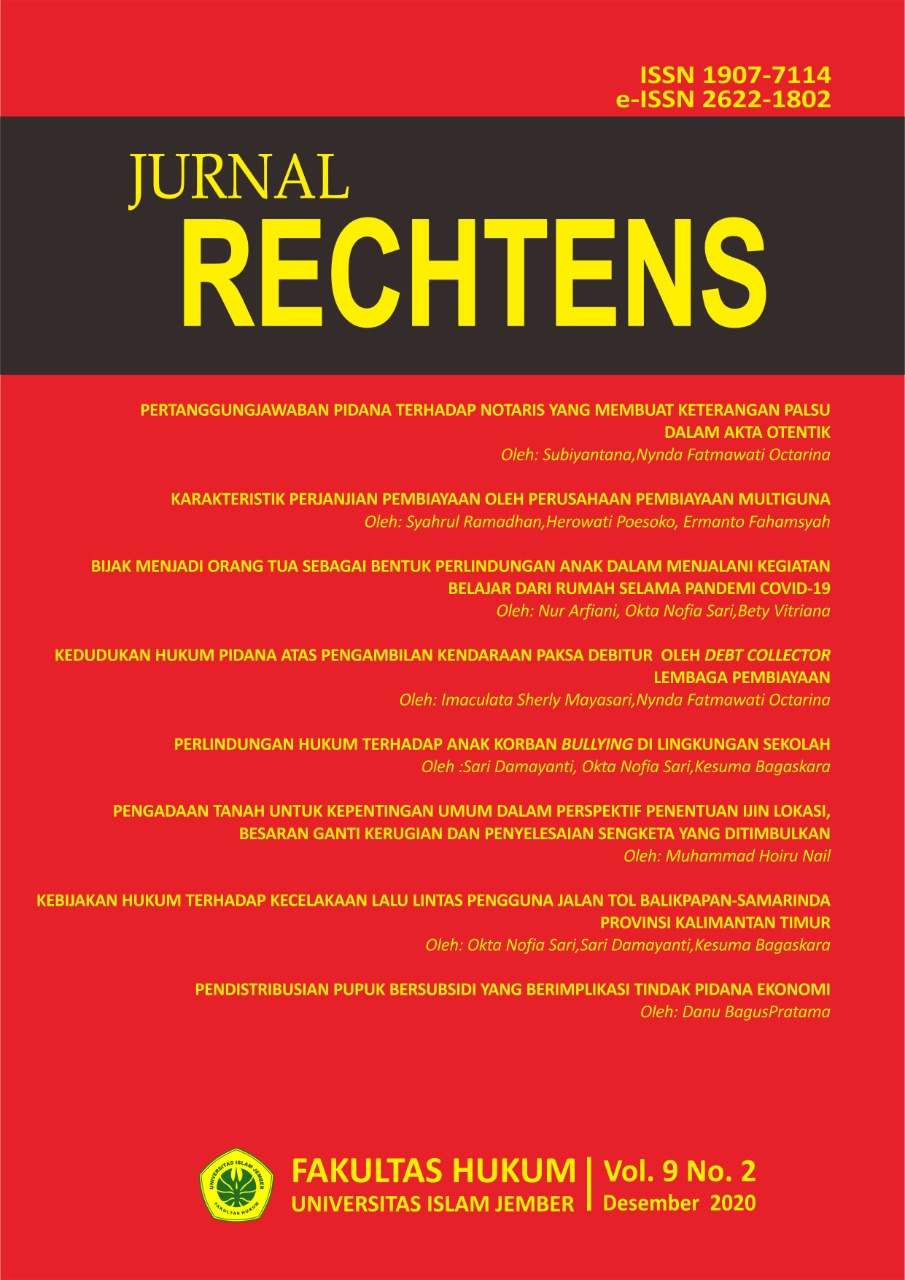 Downloads
How to Cite
Sherly Mayasari, I. ., & Fatmawati Octarina, N. . (2020). Kedudukan Hukum Pidana Atas Pengambilan Kendaraan Paksa Debitur oleh Debt Collector Lembaga Pembiayaan. JURNAL RECHTENS, 9(2), 141–152. https://doi.org/10.36835/rechtens.v9i2.788
License
Copyright (c) 2020 Imaculata Sherly Mayasari, Nynda Fatmawati Octarina
This work is licensed under a Creative Commons Attribution 4.0 International License.