Karakteristik Perjanjian Pembiayaan oleh Perusahaan Pembiayaan Multiguna
Abstract
Abstrak
Perusahaan Pembiayaan Multiguna dalam Pasal 1 angka 1 Peraturan Otoritas Jasa Keuangan Nomor 29/POJK.05/2014 Tentang Penyelenggaraan Usaha Perusahaan Pembiayaan (untuk selanjutnya disebut POJK No 29/POJK.05/2014) adalah badan usaha yang melakukan kegiatan pembiayaan untuk pengadaan barang dan/atau jasa. Terkait itu pada pasal 18 ayat (2) POJK No 29/POJK.05/2014 yang mengatur tentang mitigasi risiko tidak ada norma tertulis yang membolehkan pembebanan jaminan Hak Tanggungan, namun manakala membaca penafsiran otentiknya memperluas norma yang sifatnya limitatif karena ada frase dapat dilakukan selain yang tertulis dalam pasal 18 ayat (2). Kekaburan norma itu berimplikasi pada adanya penyimpangan hukum yaitu dengan melakukan pembebanan Hak Tanggungan.  Perjanjian Pembebanan Hak Tanggungan  dalam pembiayaan multiguna tidak sesuai dengan karakteristik  perjanjian pembiayaan oleh Perusahaan Multiguna. 
Kata kunci: Penyimpangan Hukum, Kekaburan Norma, Karakteristik Perjanjian Pembiayaan Multiguna
Abstract
Multipurpose Financing Company in Article 1 number 1 Financial Services Authority Regulation Number 29 / POJK.05 / 2014 concerning Business Conduct of Financing Companies (hereinafter referred to as POJK No 29 / POJK.05 / 2014) is a business entity that carries out financing activities for the procurement of goods and / or services. Related to that, in article 18 paragraph (2) POJK No 29 / POJK.05 / 2014 which regulates risk mitigation there is no written norm that allows the imposition of guarantees of Mortgage Rights, but when reading the authentic interpretation expands the norms that are limitative because there are phrases that can be done in addition to written in article 18 paragraph (2). This vagueness of norms has implications for legal deviation, namely by imposing Mortgage Rights. The Collateral Placement Contract in multipurpose financing is not in accordance with the characteristics of the financing contract by the Multipurpose Company.
 Keywords: Legal Deviation, Vague Norms, Characteristics of Multipurpose Financing Contract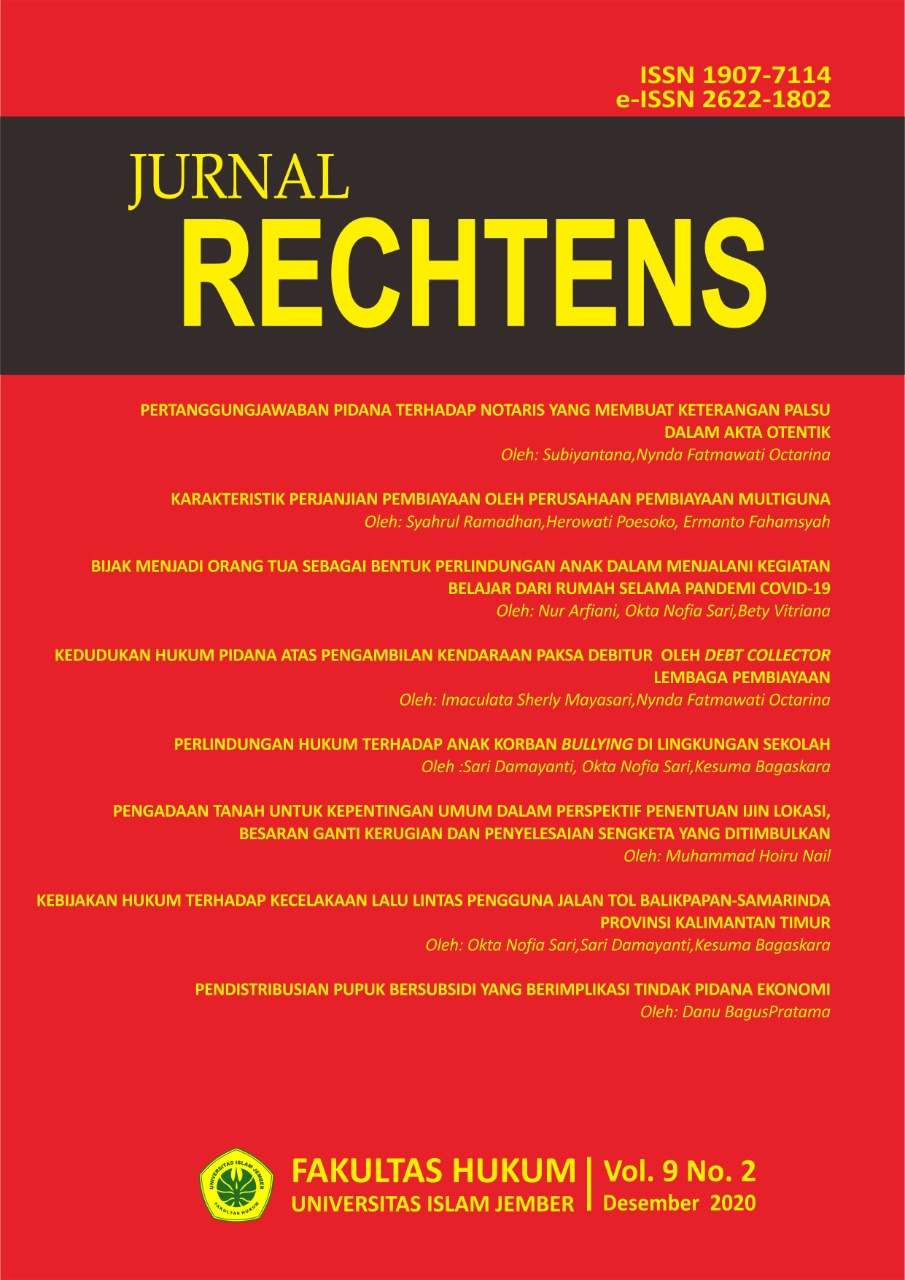 Downloads
How to Cite
Ramadhan, S., Poesoko, H. ., & Fahamsyah , E. . (2020). Karakteristik Perjanjian Pembiayaan oleh Perusahaan Pembiayaan Multiguna. JURNAL RECHTENS, 9(2), 107–126. https://doi.org/10.36835/rechtens.v9i2.789
License
Copyright (c) 2020 Syahrul Ramadhan, Herowati Poesoko, Ermanto Fahamsyah
This work is licensed under a Creative Commons Attribution 4.0 International License.