The Effect of Using Take and Give Models With Contextual Approaches On Mathematics Learning Outcomes
Abstract
     Learning model greatly influences student learning outcomeson certain subjects. While learning outcomes are a goal of learning activities throught conscious effort carried out systematically. The researcher took studedent class VII SMP Islam Bustanul Arifin. This study aims to determine the effect of the use of take and give models with contextual approaches to learning outcomes in set material. This type is experimental  research and quantitative approaches. Based on the results of thr research that was carried out to produce  dan . By comparing the values obtained that . This means that the alternative hypothesis is accepted, so there is an influences from the use of  take and give models with contextual approaches to student learning outcomes.
Keywords: take and give, learning outcomes
References
Aqib, Zainal. 2010. Menjadi Guru Profesional berstandar nasional. Bandung :Yrama Widya
E.Slavin, Robert.2015. Cooperative Learning. Bandung : Nusa Media
Hanafiah & Suhana.2012. Konsep Strategi Pembalajaran Bandung : Refika Adimata
Huda, Miftahul. 2013. Model-Model Pengajaran dan Pembelajaran. Yogyakarta : Pustaka Pelajar.
Komalasari, Kokom.2014. Pembelajaran Kontekstual. Bandung : Refika Aditama.
Komara, Endang. 2014. Belajar dan Pembelajaran Interaktif. Bandung :
Oemar, Hamalik. 2013. Proses Belajar Mengajar. Jakarta : PT Bumi Aksar
Sudjana, Nana. 2009.Penilaian Hasil Proses Belajar Mengajar. Bandung : Remaja Rosdakarya.
Sugiyono. 2017. Metode Penelitian Pendidikan. Bandung : Alfabeta.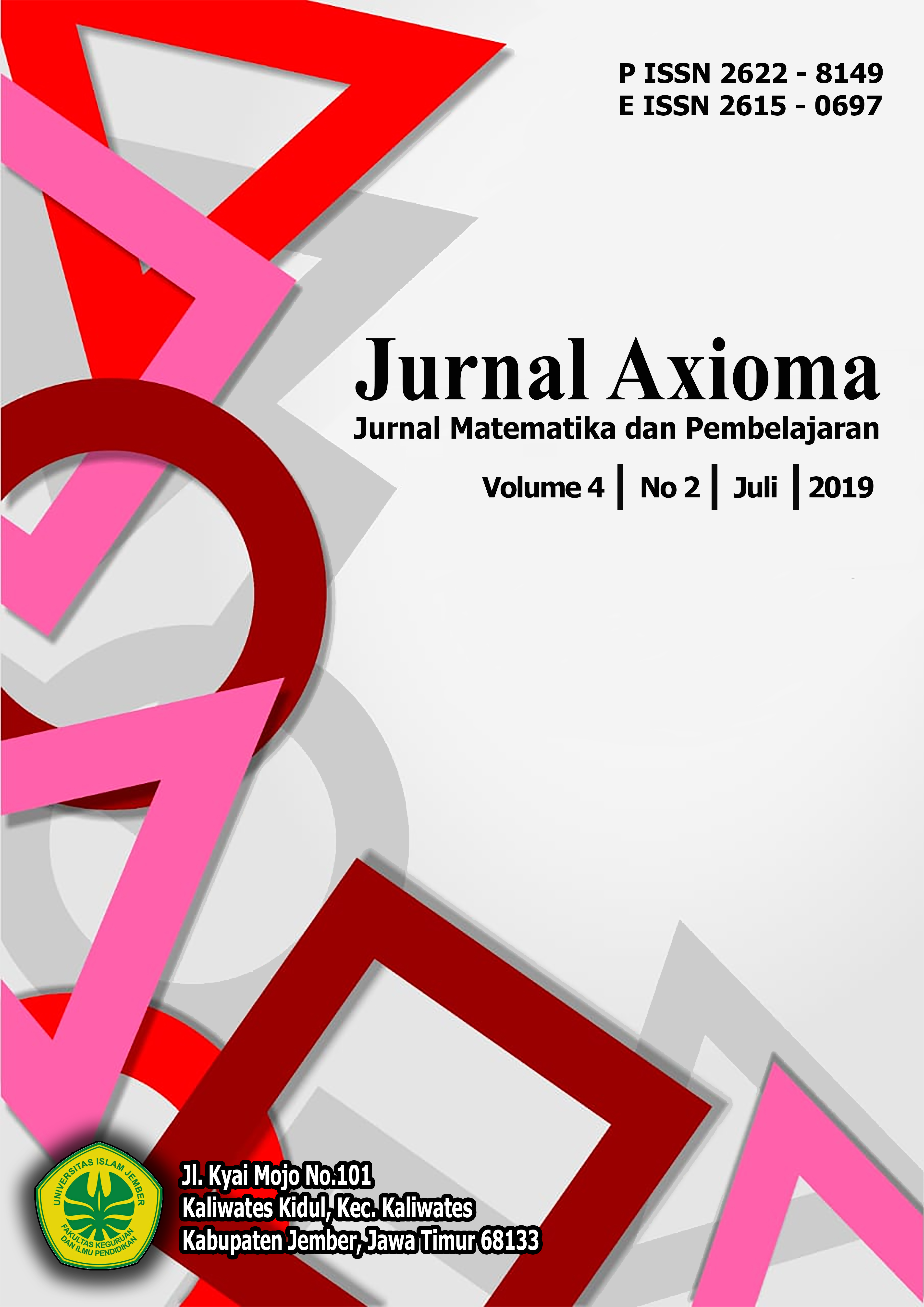 Downloads
How to Cite
Setiawati, Y., & Irawati, T. N. (2019). The Effect of Using Take and Give Models With Contextual Approaches On Mathematics Learning Outcomes. Jurnal Axioma : Jurnal Matematika Dan Pembelajaran, 4(2), 120–129. https://doi.org/10.36835/axi.v4i2.459
License
Copyright (c) 2019 JURNAL AXIOMA : Jurnal Matematika dan Pembelajaran
This work is licensed under a Creative Commons Attribution 4.0 International License.