Tanggung Jawab Pelaku Usaha terhadap Kerugian Konsumen Akibat Kosmetik Bersteroid
Abstract
Abstrak
Skincare menjadi kebutuhan utama masyarakat di semua kalangan, baik perempuan ataupun laki-laki dan dari beragam kelas ekonomi. Akan tetapi hal ini dimanfaatkan oleh beberapa pelaku yang tidak bertanggung jawab usaha atau bahkan dokter yang mengerti akan kandungan kosmetika yang seharusnya tidak untuk digunakan untuk tubuh dengan memproduksi skincare, menambahkan bahan kimia berbahaya steroid. Rumusan Masalah dalam artikel ini adalah Apa peranan Badan Pengawas Obat dan Makanan (BPOM) dalam melakukan pengawasan terhadap produk kosmetik yang bersteroid dan bagaimana tanggung jawab pelaku usaha terhadap kerugian konsumen akibat kosmetik bersteroid. Metode pendekatan yang digunakan adalah metode yuridis normatif. Peranan Badan Pengawas Obat dan Makanan (BPOM) adalah turut serta melakukan kewenangannya sebagai pengawas, dan melakukan suatu pengecekan apabila terjadi suatu kecurigaan terhadap suatu produk yang disinyalir menggunakan suatu bahan yang dilarang oleh pemerintah yang dapat merugikan, dan mengancam keselamatan jiwa terhadap konsumen sesuai dengan Undang-Undang yang berlaku. Tanggung Jawab Pelaku Usaha terhadap konsumen yang mengalami kerugian akibat penjualan kosmetik bersteroid berupa pemberian ganti rugi. Hak ganti kerugian yang diberikan kepada konsumen ini bersifat universal disamping hak-hak pokok lainnya.
Kata Kunci : Tanggung Jawab Pelaku Usaha, Konsumen, skincare bersteroid.
 Abstract
Skincare is a major need of society in all circles, both women and men, and from various economic classes. Increasingly the age of increasing number of types of skincare that can be chosen by consumers. However, this is exploited by some business-responsible actors or even doctors who understand the cosmetics content that should not be used for the body by producing skincare, adding dangerous steroid chemicals. The sale and purchase of skincare, which is carried out specifically by individuals who understand the dangerous ingredients of skincare, are carried out to get the attention of various groups of people. Steroids are active chemicals in sterol fat which, when mixed with other cosmetics, will cause skin scaling. It is this skin erosion that causes the skin to grow white. However, long-term effects caused will cause the skin to become thin and bluish veins will appear that cannot be removed. The effects caused by the presence of steroids cannot be eliminated permanently even with laser action, so the mixing of steroids against cosmetics is very detrimental to consumers.
Keywords: Responsibilities of Businesses, Consumers, steroid skincare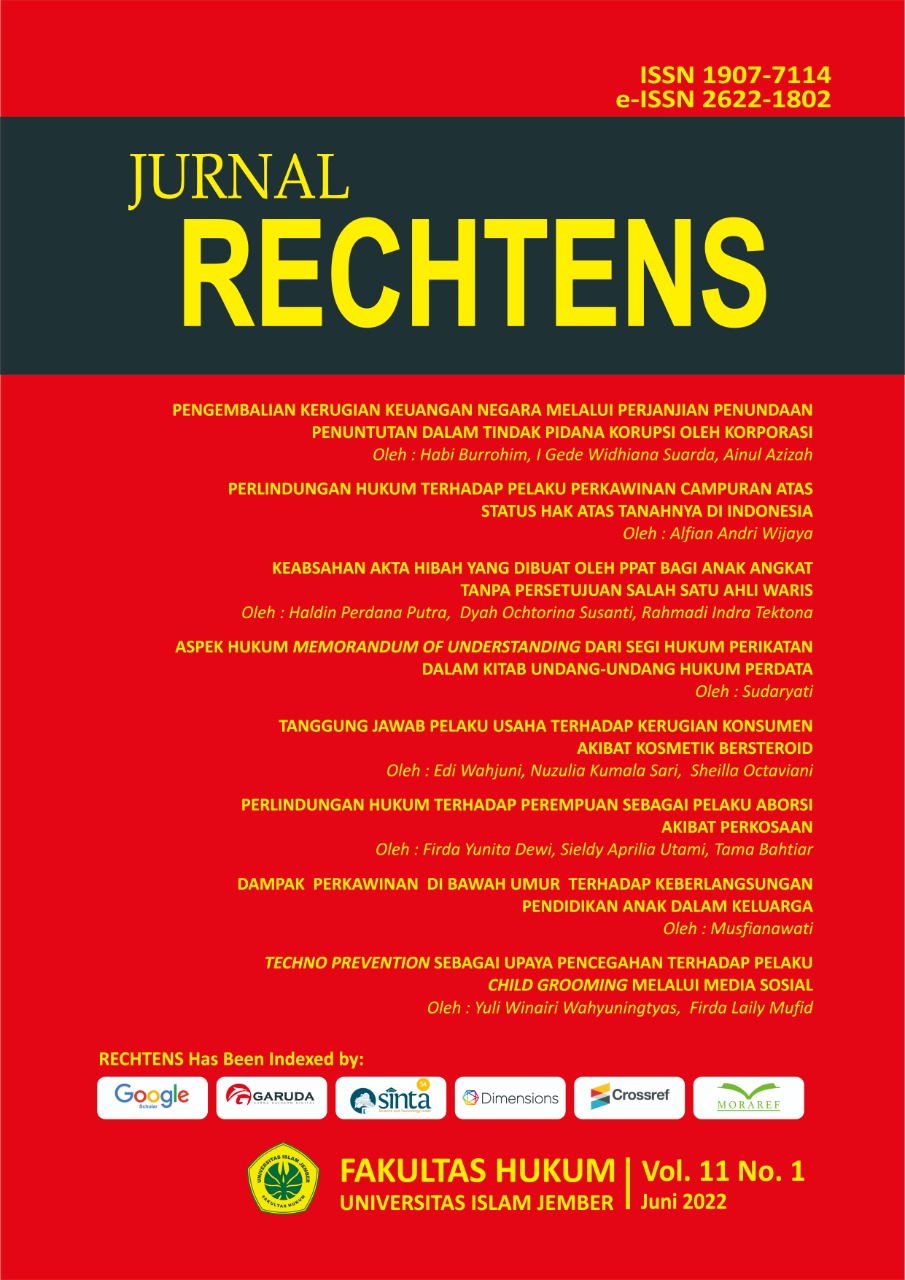 Downloads
How to Cite
Wahjuni , E. ., Kumala Sari, N., & Octaviani , S. . (2022). Tanggung Jawab Pelaku Usaha terhadap Kerugian Konsumen Akibat Kosmetik Bersteroid. JURNAL RECHTENS, 11(1), 67–82. https://doi.org/10.56013/rechtens.v11i1.1268
License
Copyright (c) 2022 Edi Wahjuni , Nuzulia Kumala Sari,Sheilla Octaviani
This work is licensed under a Creative Commons Attribution 4.0 International License.