Techno Prevention sebagai Upaya Pencegahan Terhadap Pelaku Child Grooming melalui Media Sosial
Abstract
Abstrak
 Perkembangan ilmu pengetahun dan teknologi dan seni mengantarkan manusia memasuki "era digital". Kemajuan teknologi sangat berperan dalam kegiatan sehari-hari terutama di era pandemic covid-19 ini. Selain memudahkan dalam melakukan kegiatan tanpa harus bertatap muka, namun satu sisi kecanggihan teknologi justru dimanfaatkan oleh orang tidak bertanggungjawab untuk melakukan kejahatan. Salah satunya adalah Pelecehan seksual. Masalah yang akan dianalsis adalah apakah child grooming dapat dikategorikan sebagai kejahatan seksual serta bagaimana kebijakan hukum pidana melalui techno prevention sebagai upaya pencegahan terhadap pelaku Child Grooming melalui media sosial. Metode yang digunakan dalam penelitian ini adalah yuridis normatif. Dengan menggunakan pendekatan konseptual dan kasus. Hasil yang dapat disimpulkan adalah bahwa child grooming merupakan kekerasan seksual dan Indonesia belum memiliki pengaturan yang mengkhusus mengenai tindak pidana child grooming ini sehingga menimbulkan kendala bagi aparat penegak hukum untuk menjatuhkan hukuman kepada pelaku.
Kata Kunci : Teknologi, Kekerasan Seksual, Anak, Media Social
 Abstract
 The development of science, knowledge and technology and the arts ushered humans into the "digital era". Technological advances play a very important role in daily activities, especially in this era of the Covid-19 pandemic. In addition to making it easier to carry out activities without having to meet face to face, on the one hand, technological sophistication is actually used by irresponsible people to commit crimes. One of them is sexual harassment. The problem to be analyzed is whether child grooming can be categorized as a sexual crime and how the criminal law policy is through techno prevention as an effort to prevent Child Grooming perpetrators through social media. The method used in this research is normative juridical. By using a conceptual and case approach. The results that can be concluded are that child grooming is sexual violence and Indonesia does not yet have a specific regulation regarding the crime of child grooming, which creates obstacles for law enforcement officers to impose penalties on perpetrators.
 Keywords: Technology, Sexual Violence, Children, Social Media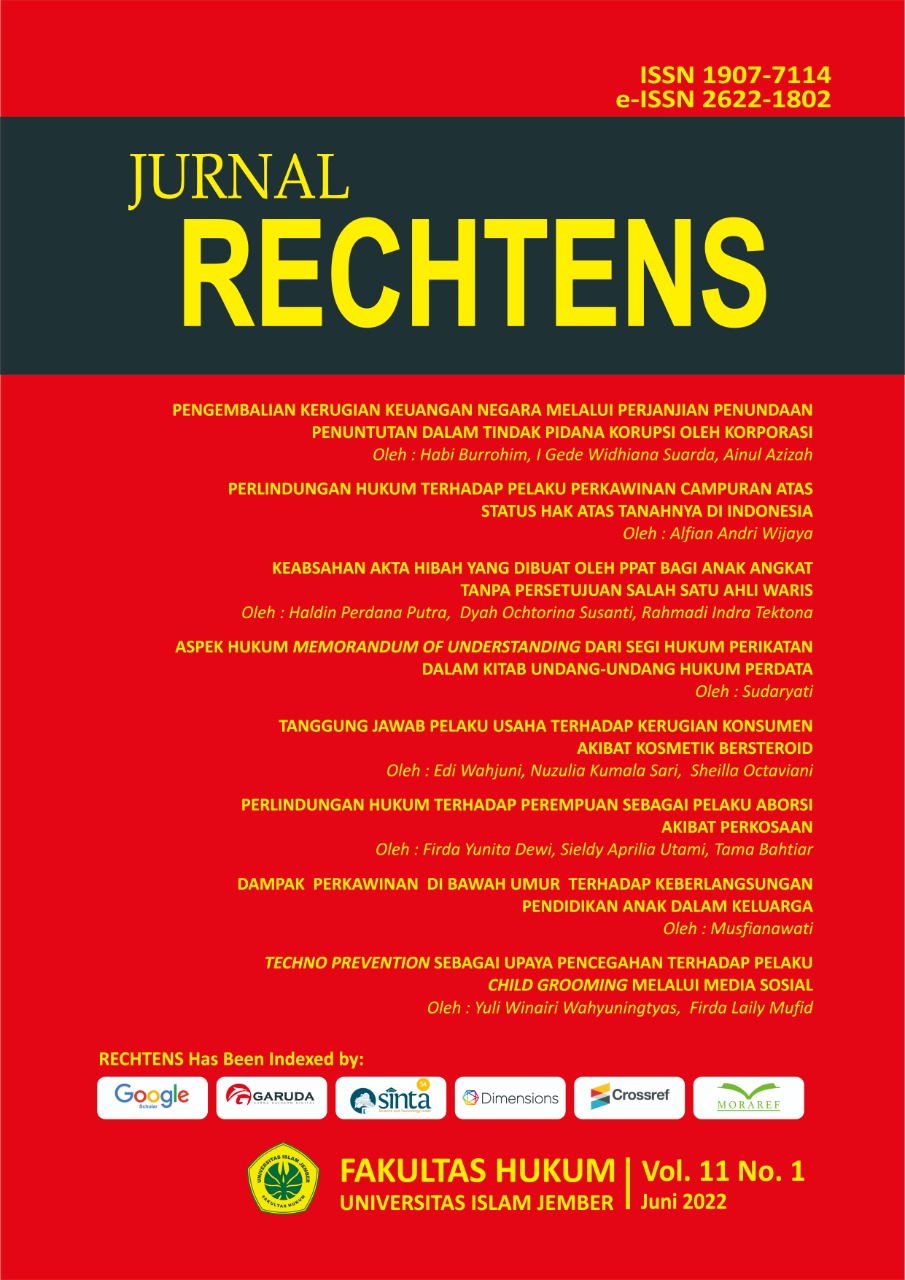 Downloads
How to Cite
winiari w., yuli, & Laily Mufid, F. . (2022). Techno Prevention sebagai Upaya Pencegahan Terhadap Pelaku Child Grooming melalui Media Sosial. JURNAL RECHTENS, 11(1), 109–122. https://doi.org/10.56013/rechtens.v11i1.1385
License
Copyright (c) 2022 yuli winiari w., Firda Laily Mufid
This work is licensed under a Creative Commons Attribution 4.0 International License.