Upaya Pencegahan Pernikahan Usia Dini pada Remaja di Kelurahan Jember Lor Kabupaten Jember
Abstract
Abstrak
Pernikahan merupakan suatu peristiwa yang sakral. Pernikahan merubah status seseorang dari bujangan atau janda/duda menjadi berstatus kawin. Dari ikatan pernikahan  yang ada diharapkan tercipta generasi baru yang lebih baik dari generasi sebelumnya. Karena itu diperlukan persiapan yang cukup matang bagi pasangan yang akan memasukinya, baik berupa persiapan fisik dan mental ataupun persiapan lain yang bersifat sosial ekonomi. Usia pernikahan dini menjadi perhatian penentu kebijakan serta perencana program karena berisiko tinggi terhadap kegagalan perkawinan, kehamilan usia muda yang beresiko kematian maternal, serta risiko tidak siap mental untuk membina perkawinan dan menjadi orang tua yang bertanggung jawab. Banyak faktor dan penyebab terjadinya pernikahan dini di desa, selain rendahnya tingkat pendidikan, alasan adat istiadat juga menjadi faktor penyebab tingginya angka pernikahan dini di Kelurahan Jember lor, Kecamatan Patrang, Kabupaten Jember. Perlu adanya upaya pencegahan untuk mengurangi angka pernikahan dini, karena hal ini juga akan dapat menekan laju angka kekerasan dalam rumah tangga dan perceraian.
Kata Kunci : Pernikahan, pernikahan dini, kekerasan, perceraian
Abstract
 Marriage is a sacred event. Marriage changes a person's status from single or widowed to married status. From the existing marriage ties, it is hoped that a new generation will be created that is better than the previous generation. Therefore, it is necessary to prepare quite mature for the couple who will enter it, either in the form of physical and mental preparation or other preparations that are socio-economic in nature. Early marriage age is a concern for policy makers and program planners because of the high risk of marriage failure, early pregnancy at risk of maternal death, and the risk of not being mentally prepared to foster marriage and become responsible parents. There are many factors and causes of early marriage in the village, in addition to the low level of education, cultural reasons are also a factor in the high rate of early marriage in Jember lor Village, Patrang District, Jember Regency. Prevention efforts are needed to reduce the number of early marriages, because this will also be able to reduce the rate of domestic violence and divorce.
Keywords: Marriage, early marriage, violence, divorce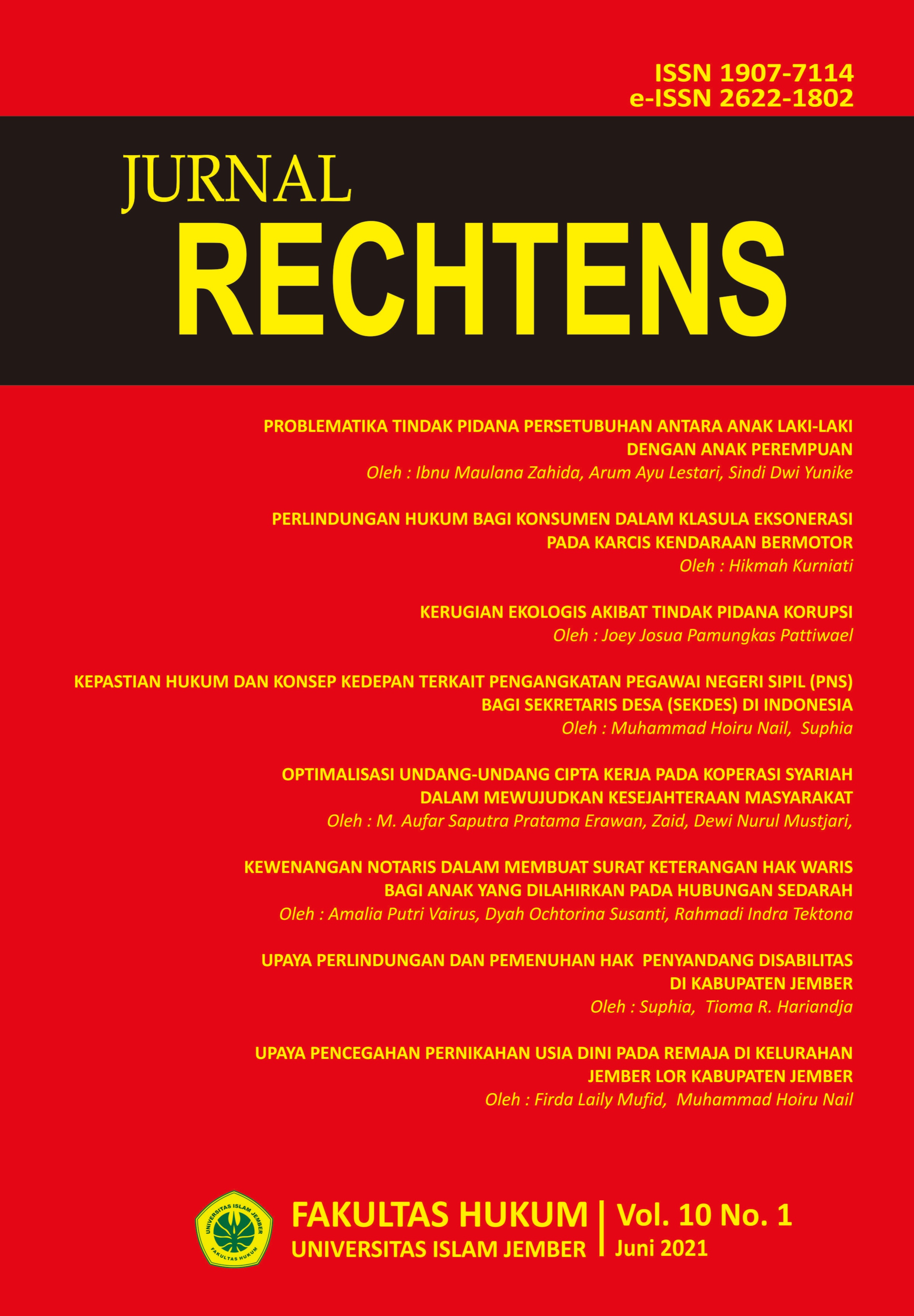 Downloads
How to Cite
Laily Mufid, F., & Hoiru Nail, M. . (2021). Upaya Pencegahan Pernikahan Usia Dini pada Remaja di Kelurahan Jember Lor Kabupaten Jember. JURNAL RECHTENS, 10(1), 109–120. https://doi.org/10.36835/rechtens.v10i1.1021
License
Copyright (c) 2021 firda laily mufid, Muhammad Hoiru Nail
This work is licensed under a Creative Commons Attribution 4.0 International License.