Perlindungan Hukum terhadap Anak Korban Bullying di Lingkungan Sekolah
Abstract
Abstrak
Perlindungan Anak merupakan segala kegiatan untuk menjamin dan melindungi Anak dan hak-haknya agar dapat hidup, tumbuh, berkembang, dan berpartisipasi secara optimal sesuai dengan harkat dan martabat kemanusiaan, serta mendapat perlindungan dari kekerasan dan diskriminasi. Pelaksanaan perlindungan anak tidak hanya dilakukan oleh orang tua namun juga harus dilakukan oleh semua elemen dari pihak sekolah ataupun masayakat. Kerja sama dalam melakukan perlindungan terhadap anak akan memberikan dampak positif dalam tumbuh kembangnya. Pihak sekolah juga dapat melakukan pembentukan karakter terhadap siswanya serta memberikan sanksi terhadap pelaku tindak pidana bullying agar pelaku jera da tidak mengulangi perbuatannya lagi.
Kata Kunci : Perlindungan, Anak, Bullying
Abstract
Child Protection is all activities to guarantee and protect children and their rights so that they can live, grow, develop and participate optimally in accordance with human dignity and protection from violence and discrimination. The implementation of child protection is not only carried out by parents but also must be carried out by all elements of the school or community. Cooperation in protecting children will have a positive impact on their growth and development. The school can also build character for students and impose sanctions on perpetrators of criminal acts of bullying so that the perpetrators are deterred from repeating their actions.
Keyword : Protection, Children, Bullying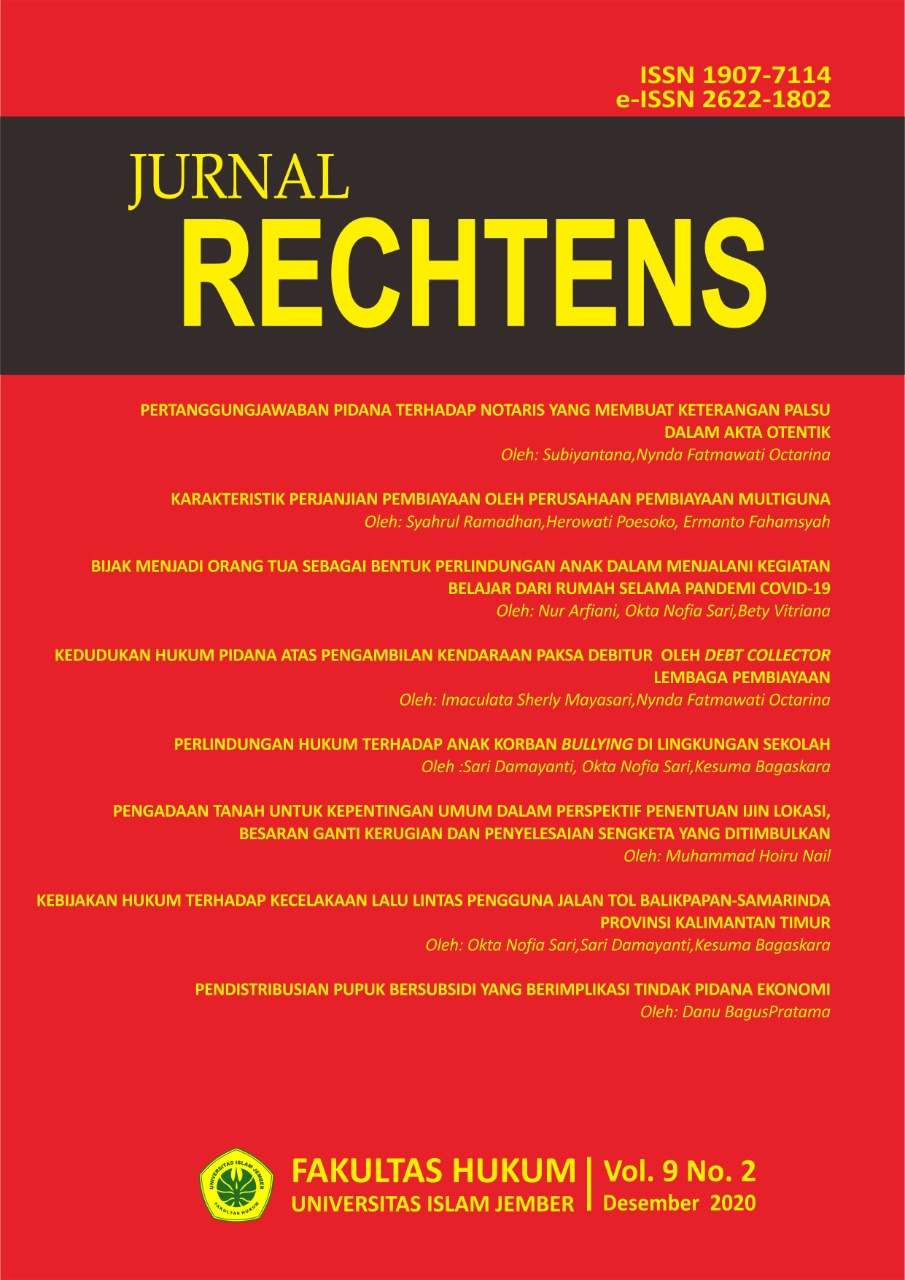 Downloads
How to Cite
Damayanti, S., Nofia Sari, O. ., & Bagaskara, K. . (2020). Perlindungan Hukum terhadap Anak Korban Bullying di Lingkungan Sekolah. JURNAL RECHTENS, 9(2), 153–168. https://doi.org/10.36835/rechtens.v9i2.791
License
Copyright (c) 2020 Sari Damayanti, Okta Nofia Sari, Kesuma Bagaskara
This work is licensed under a Creative Commons Attribution 4.0 International License.