Kebijakan Hukum terhadap Kecelakaan Lalu Lintas Pengguna Jalan Tol Balikpapan-Samarinda Kalimantan Timur
Abstract
Abstrak
 Keselamatan dalam menggunakan fasilitas jalan raya sangat diutamakan. Hal ini terkait dengan kejadian kecelakaan lalu lintas. Pengguna jalan raya diharapkandapat me-ngendalikan diri selama mengemudi, sikap ini tidak hanya dilakukan saat mengemudi di jalan raya saja namun juga ketika menggunakan fasilitas jalan tol. Jalan tol dibuat untuk memudahkan akses bertransportasi dengan aman dan nyaman, namun di jalan tol ada beberapa atusan yang harus ditaati untuk menghindari dari bahaya kecelakaan di jalan tol. Kontrol diri dapat dilakukan saat mengemudi di jalan tol dikarenakan dengan mengkontrol diri maka pengemudi dapat melindungi dirinya sendiri maupun orang lain.
 Kata Kunci: Pengendara, Jalan Tol, Kecelakaan
Abstract
 Safety in using roadfacilities is a priority. This is related to traffic accidents. Road users are expected to be able to control themselves while driving, this attitude is not only done when driving on the highway but also when using toll road facilities. Toll roads are made to facilitate access to transportation safely and comfortably, however on toll roads there are several regulations that must be obeyed to avoid the danger of accidents on toll roads. Self-control can be exercised when driving on toll roads because by controlling yourself, the driver can protect himself and others. 
Keywords: Rider, Toll Road, Accident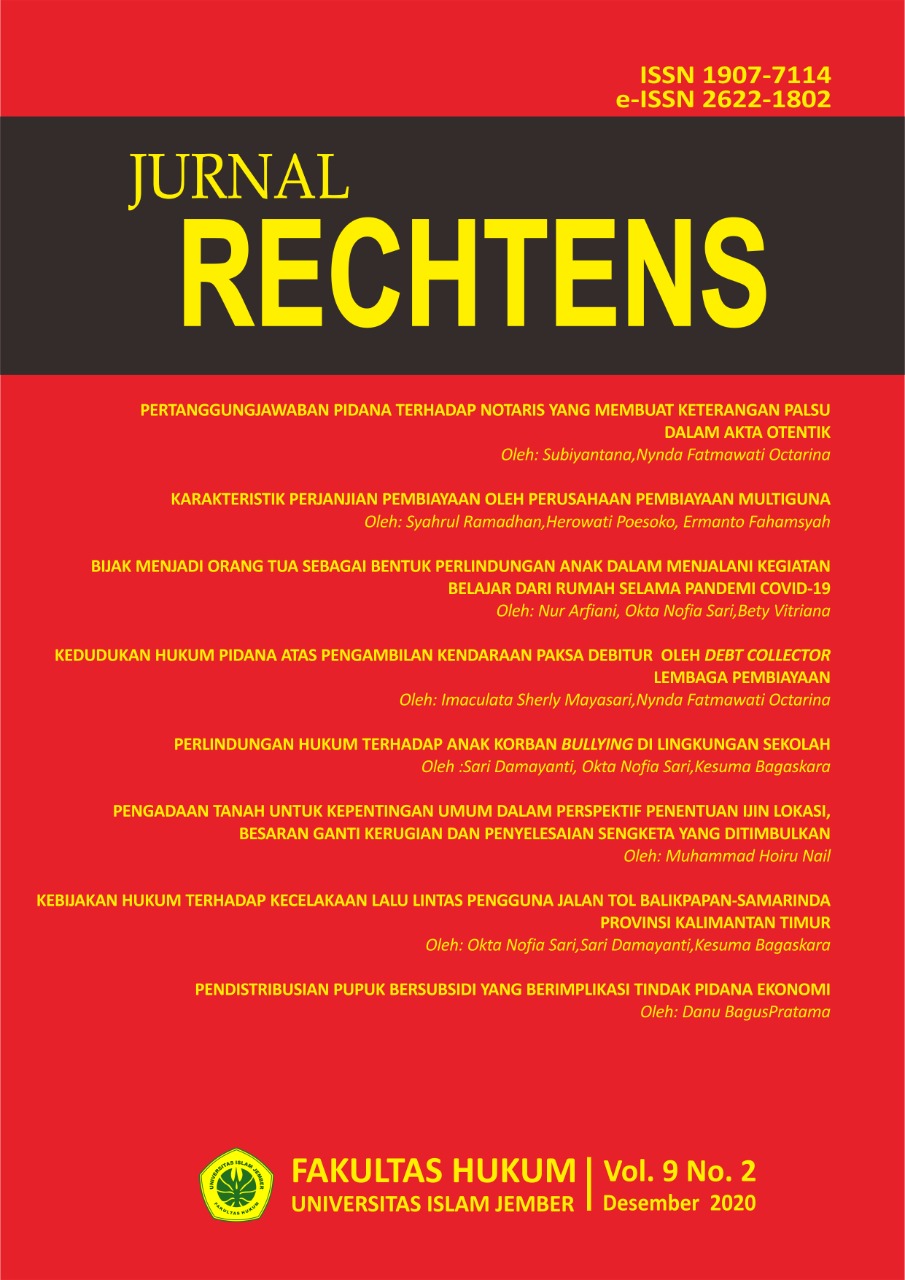 Downloads
How to Cite
Nofia Sari, O., Damayanti, S. ., & Bagaskara, K. . (2020). Kebijakan Hukum terhadap Kecelakaan Lalu Lintas Pengguna Jalan Tol Balikpapan-Samarinda Kalimantan Timur. JURNAL RECHTENS, 9(2), 183–196. https://doi.org/10.36835/rechtens.v9i2.793
License
Copyright (c) 2020 Okta Nofia Sari, Sari Damayanti, Kesuma Bagaskara
This work is licensed under a Creative Commons Attribution 4.0 International License.