The Critical Thinking Analysis of Middle School Students in Solving Open Ended Mathematical Problems at Social Arithmetic Material
Abstract
The ability to think critically is a thinking skill used to systematically investigate one's thinking process in using evidence and logic to the thinking process. This capability can be developed through the application of open ended problems. This type of research is qualitative. The research approach used is case study. Analysis of research data using the method of observation, test, and interview. In addition, validity and reliability tests were conducted on the instruments used. Based on the results of the validation level analysis for all aspects of 0.9 with high interpretation. The level of reliability of the test questions reached a high level with a coefficient of 0.92. The critical thinking ability of junior high school students in solving the problem of open ended problem math on the material of social arithmetic is still low reaching 50%. While the result of critical thinking ability analysis on each indicator is ability to give simple explanation 27%, build basic skill 24%, conclusion 18% make further explanation 10% and strategy and tactics reach 21%. Based on the above, there needs to be an alternative solution in improving students' critical thinking skills through the application of open ended problem in every learning mathematics.
Keywords: Critical thinking ability,  open ended problem
References
Arikunto. 2010. Penelitian Tindakan Kelas. Jakarta: PT Bumi Aksara
Asti.2008.Pembelajaran RME (Realistic Mathematics Education) Dengan TGT (Teams Games Tournament) Terhadap Komunikasi Matematik Siswa Sma
Hobri. 2009. Model-Model Pembelajaran. Jember: Center For Society Studies (CSS)
Imamah, N. 2010. Penerapan Pembelajaran Matematika Realistik Dengan Setting Kooperatif Tipe TGT (Team Games Tournament) Pokok Bahasan Aljabar Untuk Meningkatkan Komunikasi Matematika Siswa Kelas VII SMP Negeri 1 Jember Tahun Ajaran 2009-2010. Skripsi tidak diterbitkan. Jember: Universitas Jember
Krismanto, 2003. Beberapa Teknik, Model dan StrategidalamPembelajaran Matematika.PPPG Matematika Yogyakarta: Depdiknas
Maulana.: Pendekatan Metakognitif Sebagai Alternatif Pembelajaran Matematika Untuk Meningkatkan Kemampuan Berpikir Kritis Mahasiswa PGSD. Jurnal Pendidikan Dasar No.10 Oktober 2008. 39-46. (2008)
Nohda, N. (2000) A Study of " Open Aproach" Method in School Mathematics Teaching. [Online]
Nurkancana,W. 1990.EvaluasiHasilBelajar. Surabaya: Usaha Nasional
Sabandar, J. Berpikir Reflektif. (Makalah disampaikan pada Seminar Nasional Pendidikan Matematika di Universitas Pendidikan Indonesia). Bandung, 8 Desember 2007. (2007).
Sanjaya, W. 2008. Perencanaan Dan Desain Sistem Pembelajaran. Jakarta:Kencana
Shadiq, F. 2009. Kemahiran Matematika. Diklat Instruktur Pengembang Matematika SMA Jenjang Lanjut. Yogyakarta: Depdiknas
Soedjadi, R. 2000. Kiat Pendidikan Matematika Di Indonesia: Konstatasi Keadaan Masa Kini Menuju Harapan Masa Depan. Jakarta: Direktorat Jenderal Pendidikan Tinggi Departemen PendidikanNasional.
Sukidin, dkk. 2002. Manajemen Penelitian Tindakan Kelas.Jakarta:Insan Cendikia
Suherman, E. (2003) Evaluasi Pembelajaran Matematika. Bandung: JICA UPI
Sunardi. 2009. Strategi Belajar Mengajar Matematika. Jember:Mulyana
Suryadi, D.: Penggunaan Pendekatan Pembelajaran Tidak Langsung Serta Pendekatan Gabungan Langsung dan Tidak Langsung dalam Meningkatkan Kemampuan Berpikir Tingkat Tinggi Siswa SLTP. Disertasi SPs UPI. Bandung. Tidak diterbitkan. (2005).
Takahashi, A. (2008) Communication as Process for Students to Learn Mathematichal. [Online]
Wena. 2011. Strategi Pembelajaran Inovatif Kontemporer: Suatu Tinjauan Konseptual Operasional. Jakarta: BumiAksara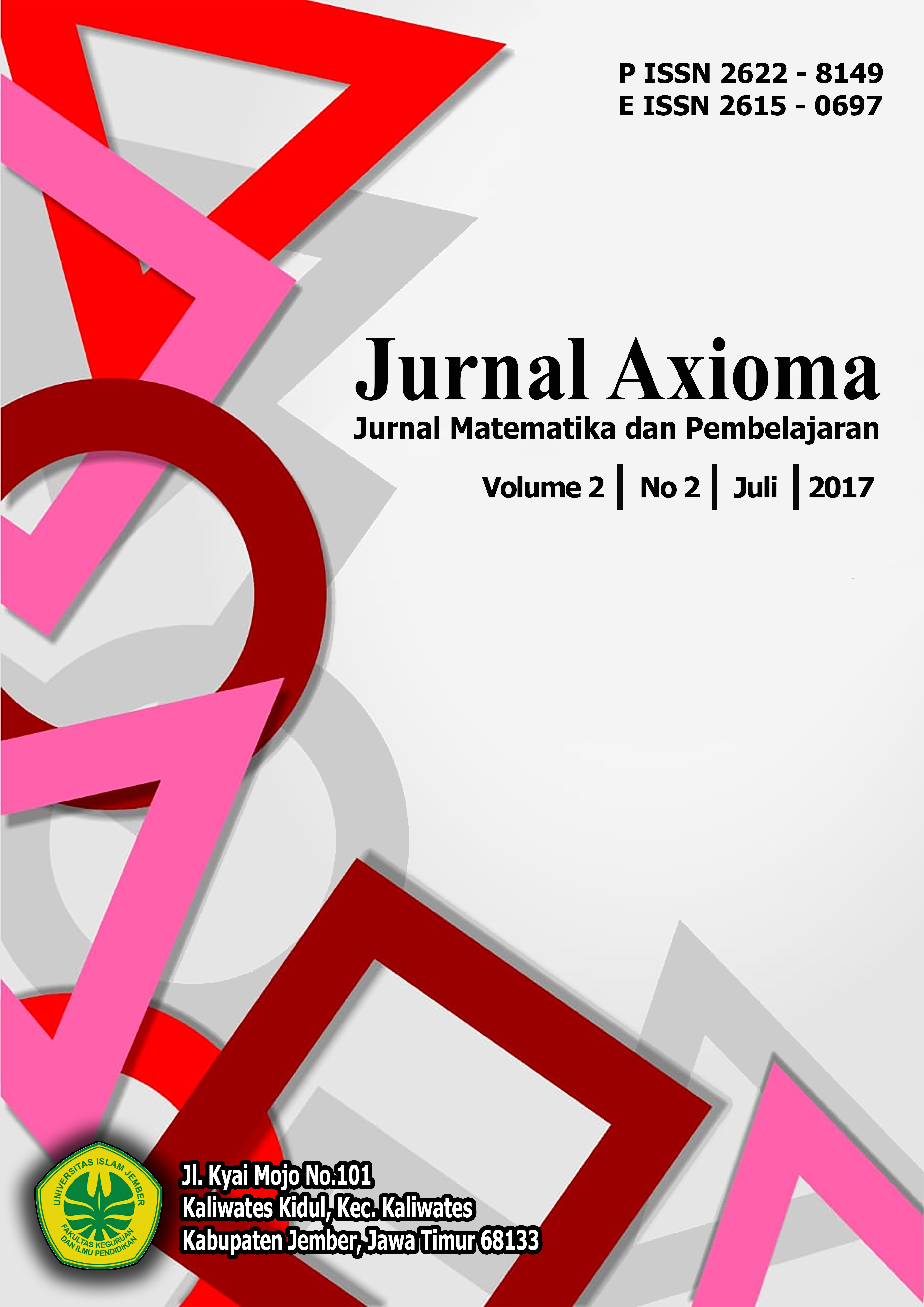 Downloads
How to Cite
Irawati, T. N. (2017). The Critical Thinking Analysis of Middle School Students in Solving Open Ended Mathematical Problems at Social Arithmetic Material. Jurnal Axioma : Jurnal Matematika Dan Pembelajaran, 2(2), 166–176. Retrieved from http://ejurnal.uij.ac.id/index.php/AXI/article/view/299
License
Copyright (c) 2017 JURNAL AXIOMA : Jurnal Matematika dan Pembelajaran
This work is licensed under a Creative Commons Attribution 4.0 International License.