About the Journal
Journal Title                 Jurnal Rechtens
Initials                           JR
Frequency                    2 Issues/Year (June, December)
Prefix DOI                     10.56013
Editor In Chief             Suphia
Oneline ISSN               2622-1802
Publisher                     Faculty of Law, Islamic University of Jember
Rechtens Journal (p-ISSN: 1907-7114, e-ISSN: 2622-1802) is a fully peer-reviewed journal which welcomes high quality papers a wide range of fields with resperct to law. This journal invites submissions relating to civil law, criminal law, constitutional law, international law, administrative law, Islamic law, economic law, health law, customary law, and environmental law. Issues are published in June and December.
Current Issue
Vol. 12 No. 1 (2023): Juni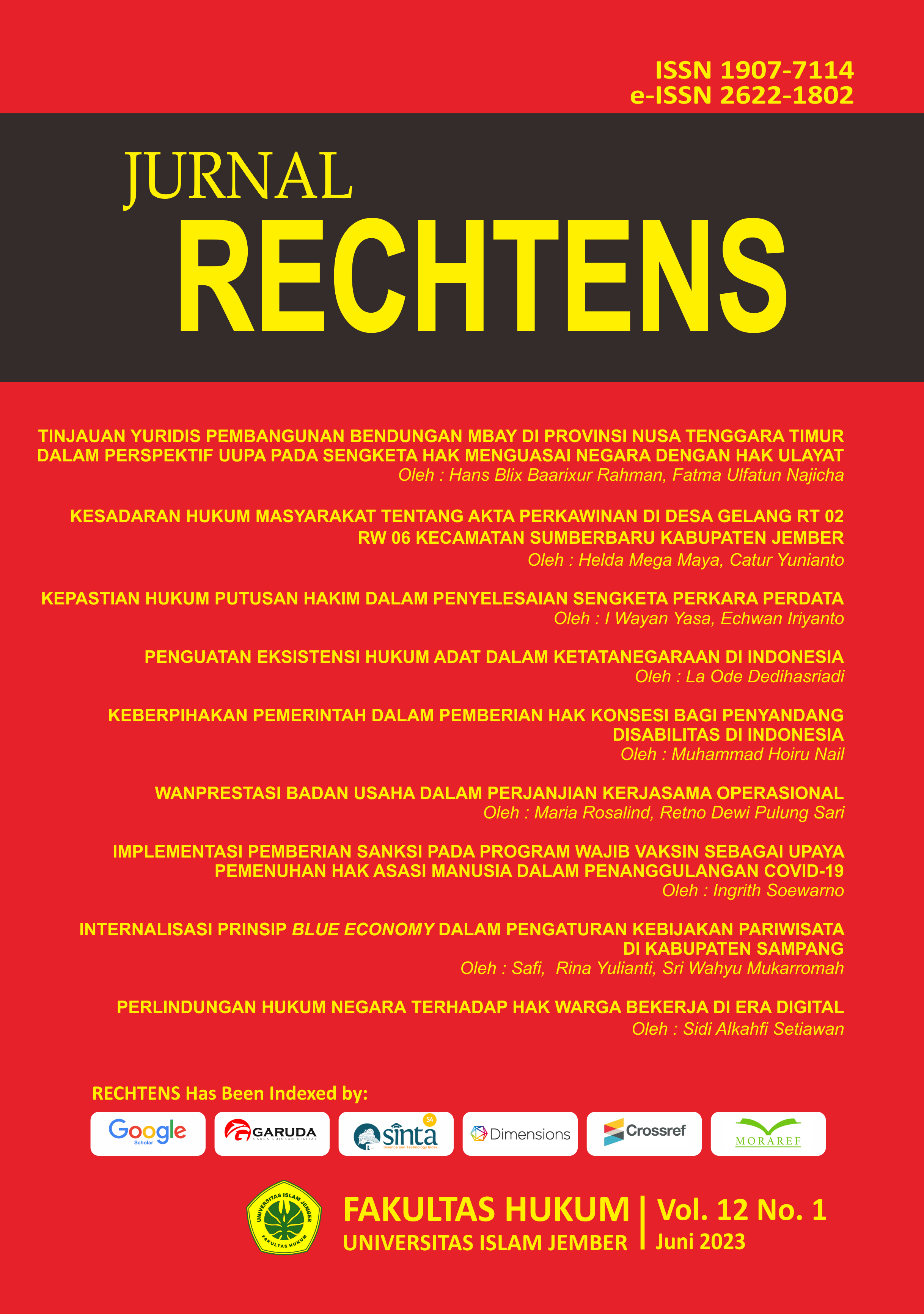 Jurnal Rechtens ( p-ISSN : 1907-7114, e-ISSN : 2622-1802) merupakan jurnal yang menyediakan ruang bagi akademisi, peneliti dan praktisi untuk menerbitkan artikel penelitian asli atau artikel ulasan. Ruang lingkup artikel yang diterbitkan dalam jurnal ini membahas berbagai topik, diantaranya : Hukum Perdata; Hukum Pidana; Hukum Tata Negara; Hukum Internasional; Hukum Administrasi; Hukum Islam; Hukum Ekonomi; Hukum Kesehatan; Hukum Adat; Hukum Lingkungan. Jurnal Rechtens di kelola oleh Fakultas Hukum dan terbit dua kali dalam setahun yaitu bulan Juni dan Desember.
Full Issue
Articles
Abstract View: 203,

PDF Download: 28

Abstract View: 62,

PDF Download: 45

Abstract View: 191,

PDF Download: 68

Abstract View: 60,

PDF Download: 45

Abstract View: 133,

PDF Download: 127

Abstract View: 20,

PDF Download: 15

Abstract View: 112,

PDF Download: 70

Abstract View: 62,

PDF Download: 51
View All Issues