Improving Students Activity and Students Learning Outcomes by Using Cooperative Learning with Trade a Problem type
Abstract
The purpose of the research to describe learning model of trade a problem can improve the students' activities. To describe learning model of trade a problem can improve the students learning outcomes. The kind of the research is PTK with qualitative and quantitative approach. The subjects of the research are students of class VIIA at MTs Al Mujahidi Tembokrejo. With the data collecting method that used in the research are documentation, observation, interview and test. The data analysis method that used is qualitative and quantitative. The results of the research there is there is improving activity and student learning outcomes.
Keywords: trade a problem, students activity, and learning outcome
References
Arikunto, Suharsimi, et al. 2010. Penelitian Tindakan Kelas. Jakarta : PT. Bumi Aksara.
Asyono. 2005. Matematika : Kelas VII SMP & MTs. Jakarta : PT Bumi Aksara.
Budiono, Arifin N. 2015. Buku Pedoman Penyusunan Proposal dan Skripsi Fakultas Keguruan dan Ilmu Pendidikan Universitas Islam Jember (UIJ). Jember : Pustaka Radja.
Daryanto. 2009. Panduan Proses Pembelajaran Kreatif dan Inovatif : Teori dan Praktik dalam Pengembangan Profesionalisme bagi Guru. Jakarta : AV Publiser.
Depdiknas. 2008. Kamus Besar Bahasa Indonesia. Jakarta : Pusat Bahasa.
Dimyati & Mudjiono, 1999. Belajar Dan Pembelajaran. Jakarta : Rineka Cipta.
Hamalik, Oemar. 2014. Kurikulum dan Pembelajaran. Jakarta : PT Bumi Aksara.
Handayani, Emi Dwi. 2010. Penerapan Pembelajaran Problem Posing Untuk Meningkatkan Hasil Belajar Siswa Konsep Aljabar Kelas VIII Semester Ganjil Tahun Pelajaran 2010/2011 Mts Al-Ma'arif Wringin agung. Jember : Tidak Diterbitkan
Ma'luf Lubis. 2011. Efektivitas Pembelajaran Matematika Dengan Pemberian Reward Melalui Metode Pembelajaran Trade A-Problem Terhadap Hasil Belajar Matematika Pada Materi Pokok Suku Banyak Peserta Didik Kelas XI IPA MA Negeri 01 Semarang Tahun Pelajaran 2010/2011. Semarang : IAIN Walisongo Semarang.
Mujiati, Siti. 2010. Upaya Meningkatkan Keaktifan Dan Hasil Belajar Peserta Didik Pada Materi Pokok Limit Fungsi Di Kelas XI IPA SMA Walisongo Semarang Melalui Model Pembelajaran Kooperatif Tipe Trade a Problem. Semarang : IAIN Walisongo Semarang.
Riyanto, Yatim. 2009. Paradigma Baru Pembelajaran. Jakarta : Kencana Prenadamedia Group.
Trianto. 2007. Model-Model Pembelajaran Inovatif Berorientasi Konstruktivistik.
Jakarta : Prestasi Pustaka.
. 2013. Prosedur Penelitian : Suatu Pendekatan Praktik. Jakarta : Rineka Cipta.
Sumber Internet :
Hasratuddin. 2014. "Pembelajaran Matematika Sekarang dan yang akan Datang Berbasis Karakter". Jurnal Didaktik Matematika 1(2):30. Http://www.jurnal.unsyiah.ac.id < 16 Maret 2016 >.
Prasetya, Tri Indra. 2012. "Meningkatkan Keterampilan Menyusun Instrumen Hasil Belajar Berbasis Modul Interaktif Bagi Guru-guru IPA SMP N Kota Magelang". Journal of Educational Research and Evaluation 1(2):107. http://journal.unnes.ac.id < 23 Maret 2016>.
Sari, Ika Mustika. Tth. Taksonomi Tujuan Pendidikan Menurut Bloom. http://file.upi.edu/Direktori/FPMIPA/JUR._PEND._FISIKA/Ika_Mustika_Sari/Evaluasi_Pendidikan/Bahan_Ajar_(Minggu_Ke3)_Taksonomi_Bloom.pdf < 23 Maret 2016>.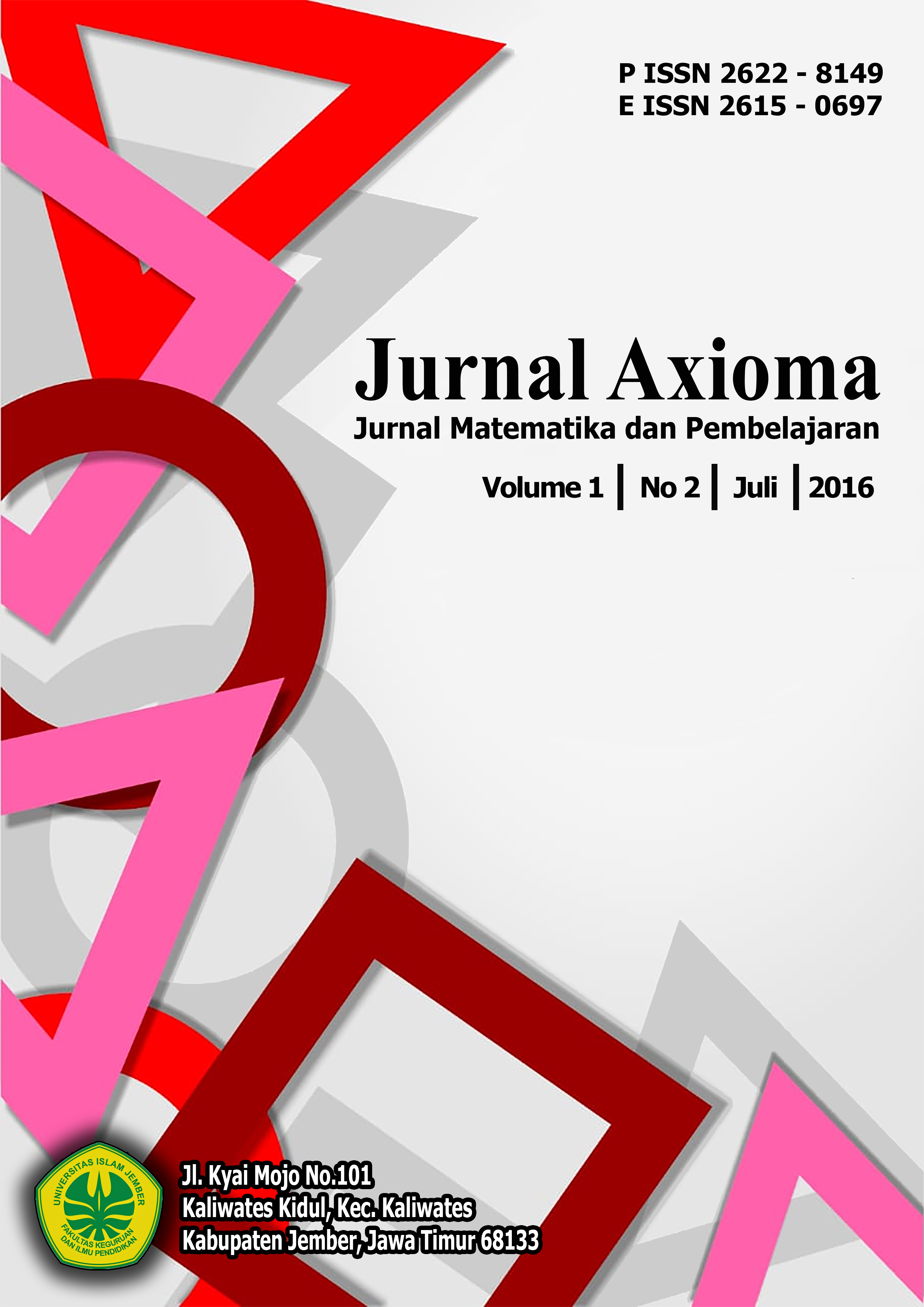 Downloads
How to Cite
Arianto, Y. A., & Rahman, A. (2020). Improving Students Activity and Students Learning Outcomes by Using Cooperative Learning with Trade a Problem type. Jurnal Axioma : Jurnal Matematika Dan Pembelajaran, 1(2), 105–121. Retrieved from https://ejurnal.uij.ac.id/index.php/AXI/article/view/272
License
Copyright (c) 2016 Jurnal Axioma : Jurnal Matematika dan Pembelajaran
This work is licensed under a Creative Commons Attribution 4.0 International License.