PEMBELAJARAN NHT UNTUK MENINGKATKAN LITERASI MATEMATIS SISWA KELAS VII SMP PADA SIFAT-SIFAT SEGI EMPAT
Abstract
This research is motivated by the lack of mathematical literacy class VII student Annur Islamic Rambipuji which include communication, reasoning, problem solving and matematisasi. The purpose of this research is to improve students' mathematical literacy class VII Annur Islamic Rambipuji using cooperative learning NHT. This research is conducted as a class action collaboration between researchers and teachers of mathematics. In this study consisted of two cycles, each cycle consisting of four phases: planning, implementation, observation and reflection. The instrument used consisted of a feasibility study NHT observation sheet, observation sheets students' mathematical literacy skills, and test questions that measure students' mathematical literacy skills. Analysis using descriptive
qualitative. The results showed that learning with NHT models can improve students' mathematical litercy class VII Rambipuji Annur Islamic Jember. Learning NHT there are 6 phases, namely: (1) preparation; (2) the formation of the group; (3) ensure students have textbooks; (4) discussion of the problem; (5) presentation/giving an answer; and (6) make the conclusion. With the implementation of learning mathematical literacy skills of students at the end of the second cycle reached 65.50% reaching the high category (based on the observation sheet) and 69.15% with both categories (based on test results).
Keywords: mathematical literacy, Numbered Head Together, the properties of quadrilateral.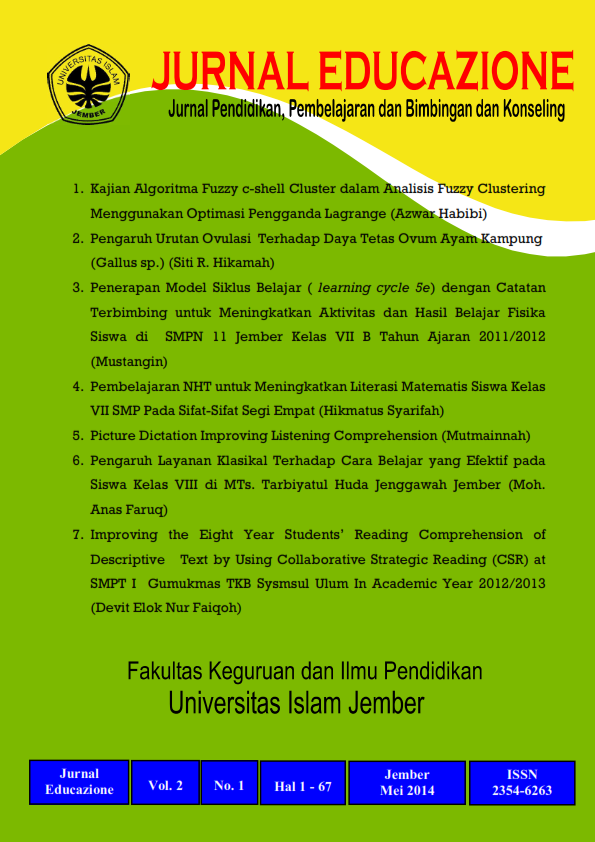 Downloads
How to Cite
Sarifah, H., Hamid, A., & Susilaningtyas, T. (2014). PEMBELAJARAN NHT UNTUK MENINGKATKAN LITERASI MATEMATIS SISWA KELAS VII SMP PADA SIFAT-SIFAT SEGI EMPAT. Jurnal Educazione : Jurnal Pendidikan, Pembelajaran Dan Bimbingan Dan Konseling, 2(1). https://doi.org/10.0034/edu.v2i1.72