Improving Students Activity and Students Learning Outcomes by Using RTE (Rotating Trio Exchange) Assisted by Five Media
Abstract
The purpose of the research is to describe the student activities by using RTE (Rotating Trio Exchange) with Lima media. To describe the student learning outcomes by using RTE (Rotating Trio Exchange) with Lima media. The kind of the research is PTK with qualitative and quantitative approach. The subjects of the research are students of class VII at MTs. Kasyiful Ulum. With the data collecting method that used in the research are documentation, observation, interview and test. The data analysis method that used is qualitative and quantitative. The results of the research there is increased activity and student learning outcomes.
Keywords: RTE, students activity, and students learning outcomes
References
Ardisusilo, Dwi. 2013. Upaya Meningkatkan Hasil Belajar Bola Kasti Menggunakan Permainan Kasbol pada Siswa Kelas IV SD Negeri Margadana 8 Kota Tegal Tahun Pelajaran 2012/2013. Skripsi Sarjana Pendidikan Ilmu Keolahragaan. Semarang: tidak diterbitakan.
Budiono, Arifin Nur. 2015. Buku Pedoman Penyusunan Proposal dan Skripsi. Jember : Pustaka Radja & FKIP Universitas Islam Jember.
Frensista, Dina. 2014. "Penerapan Model pembelajaran Kooperatif Dengan Strategi Rotating Trio Exchange Untuk Meningkatkan Hasil belajar Siswa Kelas VII A Pada Sub Pokok Bahasan Keliling dan Luas Bangun Segitiga dan Segiempat Di SMP Negeri 1 Ajung Semester Genap Tahun Ajaran 2012/2013." Jurnal Pancaran, Vol: 3, No. 2: 43-52.
Hamalik, Oemar. 2010. Kurikulum Dan Pembelajaran. Jakarta: Bumi Aksara.
Handayani, Indah. 2014. Penerapan Metode Numbered Heads Toghether (NHT) Untuk Meningkatkan Hasil Belajar Siswa Kelas VII Pada Materi Belah Ketupat dan Layang-Layang Di SMPN 2 Mayang Tahun Pelajaran 2013/2014. Skripsi Pendidikan FKIP UIJ. Jember: tidak diterbitkan
Hobri. 2007. Penelitian Tindakan Kelas (PTK) Untuk Guru dan Praktisi. Jember: Pena Salsabila.
Isjoni, 2009. Pembelajaran Kooperatif. Yogyakarta: Pustaka Pelajar.
Lestari, Rina Puji. 2013. Penerapan Thinking Aloud Pair Problem Solving (TAPPS) Setting Working Backward Meningkatkan Hasil Belajar Siswa Kelas VII B MTs Miftahul Huda Tahun Pelajaran 2012/2013. Skripsi Sarjana Pendidikan FKIP UIJ. Jember: tidak diterbitkan.
Nurhayati, Wahyu. 2013. "Penerapan Model Pembelajaran Kooperatif Rotating Trio Exchange (RTE) Sebagai Upaya Peningkatan Prestasi Belajar Siswa Pada Pokok Bahasan Reaksi Reduksi Oksidasi Di Kelas X SMA Negeri 2 Pekanbaru.http://repository.unri.ac.id/xmlui/bitstream/handle/123456789/3709/jurnal%20fix.pdf?sequence=1
Sugijono, M Cholik Adinawan. 2008. Seribu Pena Matematika. Jakarta: Erlangga
Sujarweni, Wiratna. 2014. Metodologi Penelitian. Yogyakarta: Pustaka baru press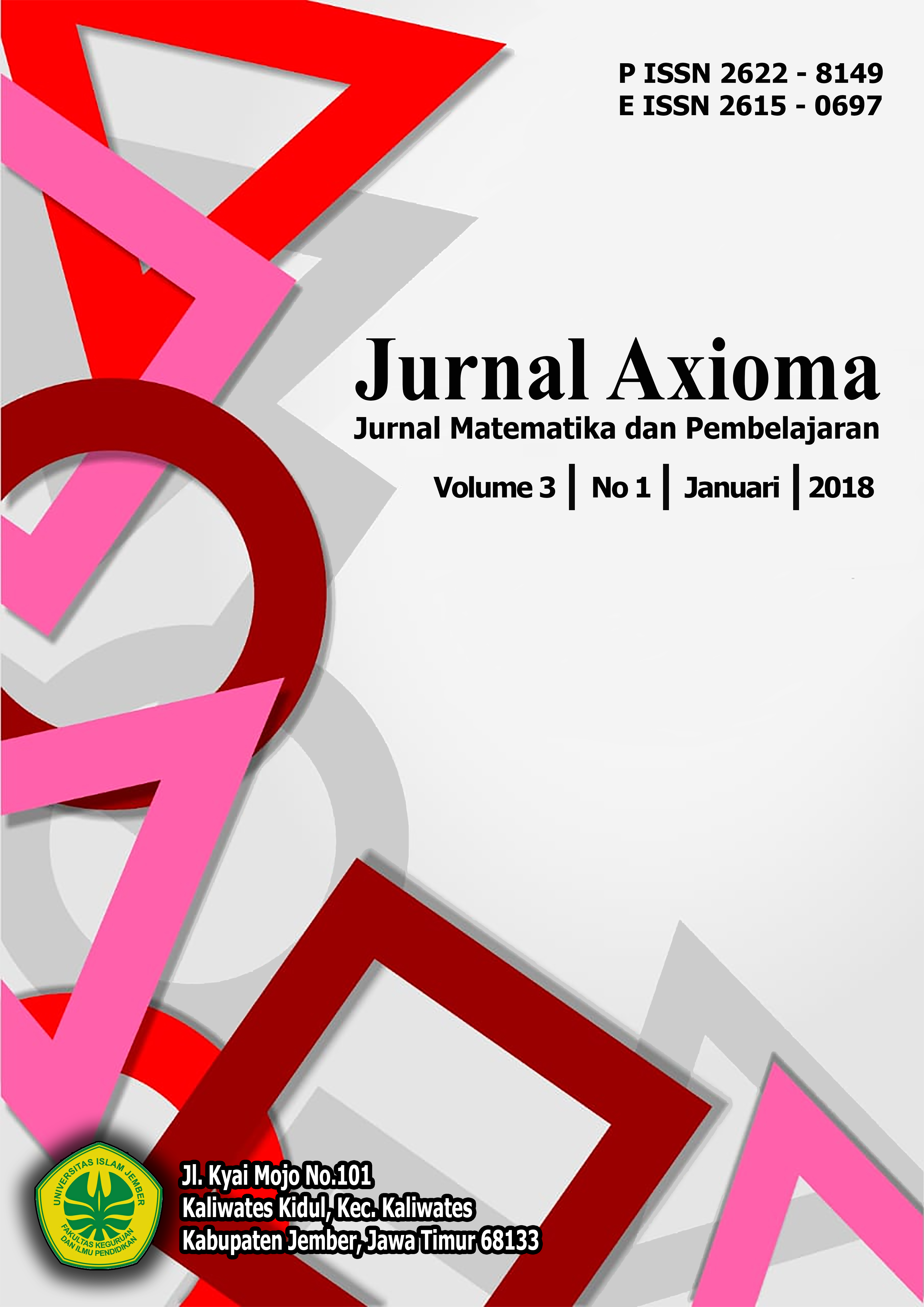 Downloads
How to Cite
Muhlisoh, U. K. F., & Chandra, F. E. (2018). Improving Students Activity and Students Learning Outcomes by Using RTE (Rotating Trio Exchange) Assisted by Five Media. Jurnal Axioma : Jurnal Matematika Dan Pembelajaran, 3(1), 28–44. Retrieved from https://ejurnal.uij.ac.id/index.php/AXI/article/view/307
License
Copyright (c) 2018 JURNAL AXIOMA : Jurnal Matematika dan Pembelajaran
This work is licensed under a Creative Commons Attribution 4.0 International License.